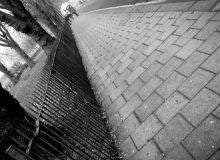 In 2013, a large explosion from beneath the pavement ripped through a corner of Pimlico Road in central London. Amateur video footage shows a fireball emerging from the ground, narrowly missing a nearby pedestrian.
Reports suggested it was caused by a ruptured power cable, and eyewitness Charlie Brook said at the time: "The first explosion blew paving slabs off the pavement, creating a hole."
This is not an isolated incident, however. A Freedom of Information (FOI) request, submitted by Labour London Assembly member Murad Qureshi to the Health and Safety Executive (HSE), has revealed that since 2010, 80 incidents of exploding pavements have been reported in London. In 2014 alone the number was 40.
"I've brought this up on my own back," says Qureshi. "I wouldn't call it a personal crusade, but sometimes you just have a nose for things. I thought, let's find out more."
The scale of the problem
The statistics, released in August, focus on incidents involving link boxes or cable pits that required the fire service and have naturally caused a great deal of concern.
"Either it has been picked up more as an issue, or maybe the cable pits and link boxes aren't in as good condition as UK Power Networks (UKPN) are suggesting," says Qureshi.
UKPN, which owns and maintains electricity cables and lines across London, said in a statement: "This is a global issue and UK Power Networks is recognised as one of the industry leaders in tackling it. We have over 100,000 cable pits and junction boxes and 36,000km of cable across the capital, delivering the most reliable power supply in the UK. Although such incidents are extremely rare, we do everything in our power to mitigate the risk, as public safety is always our number one priority."
Thankfully, the explosions have not yet caused any fatalities – something Qureshi says is "very lucky".
"Thankfully, the explosions have not yet caused any fatalities – something Qureshi says is "very lucky."
Tim Field, head of press and public affairs at the Energy Networks Association (ENA), which represents the 'wires and pipes' transmission and distribution network operators for gas and electricity in the UK and Ireland, says safety is the top priority, adding that incidents are "very rare" when compared with the amount of infrastructure.
However, serious injury has befallen some of those unlucky enough to be close to an incident, including Cara Perrett, who suffered serious burns after an explosion on Edgware Road. She then started a petition calling on UKPN to do more to combat the problem. A man also spent three months in a wheelchair after a manhole exploded underneath him in 2011.
Rainy Britain to blame?
So, what are reasons behind the explosions and how can UKPN begin to rectify what appears to be an increasingly prevalent phenomenon?
One cause is electrical faults, which occur when water comes into contact with exposed cables. Basil Scarsella, CEO of UKPN, said at Westminster Council's Environment, Policy and Scrutiny Committee in September 2014: "There is some evidence that the age of the asset [link box or cable pit] is a contributor, but more important is the increase in the amount of rain."
However, Qureshi is not entirely convinced. "I'd like to see the evidence for this," he says. "I think we are having rainy winters, but whether that's more of an explanation [for the explosions] than maintenance, I'm not sure. I'm not totally convinced."
Westminster City Councillor Thomas Crockett also raised his own doubts, saying at the time of Scarsella's comments: "I question if it's all to do with rainfall."
John Steed, an officer at the HSE, was quoted by the Daily Mail as saying: "Ageing is very much an issue. Most of the network was laid in the 1950s and 1960s. It is difficult, if not impossible, to look at these link boxes and know exactly what stage they have reached in terms of deterioration."
The blasts can also be caused by gas leaks that are ignited by sparks underground, as well as vandalism to equipment. "In addition to our inspection regime we do rely on the vigilance of the public to report damage or interference", says Field.
Increased investment and inspections
In response, UKPN says it has "worked tirelessly since taking on the responsibility of London's electricity network five years ago to maintain, replace and invest in our equipment", including "carrying out over 40,000 underground inspections". The company is now embarking on a period of investment in an attempt to diminish the threat.
Scarsella announced last year that UKPN was introducing a yearly inspection programme for all link boxes in central London, as well as measures such as blankets to restrict oxygen levels around link boxes, placing sand inside chambers to extinguish any fires, and upgrades to the network.
But perhaps more significant is the financial investment.
"Moving forward we are looking to spend around £1.5bn over the next seven years to ensure that London's electricity network continues to be the UK's most reliable," UKPN said.
"We are looking to spend around £1.5bn over the next seven years to ensure that London's electricity network continues to be the UK's most reliable."
The organisation also says it has installed thousands of new link boxes. An industry taskforce has also been established through the ENA to share learning and coordinate effective solutions, such as new technologies and working practices.
"Companies are investing more than ever before on regular inspections, maintenance and improvement work and will continue to do everything necessary to ensure the safe operation of infrastructure," explains Field. "Changes are also being made to cable pits and the underground link-box designs, as well as new technology such as vented covers to prevent the build up of natural gas."
Qureshi welcomes this, although emphasises the need for speed: "I hope that the investment is made to replace the old [cable pits and link boxes] as soon as possible. I think some scrutiny is needed on the back of these [FOI] figures that we have."
However, despite the mitigation efforts underway, Scarsella has admitted that it is "impossible" to eliminate the threat completely.
Time to crack down on the problem
With such an admission, it is perhaps unsurprising that Qureshi is unwilling to let the issue rest, at least in a London-wide context.
"Maybe at the end of the year I will put in another FOI and ask for figures from the summer and the autumn, and see if there are any further patterns," he explains. "If we find that there have been 80 since the summer, then alarm bells [might start ringing]. I trust that Londoners will feel more secure in the knowledge that some of us are looking out for this kind of thing; a day-to-day thing that shouldn't be forgotten."
Of course, Qureshi's figures only take into account incidents that occurred in the London area. In Huddersfield, for instance, eleven manhole covers flew into the air in June 2013. Initial suggestions indicated that a spark from electricity wiring could have caused the gas underneath to ignite.
"It's not just happening in central London – which tends to get all the attention," adds Qureshi. "It's not a normal bread and butter issue. People need to be reassured that what is happening under their feet is safe."
Ultimately, that is now the objective that UKPN and regulators have to fulfil.