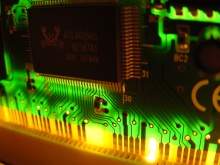 Upon opening Nato's new Centre of Excellence on Energy Security lasr year, secretary-general Anders Fogh Rasmussen said: "Cyber attacks against energy infrastructure are happening ever more frequently. In short, our energy supplies are at risk."
Political disruptions in the Middle East and the prevalence of cyber attacks on oil and gas and mining companies in recent years has put the issue of energy security firmly on the agenda of international leaders who are fearful that terrorists, pirates and hackers with a political agenda could cause chaos both at home and for military personnel working in high-risk areas.
The questions that need to be answered are: how should a nation protect against such scenarios? And if the worst happened, how should a nation respond?
Nato hopes to answer these questions and improve the protection and defence of core energy infrastructure and supply through research and analysis at its Center of Excellence. Dr Arunas Molis explains.
Heidi Vella: What are the main objectives of Nato's new energy security centre?
Dr Arunas Molis: We have three divisions, which were set by Nato, we work on research, we work on education and training and we are also working on development and experimentation. The areas were set by Nato, which include critical energy and energy protection and energy innovation for military needs.
The Centre of Excellence [on Energy Security] was created last year in July. In October the same year, 2012, it got Nato accreditation, which means the institution was recognised as an international military institution dealing with energy security. Today we are around 20 people, with six nations represented.
HV: Some might say Nato was a bit slow in opening an energy security centre as the issue has been relevant for some time.
AM: The first time energy, or energy as an object, was mentioned by Nato was in 2006. You say Nato wasn't involved in energy security but Nato has always had a Nato pipeline system and the petroleum committee was one of those, plus a logistical committee, which is also dealing with energy supply issues.
More extensive involvement started after the Nato summit in 2006. Other standards formulated the direction that Nato could go and then it took several years to prepare and create certain structure inside Nato international and Nato headquarters, and then the development of the Centre of Excellence.
The Centre of Excellence [format] is also not very old; the first centre was created in 2004-2005. Cyber security was a new threat and a new emerging threat.
HV: How prevalent are attacks on supply lines and energy infrastructure?
"Energy infrastructures in many regions are under threat of pirate or terrorist attacks."
AM: Energy infrastructures in many regions are under threat of pirate or terrorist attacks, so of course this issue is a very important. But I wouldn't necessarily say this [statistics] comes under our centre.
The Defence Against Terrorism Centre of Excellence in Turkey is also dealing with terrorism attacks against different kinds of infrastructure, including energy. In general I think many institutions, not only Nato, but international institutions, lack certain analysis on which are the most dangerous regions and what are the most appropriate measures of response? What are the dynamics of piracy and terrorists attacks against the critical energy infrastructure? These are things we are lacking. So we think this is one of the priorities, maybe we can fill a gap, because it is important.
We will be looking at this area soon actually, at how many think tanks or state institutions are involved in making such research.
HV: What solutions is Nato working on in order to defend against energy infrastructure and supply attacks?
AM: First of all, I should tell you this is for the interest of the Baltic States, the centre represents six nations and more or less we try to do a job that would be interesting for Nato as a military alliance, which actually includes the interest of all six states that contribute to the Centre of Excellence. If you ask about concrete products, what we do, I would say, first of all, it's an analytical job, it is a research job.
We are not an institution that will physically go and protect, but most probably we can either provide advice or analysis from research or we can contribute to education, individual education of the people who will be directly involved in the protection of this critical infrastructure. So, in this regard I would talk about the individual training, which is simply training in the class but also collective training, meaning exercises.
We try to elaborate on what can be done if one or two or more critical infrastructures are under threat from cyber or physical instruments.
HV: What are the future challenges the centre faces?
AM: One of the future challenges we face is to define the criteria of the infrastructure that is deemed as being of critical importance. If you look at Nato documentation you wouldn't find well defined criteria which would tell you that this kind of infrastructure is a critical one and we have to protect it. So we are at the very beginning where we are working on the destination, we're working on the criteria and we're working on certain aspects of military exercises.
There are other groups and institutions inside Nato that deal with energy infrastructure, so we're becoming members of those groups so there is not so much need for us to expand.
HV: What is the role of the energy companies play in all of this?
AM: Much of the infrastructure still belongs to the private company so protection of this infrastructure using the armed forces, in order to protect the private infrastructure, in reality doesn't come so easily. There are some challenges in regards to this.
Probably the most important challenge is in regards to classified information, most probably if the armed forces or some other institutions are about to protect certain infrastructure, even an institution like us who get very deep into the analysis and research of this infrastructure.
We need the data and this is, for example, a European institution made extensive research in this regard but they faced the challenge of getting the data from the private company related to the infrastructure. So actually here, yes, this issue might be important and this issue should be solved. We are working for a solution but we cannot close our eyes and say everything goes very smoothly in this regard.
HV: Do you think the use of smartgrids will be important in protecting energy infrastructure?
"The technology we use in the civilian life during the peace time can also be used for the military life. "
AM: Smartgrids helps to save energy, which helps to reduce energy costs, first of all, but most probably it is not the only solution to reduce those energy costs. I think, of course, one of the most important issues here would be the initial investment. To install smartgrids it will cost, most probably the benefits will be more than evident, but in these times of financial crisis the initial investment into quite large infrastructure could be challenging.
Maybe we can start with a cultural change to educate people to simply consume less, turn down the light, turn down the light when leaving the apartment, and so on. The smartgrid will be the next step I am more than sure.
The technology we use in the civilian life during the peace time can also be used for the military life. Smartgrids in many cases can be efficient, they can help save energy. So yes, that is the future.
HV: Does smart technology bring with it an increased risk of cyber hacking?
AM: You are right the technology does not only present the benefits. It also presents certain challenges. We can talk about the most vulnerable infrastructure so introduction of the new technology for solutions will be the most sensitive issue here.
We don't have so much deployable force here in Europe but we have a lot of buildings which belong to the armed force facilities. In some of these cases, you're right, the cyber issue will determine if smartgrids are not put into the packet but putting smartgrids into places where the threat is less or absent would save a lot of energy. Of course you should look at every case very carefully and on case by case basis. But overall if this is used for the civilian life it can be used for other sectors as well.
HV: You're also looking at ways troops can use less energy on the ground.
AM: There is also another project which we just started this year. We are looking at what are the opportunities to apply renewable energy resources for military needs. This, first of all, for instance, could be solar energy or maybe bio-fuels, which could be used for the generation of electricity or heat.
So this is deployment of non-traditional resources for energy needs. The next direction would also be to try to make an analysis on what are the possibilities to consume less traditional energy resources, meaning gas and oil products use in a more efficient way, maybe installing some kind of smartgrid, maybe looking at what are the major losses in distribution of heat and electricity inside the battalions.
We think we will be able to produce a model of the typical infantry battalion, which will be able to use these new renewable resources and to use the traditional resources in a more efficient way. So we are looking to create a typical model, which would be of use not only to the Baltic states but of the whole of Nato, maybe other military units being deployed inside your country or on outreach operations. Maybe they can take those innovations with them, and them somehow lessen the threat of unstable energy supply during missions. This is the essence.
HV: What benefits will this bring overall?
AM: The benefits are very clear if you look at the complicated logistics of the energy supply chain. First of all it costs a lot but the cost is not only financial but it costs lives of soldiers. If you have to supply large quantities of petroleum to a mission operation place, it means you have long journeys going through dangerous places, be it a place like Afghanistan.
"The world is moving towards innovation so the military force should not stay behind."
So if you are able to replace the traditional resources with solar power or things like that you are also transporting less, you spend less and you are saving lives. The world is moving towards innovation so the military force should not stay behind. This could also increase the capacity of the armed force, for instance, we should be able to sustain for longer periods because now there is a very close interdependence between the possibility of sustaining the force and the ability to supply energy resources to these forces.
So consuming less in civilian life means smaller bills, in military we should talk not only about the money but the increasing of capacity and saving lives.
HV: Do you think there is enough investment in green technologies for the defence industry?
AM: Most probably there are several important issues to be said in this regard. First of all this is an area where the first priority is military capacity and the ability to perform the task. So most probably, due to this reason, most innovations would not be put in proper place. You must always think what will be the impact on the security of the soldiers that are serving in dangerous places who are a very clear target for the people who want to cause damage. So we have to be cautious about those issues and be more specific.
On the other hand if you talk about the progress, yes, you are right, it depends very much on the country. We always have the front runners, which in this case are the United Kingdom and the United States and some other EU member states, like France and Germany, we should also mention Canada. So most countries can and they do invest in applications for energy innovations for military needs. We do have self-sustained military camps and we do have solar batteries actually applied in mission operations today. We do have smartgrids which are sought by certain countries.
You look at other countries including the Baltic States and central Eastern countries that pay much smaller attention, in this context you can also look at what their requirement of Nato is to invest in those big projects and these technologies.
---
Related content
---
In this issue, we look at how power plants can improve the efficiency of water management, consider the challenges of confined space safety management, announce our inaugural Future Power Technology awards and much more.
Research into the potential of algae as a fuel source is moving quickly, despite serious debate over its heavy reliance on water.
---