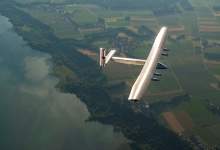 Increased efficiency and the decreasing price of photovoltaic solar panels in recent years have resulted in solar being increasingly adopted by big companies, the most recent being Apple, which announced in July that it will power its data centres solely with solar energy.
Nevertheless, despite its increased popularity, powering an aircraft to circumnavigate the globe day and night for around 500 hours using only solar energy seems a bit of stretch.
Not to psychiatrist and aeronaut Bertrand Piccard and his partner André Borschberg, an engineer and graduate in management science who is also a fighter pilot and a professional airplane and helicopter pilot. The partners, who have been working together for ten years, and their team have just completed a series of test flights with the Solar Impulse 2 – an aircraft powered entirely by solar energy – in preparation for its five-month round-the-world voyage set to take place between March and August 2015.
"An aeroplane like this is absolutely unique," Piccard told the BBC after the plane's first flight in June. "And for the first time in history, we have an aeroplane that is flying with no fuel, day and night, showing the incredible potential of the clean technologies – all these technologies that the world can also use in order to reduce the dependency to fossil fuel."
Taking solar to the next level
Solar Impulse 2 is the next-generation model of the team's first plane, Solar Impulse, which was a prototype unveiled in June 2009. In 2010, Borschberg completed the first ever night flight in the history of solar aviation. It lasted a total of 26 hours, 10 minutes and 19 seconds and broke many world records, including the longest manned solar-powered flight, the first inter-continental flight in a solar-powered plane and the greatest distance covered on a piloted solar-powered flight.
---
---
The Indian government has recently announced plans for what could become the world's most powerful solar plant.
---
Solar Impulse 2, which was unveiled to the public in April 2014, consists of 17,000 solar cells provided by SunPower Corp. The cells are built into the wing to supply four electric motors – 17.5 CV each – with renewable energy. SunPower's solar cells have an efficiency of 22.7 % – those on homes usually have an efficiency of around 16% – and an average thickness of 135 microns.
During the day the solar cells recharge four lithium batteries, which allow the aircraft to fly at night and therefore to have virtually unlimited autonomy.
The aircraft has been designed to be lighter and more energy-efficient than its predecessor so it can stay in the air for longer. The single-seater aircraft is made of carbon fibre and has a 72m wingspan – larger than that of a Boeing 747-81 but weighing the equivalent of a car, which is around 1% of the weight of the Boeing. The plane so far has undertaken five test flights.
One of the major challenges of the world flight planned for next year will be to fly over the Atlantic, which will take three days, and the Pacific, which will take four to five days. The pilots, Piccard and Borschberg, will have to manage the solar energy for the entirety of this time in the solitary cockpit. They will be flying one after another, swapping during stop offs and carrying only six oxygen bottles, one parachute and a life raft, plus food and water for the week.
"What is really special is that it is the first and only airplane in the world which has unlimited endurance," Borschberg has said. "We have an airplane which is fully sustainable in terms of energy, and our challenge now is to make the pilot sustainable as well."
Showcasing the potential of solar and renewables
"At the very least, Piccard and Borschberg's work might lead to small solar-powered cargo planes, possibly automated."
Piccard was inspired to start Solar Impulse after he flew around the world in a hot air balloon. Since then the project has been designed to inspire engineers and other specialists to push the boundaries in renewables and clean energy. According to the Solar Impulse website, when Piccard started his mission in 1999, most aviation experts believed any plane would be "too big, too light and impossible to control in flight".
Many of the companies involved in the production of the Solar Impulse planes use it as a platform to develop their own technologies and showcase other cleantech initiatives that should be celebrated. For example, Schindler, one of four main partners of Solar Impulse, providing engineers for the project, is currently introducing a new solar-powered elevator to the market.
Schindler Group chairman Alfred N. Schindler said he believes Solar Impulse is an excellent example of "innovative sustainability and grass-root entrepreneurship".
"It's all about working smarter instead of working harder," Schindler added. "While staying in the air – day after day – Solar Impulse moves us beyond the idea of conventional belt tightening: it proves convincingly that one can tap into a virtually unlimited supply of solar energy."
"Solar Impulse is a unique platform where creativity meets audacity, technological expertise meets perseverance, vision meets discipline and, finally, where action converts a dream into reality."
International chemical group Solovay, another of Solar Impulse's partners, has produced two important solutions to protect the solar panels from harsh conditions during flight without altering the capture of energy.
---
---
By making solar panels that are lighter, more flexible, partially transparent and organic, a team of researchers hope to make solar more energy efficient.
---
McKinsey, another member of Solar Impulse's industry support team, has launched the carbon abatement curve, which provides a quantitative basis for evaluating the effectiveness and costs of the various technologies that can bring about a reduction in greenhouse gas emissions, therefore encouraging the search for new techniques of energy-use optimisation.
The team at Solar Impulse 2 call the plane a 'laboratory' because it is the site of constant experimentation. It is far from a finished commercial product and neither is it meant to be; rather it is designed to inspire and show the potential of renewable energy, engineering ingenuity and persistence.
At the very least, Piccard and Borschberg's work might lead to small solar-powered cargo planes, possibly automated, that can transport items short distances. But aviation isn't and has never been their main priority, as Piccard explained in a recent Q&A session published in The Engineer in June.
"Our primary purpose is not to revolutionise aviation, but the way in which people think about energy and clean technologies. If Solar Impulse power technologies were used on a massive scale, the world would be able to save up to 50% of the current consumption of fossil energy and produce half of the rest with renewable energies."