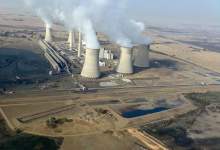 The world's fastest growing continent, Africa, is, perhaps unsurprisingly, where three of the biggest burgeoning maintenance, repair and overhaul (MRO) markets have been identified. South Africa, Nigeria and Zambia have all embraced privatisation and new policies to develop as strong markets for power station MRO activities, according to research analysts Frost & Sullivan.
A report released by the company at the end of last year entitled 'The Market for Power Station Maintenance, Repair and Overhaul in Key African Countries', stated that South Africa, the biggest market of the three and the strongest economy in the continent, had a power MRO market worth $54m in 2012. Nigeria, for the same period, saw revenues of $345m from its power MRO market and Zambia with significantly smaller revenue of $2.2m. These are all figures that are expected to grow notably in coming years.
Business unit leader for Africa energy and power systems at Frost & Sullivan, Cornelis van der Waal, talks about what is driving these markets, what key capabilities the need and who is set to benefit from their expansion.
Heidi Vella: What is driving growth in the power station MRO markets within these countries?
Cornelis van der Waal: In all three countries you have infrastructure that needs to be maintained. The biggest thing at the moment is the governments in the region have realised the importance of maintaining what is already installed. For quite some time in Africa, we had a period where there was not enough maintenance work done on infrastructure. A lot of the infrastructure became dilapidated.
Nigeria, in recent years, has privatised the industry because it realised it is unable to drive economic growth through the inefficient management of the electricity industry. [This] is very different from what we have seen in Zambia, where the utility is very much involved but also has a private IPP [independent power producer] involved. This is the Zambian copper belt energy company [Copperbelt Energy Corporation PLC], which is doing a lot to supply reliable electricity to the mining industry, which is very important to Zambia.
---
---
The International Ashden Awards champions some of the most interesting and life-changing sustainable energy projects.
---
In South Africa, where there has been a power crisis since 2008, the demand for electricity is higher than supply and, for a number of years, the South African utility decided to push its assets as hard as possible to try and meet demand, but the result is the harder you push these assets the quicker they become dilapidated. That has changed slightly. The policy around maintenance is crucial regular maintenance occurs on the assets which at times results in supply shortages in the country, but the utility is more worried about the integrity of the assets going forward. Hence it is forcing units to shut down and go through mandatory maintenance repair and overhaul.
HV: How long is growth expected to last?
CVDW: The upswing in maintenance repair and overhaul – I hope it is a permanent approach to industry because electricity is very much the backbone of industrialisation, which is the target, the goal that we [Africa] are striving to; to create this opportunity through manufacturing and industrial activity. Without reliable electricity it is very difficult to achieve that in a competitive manner. It seems to be the way these companies are going. They certainly have a very astute awareness that maintenance repair and overhaul activities are crucial for continuous operation.
HV: Who benefits from this growth spurt; local or foreign companies?
CVDW: It's a combination of [both]. There are local companies in all three of these countries that are benefiting from this but most of the OEMs [original equipment manufacturers] supply technology to the utilities. In Africa, you don't really have large scale turbine manufacturers or large scale boiler manufacturers. Depending on the technology you are actually using, foreign companies have set up facilities in Africa and they are employing local people in the various countries they operate in. They will have some of the maintenance contracts based on the equipment they have sold in the past as well as, of course, this is a competitive environment. Companies, on a yearly or bi-yearly basis, will review their contracts and appoint new service providers. So it is a combination of local and foreign, but the equipment is all supplied through foreign companies.
HV: Where would you say the biggest opportunities in the sector are and how do the regions compare to one another?
"I think the establishment of a culture of continued maintenance is one of the first important things."
CVDW: South Africa is obviously head and shoulders larger than the other two but the other two are coming off a small base, so the overall growth outlook for the other two areas is very positive.
I think, in particular, Nigeria is very interesting because of the recent development around privatisation of assets. Those assets will have to be maintained, so I think there are significant opportunities in the Nigerian market.
HV: What is the expected future generating capacity to be built for each country?
CVDW: The demand in South Africa is growing at about 2% per annum, at the moment. There is large scale investment in renewable energy at this stage, and into very large coal fired power plants. Many of South Africa's coal fired power plants need to be decommissioned because of their age, and so there is replacement but there is also investment. We have seen billions of rand currently being invested in the power industry.
In Zambia, the opportunity is a little bit smaller from an investment point of view. There are a number of new projects that have been commissioned but it is not nearly on the same scale as we are seeing in the south.
Nigeria, I am very excited about as an opportunity, but it will be piecemeal opportunities because the assets have been divided by different IPPs. We will have a lot of smaller companies canvassing for opportunities going forward. In South Africa you have Eskom which is a large electricity utility, so if you partner with them you can potentially service multiple power stations. Whereas in Nigeria you will be with one IPP and they may have one or two power plants you service.
I believe competition in Nigeria might be higher going forward but in South Africa it is seeing increased servicing activities because a lot of global investment in energy has slowed down and therefore companies have got excess capacity and they are looking at utilising this and maintenance, repair and overhaul is one of the activities they can do to keep their employees busy.
---
---
Biomass power is poised to occupy a significant share in the global renewable energy mix.
---
HV: The report says MRO service providers must understand the key capabilities needed in each country. What are these?
CVDW: In Nigeria, you need to have very good gas turbine experience. In Zambia, there is a lot of hydro and in South Africa, you have a lot of coal and nuclear. At a top level, at least, you need to know that you are working with different technologies, different feed stocks. The industries are fairly different. You have a completely privatised industry in Nigeria, you have limited privatisation in Zambia and you have got pretty much [all] public in South Africa, so your approach to the markets will be different and you have got to develop the right partnerships locally in order to be able to penetrate these markets successfully.
HV: The report says challenges for the market include a lack of critical skills?
CVDW: I think the establishment of a culture of continued maintenance is one of the first important things, so that maintenance isn't a secondary activity; it is a primary business activity that will then drive the development of more resources. Because finance is one of the core things you need, obviously, train people in finance; if you need people in maintenance repair and overhaul, you train them. So hopefully that will assist in the development of skills.
The financial part of it is, of course, a larger problem that has to do with planning in the past as well as the inability to raise CAPEX [capital expenditure] for other projects. So, money that would have gone to MRO is not going to MRO. Rather it is going to new projects, which is problematic.
Longer term it is about financial astuteness, if we want to call it this, to be able to balance your activities so that MRO remains an important activity.
HV: What future trends are likely to be faced by market participants?
CVDW: We see an increase in overall MRO. Also, the complexity of what MRO companies are required to do as the technology becomes more advanced globally and is implemented in new projects. MRO companies need to understand they need to have the right skills to deliver on time and it is becoming increasingly important that not too much time is spent on doing MRO but that it is done in a most effective sort of way. So companies who want to participate in this sector need to be efficient, cost effective and technologically advanced in terms of their ability to service complex power stations.