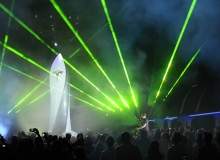 Last month, US electric car manufacturer Tesla rose a few places on the list of things keeping Big Oil executives up at night when it unveiled the first stage of its planned high-speed Supercharger network for topping up the battery of its Model S electric car.
"Free solar battery charging would certainly help offset the Model S's minimum price tag of just less than $50,000."
The company launched its system of entirely solar-powered charging points for electric vehicles (EVs) at six locations in California, with long-term plans to expand the network to other high-traffic US locations, enabling, according to Tesla: "Fast, purely electric travel from Vancouver to San Diego, Miami to Montreal and Los Angeles to New York".
The manufacturer, which built the California Supercharger stations in secret, has also revealed plans to bring the Supercharger to Europe and Asia in the second half of 2013.
The Supercharger provides electricity from a solar carport system developed by SolarCity, which means almost no marginal energy costs after installation, according to Tesla. The system's solar power technology has also been designed to harvest more energy than road users can use during the course of the year, leading the company to claim that each unit will transfer excess electricity to the grid, helping to lower electricity costs in general.
Supercharger's selling points
Tesla's co-founder and CEO Elon Musk has touted the Supercharger as a definitive solution to the biggest obstacle for EV adoption – making longer journeys feasible. While Tesla's high-speed charging system might still be a way off from a two-minute petrol top-up, it can provide the power for 150 miles of travel with a 30-minute charge. Just long enough, says the company, for drivers to grab a meal and a newspaper before hitting the road again.
"The system's exclusivity creates fragmentation in a market whose success is dependent on simplicity."
The 30-minute, 150-mile charge is a massive improvement on current charging systems, an improvement made possible by custom-designed cables that allow the Supercharger to safely send four and a half times the electricity of standard Twin Chargers direct to the car's battery, while bypassing onboard charging equipment. Or, as Tesla elegantly puts it: "It's like an adrenaline shot for your battery." Hyperbole aside, the system's charge speed is an impressive leap forward that lays a new benchmark for further improvements.
From an environmental perspective, pure on-site solar power generation provides a definitive answer to those who have expressed concern that EV charging points use electricity generated in heavily polluting fossil fuel power plants. What's more, Tesla is offering solar charging to users of the Model S at no extra cost, freeing drivers from the fluctuations of petrol and electricity prices.
"Tesla's Supercharger network is a game changer for electric vehicles, providing long distance travel that has a level of convenience equivalent to gasoline cars for all practical purposes," said Musk. "However, by making electric long distance travel at no cost, an impossibility for gasoline cars, Tesla is demonstrating just how fundamentally better electric transport can be. We are giving Model S the ability to drive almost anywhere for free on pure sunlight."
Obstacles for the supercharged solar highway
With all these benefits, it's tempting to buy into Tesla's vision of the Supercharger as a revolution for the eco-friendly electric vehicle market. Indeed, the company's innovation in this area has undoubtedly pushed the sector forward, making electric vehicles a friendlier and more practical proposition for drivers, while free solar battery charging would certainly help offset the Model S's minimum price tag of just less than $50,000.
"The 30-minute, 150-mile charge is a massive improvement on current charging systems."
However, significant obstacles still remain if Tesla is to bring the Model S, and the wider concept of electric road travel, into the mainstream. Financially, Tesla is on relatively shaky ground, having taken out around $465m in loans from the US Department of Energy without yet having turned a profit.
The company aims to produce 20,000 Model S vehicles by the end of 2013, but said that it is unlikely to reach its self-imposed milestone of 5,000 cars by the end of 2012 due to supplier problems. With Tesla's shares falling by 3.2% this year and Republicans in Congress pushing for a speedy loan repayment plan, the manufacturer can't afford any more issues if it expects to stand a chance of fulfilling its grand vision.
Perhaps the Supercharger's most serious technical issue is that it will only work for Tesla's Model S sedan and future models. The system won't even work for the company's own Roadster and Model X electric vehicles, let alone those manufactured by other companies, and even then the required supercharging hardware only comes as standard on the most expensive 85kWh incarnation of the Model S.
While Tesla can feasibly claim that it's the Supercharger's unique hardware that stops other EVs using it, the system's exclusivity to one brand creates further fragmentation in a fragile market whose success is dependent on simplicity. With competing fast-charge systems such as the CHAdeMO and the SAE Combo Charger in development or available, the future recharging landscape could be a confusing one for customers. If Tesla's hardware exclusivity is a grab for market share, it's one that could come at the expense of EV development as a whole.
Similarly, it's easy to be cynical about Tesla's offer of free solar recharging, which could be seen as an effort to encourage early adopters before introducing fees at a later date. But at this early stage, perhaps it's counter-productive to scoff at a project that, if Tesla overcomes its problems and the American public buys in, has the genuine potential to challenge road transport's gas-guzzling status quo.
---
Related content
---
Unable to produce power at night or during cloudy patches, solar is still fighting profitability issues.
The global PV market suffered a setback after a successful 2010, but could technological progress get it back on track?
Optimism in the solar photovoltaic market has seen a boom in the uptake of utility scale installations of 1MW or more.
---