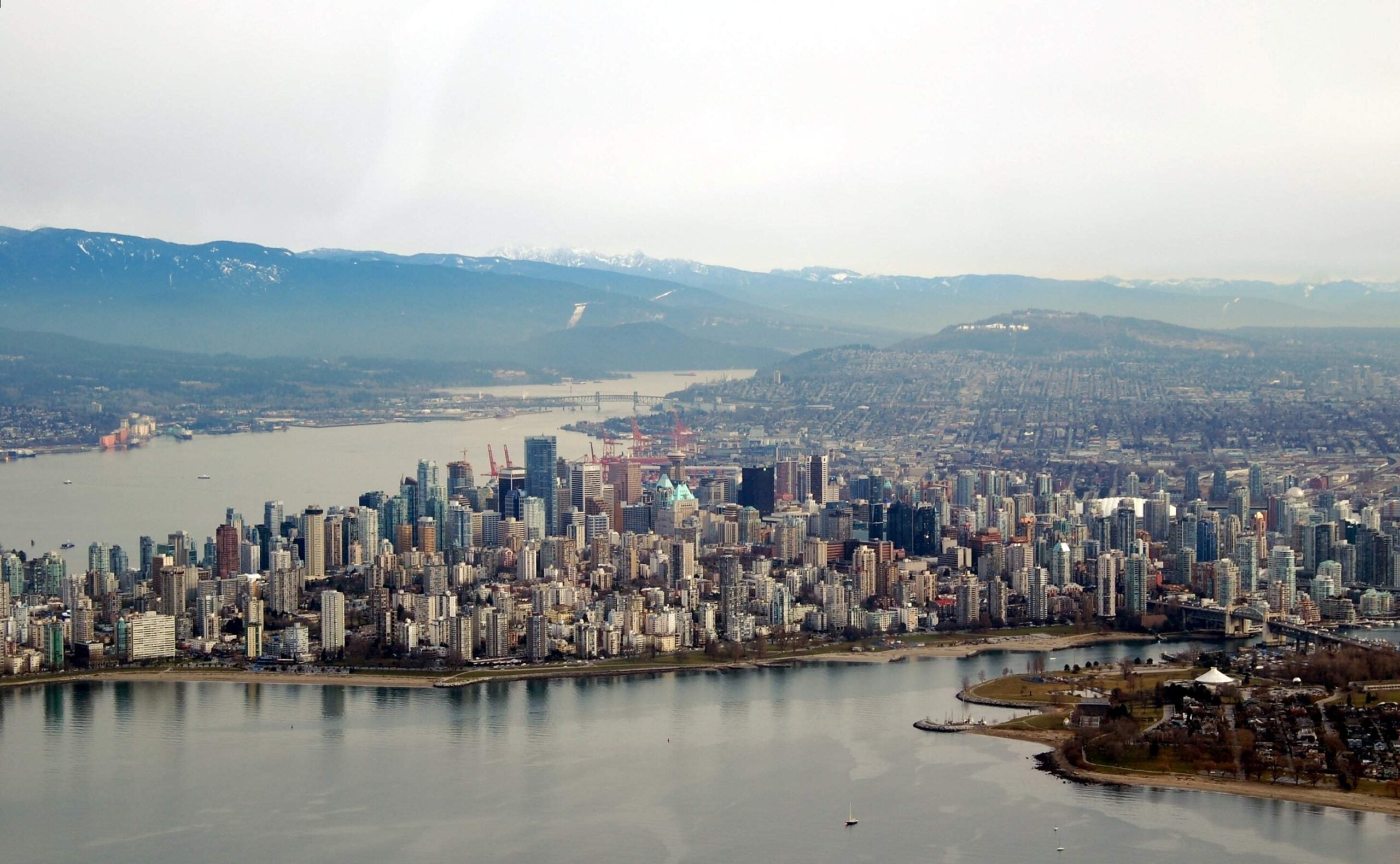 Vancouver, Canada
Vancouver intends to become the first city in Canada to be 100% renewable by providing its 600,000 people with electricity, heating and cooling – setting a target of between years 2030 and 2035 – as well as transport – between 2014 and 2050 – completely powered by renewable energy.
Speaking to the Guardian, Vancouver's deputy mayor Andrea Reimer, said there is a "moral imperative", as well as an economic case, for going green.
According to Go 100% Renewable Energy, as of 2015, 90% of the city's electricity is generated by hydropower.
Vancouver also has a Greenest City 2020 vancAction Plan in place to become the greenest in the world. The plan puts forward ten goals, including increasing the number of green jobs, reducing greenhouse gas emissions by 37% and requiring all new buildings constructed from 2020 onwards to be carbon neutral.
Sydney, Australia
Sydney's plan to transition to 100% renewable electricity, heating and cooling began in 2013, and the city aims to complete its goal by 2030.
The city's Trigeneration plan, accepted by the City Council in 2014, claims that around 30% of the total carbon and nuclear-free mix is to be sourced from wind and solar, with the other 70% from waste to gas from sources such as sewage plants, landfill sites, livestock, agriculture and forestry. Solar panels on approximately 30 sites in the city, including Sydney Park Pavilion, Paddington and Glebe Town Hall, could provide 5.3% of current electricity demand by 2016.
Sydney's chief development officer for Energy and Climate Change Allan Jones has previously said the city's 100% target would require focus and discipline. "It's extremely important, from a technical point of view, to have a 100% renewable energy policy first so that you do the correct calculations, because you're replacing the fossil fuel grid. You cannot do that with a random selection of solar, wind or other technologies," he said, according to Go 100% Renewable.
Aspen, US
Aspen is home to approximately 6,600 people and aims to have all of its electricity generated by renewables by 2015. According to figures released last year, the city had reached 86% of its goal, with hydropower and wind as the most prominent sources.
Quoted on Go 100% Renewable Energy, Chris Menges and Will Dolan from Aspen's Sustainability and Utility departments said that the 2015 target is part of a "broader strategy to reduce both operational and community wide greenhouse gas emissions 30% below 2004 levels by 2020 and 80% below 2004 levels by 2050".
According to the city's website, 27% of its total renewable energy is from wind, which could increase in the future.
Its energy mix also includes a 92kW solar electric PV system. Since 2008, this has generated approximately 314,000 kilowatt hours of electricity. In addition, Aspen is undertaking a test project to evaluate the feasibility of using geothermal energy.
Copenhagen, Denmark
Copenhagen, the 2014 European Green Capital winner, approved a plan in 2012 to make the city carbon neutral by 2025. Part of this includes carbon-free transportation via pedestrian centres and additional bike routes, as well as charging stations and free parking for electric vehicles.
For heating, the city is pushing ahead with geothermal plans and the expansion of combined heat and power plants. In addition, there is a goal to replace coal power with biomass, with more solar and wind energy as part of the mix.
Copenhagen's plans will go some way towards achieving Denmark's overall plan of 100% of power and heat from renewable sources by 2035, and, for 2050, 100% of energy in all areas from renewables.
This plan includes removing coal from Danish power plants by 2030, with electricity and heat meeting the target in 2035.
Wildpoldsried, Bavaria, Germany
Wildpoldsried, with a population of approximately 2,600, began its first foray into renewable energy production in 1997. The village now intends to generate 100% of its heat and transportation needs from renewables by 2020.
According to Go 100% Renewable Energy, the village has installed a heating system fuelled by biogas and local wood waste pellets at 42 buildings, as well as new community buildings with solar panels, hydro power plants, biogas digesters and windmills.
In terms of transportation, Wildpoldsried is moving to a free car share system and programmes for electric vehicles. In 2013, the village produced four times the amount of energy necessary, enabling it to sell the excess for approximately €5m.
San Diego, US
The eighth-largest city in the US, San Diego has set a date of 2035 for its renewable energy project.
Known as the Climate Action Plan and introduced by Mayor Kevin Faulconer in 2014, it includes a mission to reduce greenhouse gas emissions by 50% by 2035.
Electric vehicles are to be given more prominence, with 30,000 charging stations to be installed by 2035. The city also plans to encourage walking and biking, setting targets of 18% for biking, up from 1%, and 7% for walking, up from 1%, as a means of transportation. These targets apply to those living within half a mile of both current and future transit stops.
Speaking to the KPBS Evening Edition, Faulconer said: "I know it won't be easy, but at the same time when we look at the world class leadership we're doing already on solar, energy just as one example here in San Diego, we can build upon that."
The Climate Action Plan has to go through an environmental review before it is approved.
San Francisco, US
The city on the central coast of California intends to source 100% of its electricity from renewables by 2020.
A Renewable Energy Task Force was established in 2011 to help develop methods and recommend the best way forward, and includes suggestions such as expanding access to local renewables and encouraging green leases.
The city has also started looking into using urban wind power as part of its renewable future, and is considering installing smaller wind turbines at the top of tall buildings in downtown San Francisco. SF Environment is modelling and mapping the city's urban wind resource and intends to add the findings to the San Francisco Solar Map, which shows clean energy activity across the city.
Also included in the plan is solar power, with Alcatraz Island incorporating a 280kW solar photovoltaic installation on the roof of the main cell house, providing approximately 66% of the island's electricity needs. British Motor has also set solar panels on the roof of its facility.
Tidal energy, hydropower, geothermal, biomass and biofuels are further avenues being explored for renewable energy and electricity.
Costa Rica
In March, Costa Rica achieved its renewable energy goal: powering itself with a combination of hydropower and geothermal for 75 days in a row.
High rainfall enabled four hydroelectric plants to run, according to the Costa Rican Electricity Institute. As of late March, 94% of Costa Rica's energy needs were being met by renewables, while last year 80% came from hydropower.
The government plans for the country to be carbon neutral by 2021 and will push the use of electric and hybrid transportation. It has also approved a $958m geothermal project that could produce 55MW of electricity once complete. This is enough to power 55,000 homes and there are plans for an additional two 50MW plants.
Hawaii
Hawaii has recently joined the 100% bandwagon with a bill passed by the Hawaii legislature in May stating that 100% of the state's electricity should be from renewables by 2045.
The bill, which is awaiting approval from the governor, would help the state reduce its dependence on imported fuel and help extend the reach of its Clean Energy Initiative.
The plan is to generate energy from hydroelectric, biomass, geothermal, hydrogen fuel cells, ocean wave and tidal, as well as wind and solar power sources.
According to Climate Central, Hawaii currently gets approximately 22% of its electricity from wind and solar, which is above the original 15% target for 2015.
Hawaii's renewable target, according to the bill, is 30% by the end of 2020, 70% by December 2040 and 100% five years later.
Fukushima, Japan
Since the Fukushima Daiichi nuclear disaster in 2011, the Fukushima Prefecture has started to move away from nuclear. Its renewable energy goal is to cover 100% of primary energy demand in Fukushima by 2040.
One part of this is harnessing offshore wind with a floating wind farm. The first 2MW turbine was delivered in 2013. The second phase consists of two 7MW wind turbines, with an overall aim of 143 large wind turbines totalling 1GW by 2020.
Go 100% Renewable Energy puts the cost of this at approximately $189m.
In addition, Fukushima intends to use solar thermal heating, photovoltaics and biomass, as well as geothermal energy and hydropower, for power and heating.
By the end of 2014 Japan as a whole had 23GW of installed solar capacity, and in January of this year Mitsubishi Electric Corp completed a 6MW solar station in Iwaki city.