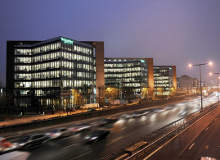 Schneider Electric" width="431″ height="287″ />
Schneider Electric – 1836
Schneider Electric, one of the world's oldest providers of electrical equipment, started business in 1836 in the iron and steel, heavy automation and shipping building industries, becoming an armament specialist by 1891. It further diversified into electrical equipments and automation to cater to the changing needs of the energy sector.
Schneider partnered with Westinghouse, a leading electric company, in 1929 to expand its business portfolio to include electric motors, locomotives and equipment for power plants. Schneider Group also acquired Lexel, one of Europe's leading electricity distributors, in 1999 and was renamed Schneider Electric to signify its focus in the electrical field.
Headquartered in Rueil-Malmaison, France, Schneider Electric employs 170,000 people globally. It earned a revenue of €24.9bn ($28bn), registering a year-on-year growth of 6.6%, in 2014. Its main customers include heavy industries, engineering firms and electrical equipment distributors.
Siemens – 1847
German multinational conglomerate and Europe's biggest engineering company, Siemens is one of the oldest providers of equipments to the energy, transmission and health care industries. Founded by Werner von Siemens and Johann Georg Halske in Berlin in 1847, it was first known as Telegraphen-Bauanstalt von Siemens & Halske.
Siemens was formed when Werner von Siemens wanted to improve the design of the telegraph. After patenting the dynamo principle in 1866, Siemens started making dynamos to aid in the generation and distribution of electricity. Werner von Siemens also initiated the foundation of a telegraph line between London and Calcutta (now Kolkata), in 1867. It was in the UK in 1881, that a Siemens AC alternator was used to light up a street electrically for the first time.
Headquartered in Munich, Siemens employs 343,000 people in more than 200 countries, and earned a revenue of €71.9bn ($81bn) in 2014.
Prysmian.JPG" alt="Prysmian" width="431″ height="287″ />
Prysmian – 1872
Prysmian Cables & Systems, an Italian manufacturer of energy and telecom cable and systems, and the leader in cable manufacturing worldwide, merged with Draka to form the Prysmian Group in 2011. Prysmian was originally founded in 1872 as Ditta Pirelli & C and has grown to become the world's biggest manufacturer of power and telecommunication cables.
The group has provided equipment and services to well-known projects such as the Burj Khalifa and Marina Bay Sands. It earned €6.84bn ($7.7bn) revenue in 2014 and employs 19,000 employees globally.
Emerson – 1890
Emerson Electric Manufacturing Company, a leading electrical equipment manufacturer founded in 1890 in St.Louis, Missouri, shortened its name to Emerson in 2000. The company was formed by John Wesley Emerson in partnership with Charles and Alexander Meston.
It started by manufacturing electric motors and fans, and became the biggest manufacturer of airplane armaments during World War II. Emerson continued to evolve as a key player in the energy sector through a number of development and acquisitions including that of China's leading network power provider, Avansys, in 2001.
Emerson now operates in more than 150 countries and employs approximately 115,000 people, earning $24.5bn in revenue in 2014.
General Electric – 1892
A merger between Charles Coffin's Thomson-Houston Electric Company and Thomas Edison's Edison General Electric Company in 1892 led to the creation of GE. Edison's company had by then constructed America's first central power station in New York. The conglomerate built the world's biggest transformer in 1895.
GE continues to grow and expand its footprint in the energy industry through acquisitions and innovations. GE Wind Energy was formed through the acquisition of Enron Wind Systems' wind power assets in 2002.
GE earned $148.6bn in revenue in 2014, registering a 2% year-on-year growth. Headquartered at Fairfield, Connecticut, the company employs 305,000 people globally.
Sumitomo Electric Industries – 1897
Sumitomo Electric Industries, which was set up as Sumitomo Copper Rolling Works in 1897 to produce silicon copper wires for electrical use, today serves diversified industries including automotive, electronics, information communications, industrial materials, and environment & energy.
The 118-year-old electric equipment manufacturer provided silicon copper wires to the Japanese Ministry of Communications before starting to produce power cables in 1908. The Sumitomo Electric Wire & Cable Works, which was established in 1911, manufactured the first Japanese-made high-voltage cables (11,000V) later that year. It was named Sumitomo Electric Industries, Ltd in 1939 and started the construction of overhead transmission lines a decade later. It started production of optical fibre cables in 1974, which was followed by the production of eco-friendly wires and cables and the commercial sale of high-temperature super conducting cable.
Sumitomo Electric Industries is headquartered in Osaka, Japan, employs 225,484 people globally, and reported net sales of $20.9bn in 2014.
Legrand.jpg" alt="Legrand" width="431″ height="287″ />
Legrand – 1904
Legrand, a French electrical company and world leader in electrical and digital building infrastructures, was formed in 1904 when Frederic Legrand, Charles Alary and Jean Joquel bought a porcelain dish making workshop and named it Legrand, Alary and Joquel Company.
The workshop was renamed Betoule Legrand & Co. in 1911 and started producing electrical wiring devices in 1919, and was further renamed Legrand & Co by 1924. A fire in 1949 destroyed the porcelain tableware business at the porcelain and electrical devices factory after which the company decided to focus on its electrical wiring division.
Legrand provides products and systems in seven categories, which include user interface, energy distribution, building systems, cable management, digital infrastructure, UPS and installation components. It provides solutions for lighting, heating, energy, networks and access management in buildings. Headquartered in Limoges, France, the company employs more than 36,000 people worldwide and reported net sales of $4.9bn in 2014.
Hitachi – 1910
Japanese conglomerate Hitachi, which was formed in 1910 by electrical engineer Namihei Odaira, began with the production of a 5HP induction motor to soon become a domestic leader in electric motors and electric power industry. It started producing AC ammeter and voltmeters in 1914 and began manufacturing fans two years later.
Hitachi is now a diversified company that provides integrated solutions for information & telecommunication systems, power systems, social infrastructure, electronic systems & equipment, construction machinery, high-functional materials & components, automotive systems, digital media & consumer products, and financial services.
Headquartered in Chiyoda, Tokyo, Hitachi operates globally employing 320,725 people, recording net sales of $1.2tn in 2014.
Mitsubishi.jpg" alt="Mitsubishi Electric" width="431″ height="287″ />
Mitsubishi Electric – 1921
Mitsubishi Electric was set up in 1921 by Mitsubishi Shipbuilding Co. in Kobe, Japan, as a factory that manufactured electric motors for ocean-going vessels. It quickly entered the consumer sector by manufacturing electric fans and by 1960, emerged as one of the biggest suppliers of electrical equipment.
Mitsubishi established its dominance in sectors such as machinery, electrical equipment and chemicals as early as 1916. The first Mitsubishi electric power generation equipment was installed in 1938. The company now manufactures photovoltaic modules for solar power plant installations, turbine generators, hydraulic turbine generators, nuclear power plant equipment, motors, transformers and power electronics equipment.
Headquartered in Tokyo, Japan, the company employs more than 120,000 people globally, and reported net sales of $39bn in 2014.
Fuji Electric – 1923
Fuji Electric Manufacturing was established in 1923 as a capital and technology union between Furukawa Electric and Siemens and renamed Fuji Electric in 1984. It has established its supremacy in the electric equipment sector by producing products ranging from small semi-conductors to large power plants.
Fuji Electric's Kawasaki factory was established in 1924 began manufacturing electrical machinery, transformers and electric fans. It signed an agreement with Siemens in 1955 to transfer technology to manufacture steam turbines, which allowed it to enter thermal power plant business. Fuji Electric Corporation of America, which was established in 1970 to cater to the needs of the American market, developed the 140MW Nga Awa Purua Power Station, which was the world's biggest single-unit geothermal power plant, in 2010.
Headquartered in Tokyo, Japan, Fuji Electric employs 25,524 people worldwide and earned $7.38bn in revenue in 2013.