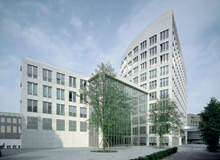 E.ON is the largest company in terms of revenue, as a major producer and supplier of electricity and gas with extensive distribution networks in Europe and the US.
The company also trades in energy and has interests in the Nord Stream as part of its storage and transport offerings, which include underground gas reservoirs.
Headquartered in Dusseldorf in Germany, E.ON has four main business divisions: Generation, Renewables, Global Commodities, and Exploration and Production.
An additional ten regional units focus on sales, energy networks, and distribution in Germany, the UK, Sweden, Italy, France, Benelux, Hungary, Czech Republic, Slovakia, and Romania.
E.ON's Generation assets include fossil-fired, biomass, and nuclear power plants with facilities in Germany, the UK, Sweden, France and the Benelux countries.
The Renewables division operates in Europe and North America by developing, building, and managing energy assets, which include onshore and offshore wind and photovoltaic (PV) solar. It caters to a large customer base of network companies, wholesale markets, energy suppliers, and government subsidy programmes.
The Global Commodities unit trades in electricity, natural gas, liquefied natural gas, oil, coal, and carbon allowance, while also sourcing contracts for pipelines, storage facilities, and long-term supply.
The exploration and production unit focuses on the UK, Norwegian North Sea, and Russia.
"E.ON's revenue in 2015 was $126.97bn."
Financial Performance
The revenue of E.ON in 2015 was $126.97bn, which is a 2.8% increase from 2014. The company reported higher operating losses in 2015, at $4.68bn compared to the previous year's $843.5m. The net loss in 2015 was $7.64bn, an increase of 121.5% over 2014's $3.84bn.
The Global Commodities division represented the highest share at 62.7% of total revenue and was the best performing with a 7% increase in revenue in 2015 compared to 2014. This division reported a decline of 41.9% in its revenue in 2015 over the previous year and accounted for 1.3% of the company's total revenue.
Key Competitors
The key competitors of E.ON are RWE, Shell Deutschland Oil, StadtwerkeMunchen, Electricite de France, Enel, Engie, PGNiG and Vattenfall.
Latest Developments
Set-up of new entity Uniper saw the separation of the company's fossil fuel business from its renewable energy assets in January 2016. Uniper will oversee conventional power generation assets, mainly hydropower, natural gas, and coal.
E.ON decided to sell its UK exploration and production portfolio to Premier Oil in January 2016 for$120m.
In another agreement in December 2015, E.ON and RWE agreed to sell their stake in the Luxembourg utility Enovos International to an independent private investment company. The duo holds a 10% and 18.4% interest respectively in the utility.
E.ON also signed a binding agreement in December 2015 to acquire Heat & Power, a leading Italian power and heat generation solutions provider.
The company's investments in the renewable sector were reportedly over $11bn in February 2016, which was the highest in Germany.