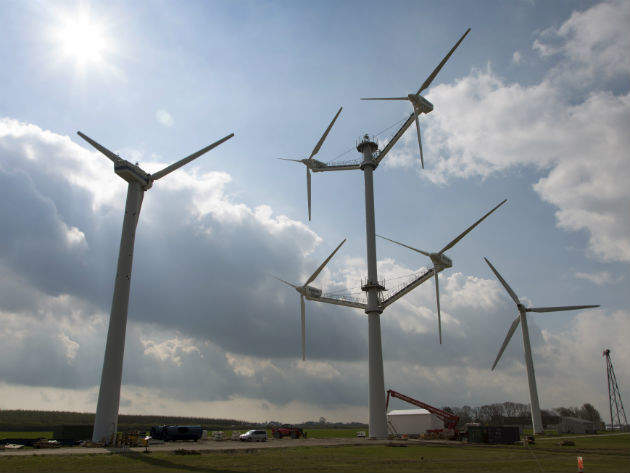 With wind energy technology now fully established and competitive, it's an exciting time for innovation as turbine manufacturers ramp up their efforts to develop advanced designs that make wind generation economic in a wider range of applications.
From floating wind farms and local-scale 'wind trees' to the use of complex composite materials to make turbine blades lighter and more durable, there are plenty of disruptive concepts that are driving the next generation of wind power as it continues to steal market share from fossil fuel-burning sources such as coal.
Wind power efficiency: a question of scale
Above all, however, wind turbine innovation in recent years has been a story of scale. Wind turbine blades have more than quadrupled in size over the last three decades; today's blades commonly reach 80m in length, and they are likely to keep growing.
"Increased production has come largely from a move to larger offshore turbines, whose longer blades produce more energy," wrote Knowledge Centre for Materials Chemistry director Dr John Conti-Ramsden and Offshore Renewable Energy Catapult research materials engineer Dr Kirsten Dyer in a September 2015 article for Renewable Energy Focus. "Today's blades are up to 80m in length, but the next generation are likely to reach over 100m."
"Wind turbine blades have more than quadrupled in size over the last three decades."
The prevailing wisdom holds that the increased power output of larger turbines (which reach higher altitudes to access stronger winds) allows for fewer turbines to be built per wind farm, improving the energy costs of wind farm construction and having a dramatic impact on their levelised cost of energy (LCOE).
"The larger-sized turbines result in dramatic reductions in the cost of energy," Fort Felker, director of US National Renewable Energy Laboratory's Wind Technology Center, told National Geographic in 2012. "The cost has been reduced by a factor of ten or so, from unaffordable levels to where it is right now, able to compete with conventional power sources."
Certainly the scaling efficiency model has been working for wind power, as it has for many other manufacturing-based industries, and it will continue to do so. But is size everything? Danish wind turbine manufacturer Vestas, which has installed 76GW of wind power capacity across 75 countries over the last 35 years, has been experimenting with a new turbine design that could challenge the industry's 'bigger is better' approach.
Challenging the prevailing wisdom on scale
In April, Vestas revealed that, in partnership with the Technical University of Denmark, it had begun installation of a new multi-rotor turbine concept. The eye-catching turbine, which was commissioned in May at the university's Risø wind turbine test site near Roskilde, hosts four separate rotors on a single tower. This complex structure is intended to produce more power output from a smaller turbine, and according to the company's April press release, "challenges the core scaling rules that turbines have to grow in size to increase their energy output".
At 74m in height, the multi-rotor demonstrator unit does indeed cast a shorter shadow than most of its modern counterparts, not least Vestas's own 8MW V164 turbines, currently being installed as part of the Burbo Bank offshore wind farm expansion project in Liverpool Bay, which reach a towering 220m.
Vestas senior vice-president for innovation and concepts Jorge Magalhaes says technical advances in recent years have made this new test concept feasible.
"The time is now right to accelerate the process and bring this idea to its next stage," Magalhaes says. "Others have tried setting up multi-rotor turbines in the past, but with today's more powerful, fast and deterministic control systems, we believe that the time is now finally right to test the concept of such a configuration."
From a LOES perspective, the idea behind the multi-rotor turbine is to reduce the expense of transporting and installing massive turbine units, which is one of the primary drivers of cost for wind power. Magalhaes is aware of the opportunity and the challenge that the project entails.
"Continuing to reduce the LCOE over the long-term will require new solutions and a new way of thinking," he says. "Building on our industry-leading experience within products and solutions, we have designed the multi-rotor concept turbine with that in mind. Many new load and control features will need to be developed, tested, and proven to assess the technical and eventually the commercial feasibility of the concept, but that is all part of the learning curve in innovation."
The learning curve for multi-rotor turbine tech
Despite quickly hitting several important milestones, including producing its first kWh on schedule in July, the demonstration project at Risø is a true technical experiment, and Vestas is still non-committal about the technology's commercial prospects. Indeed, there are many complex design and software-related tests to conduct to assess the multi-rotor turbine's viability across a range of conditions – with four rotors to keep track of, real-time monitoring will be vital to ensure that there are plenty of redundancies in place if a single rotor is hit by a technical hitch.
"With four rotors to keep track of, real-time monitoring will be vital."
"Right now we are testing various software functions," explained Vestas senior specialist Erik Carl Lehnskov Miranda when the kWh milestone announcement was made in July. "One of them is the cut-out functionality, i.e. if the concept demonstrator stops when it reaches the cut-out wind speed. Another is the yaw system supervision that shuts down the turbine in case the yaw misalignment exceeds certain values."
"For the multi-rotor concept demonstrator, we are using a control system that's suitable for concept demonstration, and that has sufficient bandwidth to handle the additional amount of sensors required for functional testing on concept level," says Magalhaes. "Furthermore, we have installed full-scale converters to be able to get additional functionality and control features needed in the concept demonstrator to test the demonstrator to the limits."
The demonstrator project has already presented some results from initial structural tests, Magalhaes adds, and results from the current dynamic testing are expected to be complete late this year, with the full completion of testing expected by the end of 2017.
Blue sky thinking
The success of Vestas's multi-rotor design as a commercial product is certainly no sure thing – the technical complexities are intimidating, the cost benefits of the design will need to be proven beyond doubt and the visual implications of a quad-rotor turbine are difficult to predict in terms of public reaction. Tina Casey of CleanTechnica noted in July that the design adds "a new level of aesthetic concern to the issues already faced by today's generation of tall wind turbines".
Nevertheless, while Magalhaes offers no certainty about the multi-rotor turbine's future at this early stage, he believes this sort of experimentation plays an important role in the development of turbine technology as a whole.
"While there is no guarantee for success, or that we will end up with a commercial product, this process of continuous innovation and exploration is extremely important," he says. "It provides us with essential knowledge that can help us bring down the LCOE and optimise the AEP [annual energy production] of our products in the future, ultimately integrating key technologies to solve our customers' challenges."
Perhaps it's appropriate that, with Vestas's design and many others, the wind industry understands the benefits of a touch of blue sky thinking.