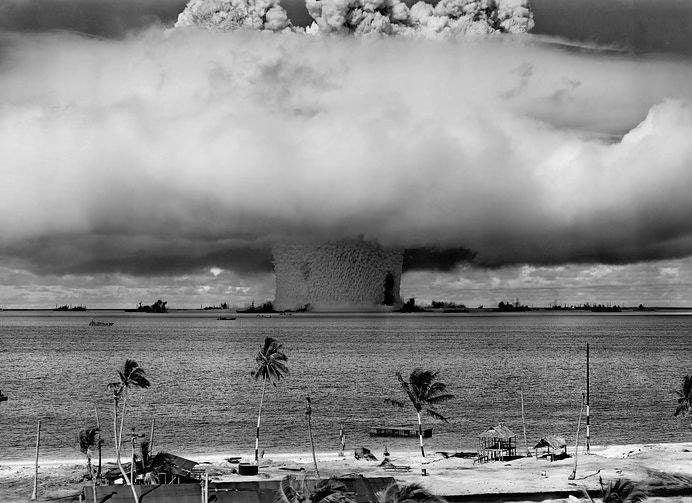 The International Atomic Energy Agency (IAEA) and the Government of Kazakhstan have signed a joint agreement to set-up a low-enriched uranium bank – expected to start operations in 2017 – to supply power stations with nuclear fuel while also helping alleviate safety concerns.
The bank will hold a reserve of low-enriched uranium (LEU), which is the fundamental ingredient of nuclear fuel. It will act as a last resort supplier of LEU to IAEA Member States, if they have been unable to obtain it on the global commercial market, thus giving countries more confidence in the reliability of their nuclear power plans.
"It provides Member States with additional confidence in their ability to obtain nuclear fuel in an assured and predictable manner," says project executive of the LEU Bank, Terry Wood. "Even in the event of an unforeseen market disruption."
Kazakhstan's nuclear history
Despite hosting more than 15% of the planet's uranium reserves, Kazakhstan has no nuclear power stations of its own. Therefore the bank's development is promising for the country, as it will play an important role in supplying other countries with valuable fuel, while ensuring the safety of nuclear power.
"[The bank] will be safe and secure," says Wood. "LEU has been safely stored in many countries for many years without harming human health or the environment."
"LEU has been safely stored in many countries for many years without harming human health or the environment."
Sadly, Kazakhstan has a long history of enduring the effects of nuclear capabilities; the United Nations estimates that 1.5 million people suffered the impact of radiation from Soviet Union nuclear weapons testing at The Polygon, where 456 nuclear tests were deployed between 1949 and 1989.
Due to this, the country has played a big role in the history of global nuclear security. The Nevada-Semipalatinsk movement, led by Kazakhstani politician Olzhas Suleimenov in 1989, was a campaign to close the Soviet nuclear sites in the country and it eventually saw the shutdown of The Polygon in 1991.
When the Soviet Union dissolved that same year, Kazakhstan surrendered the former Union's nuclear weapons to Russia's new government as part of the Lisbon Protocol agreement. Russia couldn't fulfil the terms of its START 1 disarmament treaty with the US until all states possessing Soviet nuclear weapons had either had them destroyed or transferred to Russian control.
In doing so, Kazakhstan showed how co-operation and transparency could help combat and reduce nuclear threats. Opening the LEU bank is an extension of the message opposing nuclear energy dangers, offering a safe source of fuel.
Avoiding dangers – learning from Iran
Developers and government officials believe that the bank will be vital in making sure nuclear power isn't used wrongly or for dangerous reasons.
For example, Kazakhstan's Foreign Ministry said in a statement issued before the signing that the LEU bank is "an important step in supporting nuclear non-proliferation."
The development aids this by dissuading countries from building their own enrichment facilities, which may be misused in order to purify uranium to weapons-grade levels, according to Assistant Secretary of Defence for Nuclear, Chemical & Biological Defence Programs Andrew C Weber. He says: "It takes that off the table and as a result it makes everyone in the world safer."
In the past, enrichment developments have lead to suspicions about whether the country is actually making weapons-grade materials, such as in Iran. In 2005, the IAEA declared that Iran had violated its Nuclear Proliferation Treaty Safeguards Agreement concerning its enrichment programme, and in July 2006 the Security Council demanded that it be suspended, which Iran refused to do.
The most recent National Intelligence Estimates on Iranian nuclear progress, from 2007, which represents the findings of the senior officers of all of the major American intelligence agencies, stated that there was no conclusive evidence that Iran had made any attempt to build nuclear weapons since 2003.
Whether the suspicions were justified is a matter of opinion, but it is currently believed that Iran does not possess nuclear weapons.
"We are in a race between cooperation and catastrophe."
The LEU bank will help prevent such situations occurring again, and is a first-of-its-kind, as it's not owned by any one country. Instead of risking investigations or suspicion over nuclear projects, the bank provides countries with a legitimate uranium source.
Indeed $50m in financial aid for the development comes from the Nuclear Threat Initiative (NTI), a non-profit that wants to reduce the risk of use and prevent the spread of nuclear, biological, and chemical weapons.
The NTI was co-founded by former US Senator Sam Nunn, who said that peaceful use of nuclear energy prevents "catastrophic terrorism."
"We are in a race between cooperation and catastrophe," he said at the signing ceremony. "Today in Astana, Kazakhstan, we are accelerating our pace and running much faster."
Steps towards a safe and low-carbon future
Building a storage bank continues Kazakhstan's peaceful role in terms of nuclear power, as it will be responsible for the facility's safety. The development is hosted by Ulba Metallurgical Plant in Oskemen, which has a six-decade-long track record of safely and securely handling and storing nuclear materials.
Wood says that the bank will meet all IAEA safety standards and security guidance documents, and will also be subject to IAEA safeguards in accordance with Kazakhstan's Comprehensive Safeguards Agreement and Additional Protocol with the IAEA.
The bank does not prohibit countries from developing their own nuclear fuel facilities, but encourages them to proceed with non-violent nuclear plans without fear of backlash or suspicion from other nations. Also, encouraging nuclear developments is a step in the right direction for the worldwide switch to low-carbon energy.
As nuclear power becomes a more prominent part of the energy landscape, the LEU bank could improve countries' confidence in their plans, through providing a readily available fuel supply as well as assurance that individual nuclear plans are safe, and without imminent threat of unforeseen warfare.