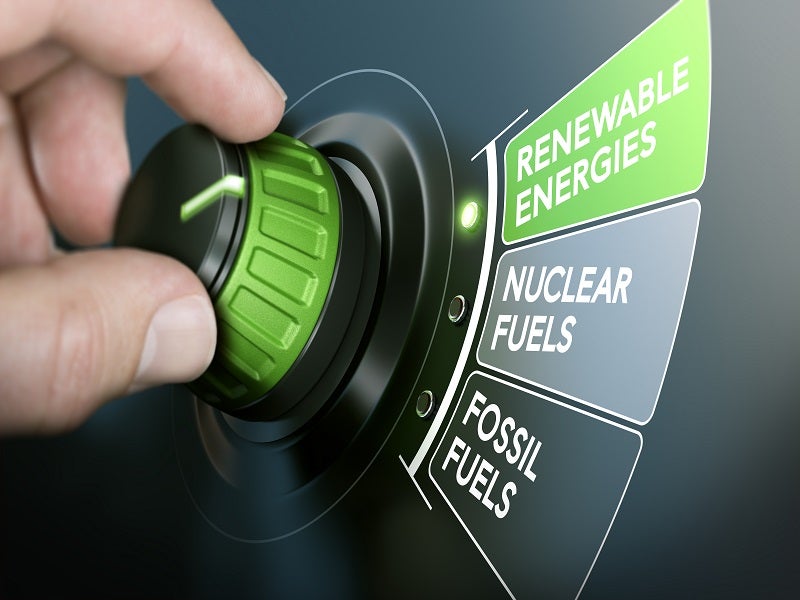 Fossil fuel divestment leads as Power Technology lists ten of the most popular tweets on power in July 2020 based on data from GlobalData's Influencer Platform.
The top tweets were chosen from influencers as tracked by GlobalData's Influencer Platform, which is based on a scientific process that works on pre-defined parameters. Influencers are selected after a deep analysis of the influencer's relevance, network strength, engagement, and leading discussions on new and emerging trends.
Top tweets on power in July 2020
1. Bill McKibben's tweet on University of Vermont divesting from fossil fuels
Bill McKibben, an author and environmentalist, tweeted on the University of Vermont 's Board of Trustees voting to end direct investments in fossil fuels. Further, the university will end all public investments in fossil fuels by July 2023.
The decision marks another milestone in the university's history of commitment towards environmental issues since 1972. It was taken in Light of the growing concerns towards climate change and several years of student advocacy.
https://Twitter .com/billmckibben/status/1283143133384105989
Username: Bill McKibben
Twitter handle: @billmckibben
Retweets: 507
Likes: 2446
2. Mike Cannon-Brookes' tweet on Sun Cable's new solar farm
Mike Cannon-Brookes, cofounder of collaboration software firm Atlassian , tweeted on Sun Cable 's 10GW solar farm being awarded Major Project status by the Australian government. He noted that the move was an important step towards moving away from fossil fuels.
The solar farm will be one of the largest in the world and is being developed with an estimated investment of $22bn. It will include battery storage facilities of up to 30GW and a 3,750km-long high voltage direct current sub-sea cable capable of transmitting power to Singapore.
👏🏻 to @SunCable1 on achieving Major Project Status in Australia!

Another big step forward for exporting our Aussie sunshine to the world & moving our economy off fossil fuels.

We can do it Australia! 🌱#electronsnotmoleculeshttps://t.co/B5F7m3upJo

— Mike Cannon-Brookes 👨🏼‍💻🧢 (@mcannonbrookes) July 29, 2020
Username: Mike Cannon-Brookes
Twitter handle: @mcannonbrookes
Retweets: 118
Likes: 588
3. Mike Hudema's tweet on Copenhagen becoming carbon neutral
Mike Hudema, a climate campaigner, tweeted on how Copenhagen will become the world's first carbon neutral capital by 2025. A number of cities have announced their plans to become carbon neutral by 2050 but Copenhagen is expected to achieve this goal 25 years ahead of the other cities.
Hudema included a video in the tweet detailing the ways in which the city plans to achieve this goal. Copenhagen is retrofitting social housing with energy efficient equipment and encouraging the use of cycling and public transport. It has also banned the use of diesel cars and plans to generate 100% of its energy from renewable sources.
In just six years from now, Copenhagen is set to become the world's first carbon neutral capital.

We have solutions to the #climate crisis. Let's stop the delays and implement them. #GreenNewDeal#ActOnClimate #ClimateChange #innovation #renewables #go100re pic.twitter.com/iNHbd18E2H

— Mike Hudema (@MikeHudema) July 7, 2020
Username: Mike Hudema
Twitter handle: @MikeHudema
Retweets: 160
Likes: 320
4. Zach Shahan's tweet on the electric crossover
Zach Shahan, CEO of Clean Technica, tweeted on how despite Covid-19 being the most significant event in 2020, other developments during the year including the release of Tesla Volkswagen and Ford's new electric car models.
Tesla released its mid-size SUV named Model Y, while Volkswagen released the compact electric car ID.3, and Ford released the Mustang Mach-E. Tesla also became more valuable than oil company ExxonMobil as well as other automakers. Shahan noted that the developments marked the crossover from fossil fuel based cars to electric cars.
I know 2020 will be remembered more for other things, but note that this is the year the Tesla Model Y, VW ID.3, and Ford Mustang Mach-E come/came to market, and the year TSLA became more valuable than Exxon and every other automaker on the planet.

⚡️ The electric crossover. ⚡️

— Zach Shahan (@zshahan3) July 16, 2020
Username: Zach Shahan
Twitter handle: @zshahan3
Retweets: 21
Likes: 140
5. Assaad Razzouk's tweet on wind power projects in Vietnam
Assaad Razzouk, CEO of Sindicatum, tweeted on Vietnam approving the development of 7GW of wind power capacity, which is 18 times the capacity in 2019. The country will develop this capacity across 91 onshore and offshore projects.
Vietnam plans to achieve a total wind power generation capacity of 12GW by 2025, as the country is forecast to face severe power shortages from 2023. The country is expected to require 130GW of electricity by 2030, which is double the existing 54GW capacity.
Despite the new capacity approvals, Vietnam still faces challenges in terms of stress on transmission lines due to fluctuating and intermittent electricity from clean energy sources. The country is carrying out infrastructure upgrades to deal with these challenges.
Vietnam goes even even bigger on wind power, approves massive deployment of 7GW of wind across 91 onshore and offshore projects – 18 times its 2019 wind capacity

Solar and wind take over slowly, slowly, then all at oncehttps://t.co/iaik6JRbWX

— Assaad Razzouk (@AssaadRazzouk) July 2, 2020
Username: Assaad Razzouk
Twitter handle: @AssaadRazzouk
Retweets: 76
Likes: 123
6. Mary Anne Hitt's tweet on retirement of coal plants in Europe
Mary Anne Hitt, national director of Campaigns at Sierra Club, tweeted on the retirement of coal plants announced in Europe including seven in Spain and several in Poland, Czech Republic and Slovakia. Another plant is Spain will be closed despite being recently upgraded.
The announcement comes after renewable energy plants in Spain produced seven times more electricity than coal plants in 2019. Closure of the coal plants will make the country one of the fastest country to achieve decarbonisation.
ICYMI a big wave of coal retirements was announced in Europe this week including 7 plants in Spain – half the nation's coal plants – and renewables in Spain are providing *7x* more power than coal.

The global movement is growing and we're moving @BeyondCoal. Great thread ⬇️ https://t.co/ElAPBjZgYU

— Mary Anne Hitt (@maryannehitt) July 2, 2020
Username: Mary Anne Hitt
Twitter handle: @maryannehitt
Retweets: 40
Likes: 111
7. Mark Z. Jacobson's tweet on decarbonising the shipping industry
Mark Z. Jacobson, professor of civil and environmental engineering at Stanford University , shared an article on a Danish electric ferry called Ellen completing ten months of sea trials. The successful completion of sea trials can serve as an example for increasing the adoption of electric shipping, the article notes.
Maritime transport accounts for approximately 900 million tonnes of carbon emissions per year. A single ferry such as Ellen can help offset 2,250t of carbon dioxide per year. Decarbonisation of the shipping industry, however, is expected to cost approximately $1tn.
The shipping industry may not be willing to make new investments amid the current COVID-19 pandemic but continued investment in clean energy alternatives is essential to decarbonise the industry, the article adds.
twitter.com/mzjacobson/statuses/1287066277064790016
Username: Mark Z. Jacobson
Twitter handle: @mzjacobson
Retweets: 57
Likes: 94
8. Simon Evans on Japan's plans to build new coal plants
Simon Evans, deputy editor at Carbon Brief , tweeted on Japan's plans to develop new coal power plants although it plans to close some of the old fossil fuel plants. The country is heavily reliant on coal power to meet its electricity requirements and is the seventh largest emitter of green house emissions in the world.
The Japanese government plans to increase both renewable and nuclear power plants but it also plans to develop new coal power plants. The country has planned to reduce greenhouse gas emissions by 26% below 2013 levels by 2030, which some analysts believe is high insufficient to meet the Paris Agreement goals.
😱Japan is planning to build a bunch of new coal plants…

…but it might also close loads of old ones🎇

What's going on?
Plus or minus for climate?!

THREAD with analysis + charts pic.twitter.com/RMuT2MRcJv

— Simon Evans (@DrSimEvans) July 2, 2020
Username: Simon Evans
Twitter handle: @DrSimEvans
Retweets: 44
Likes: 86
9. Jesse Jenkins' tweet on NextEra's plans to develop a green hydrogen plant
Jesse Jenkins, professor at Princeton Engineering, shared an article on Nextera Energy's plans to develop a green hydrogen plant in Florida with an estimated investment of $65m. The pilot plant will be equipped with a 20MW electrolyser to produce hydrogen using solar power.
The plant is expected to be commissioned in 2023, upon receiving approval from state authorities. The hydrogen produced by the plant will be utilised to replace the natural gas used at the Okeechobee gas-fired plant operated by NextEra's subsidiary Florida Power & Light.
NextEra utility Florida Power & Light is proposing a $65 million, 20 MW electrolysis project to make "green #hydrogen" from #solar electricity https://t.co/t5ijPGrJjx

— JesseJenkins (@JesseJenkins) July 30, 2020
Username: JesseJenkins
Twitter handle: @JesseJenkins
Retweets: 15
Likes: 57
10. Dr Thomas Hillig's tweet on the need for charging infrastructure
Dr Thomas Hillig, founder of consulting firm THEnergy, tweeted on the importance of charging infrastructure for emobility. The Middle East and North Africa (MENA) region is working towards developing sustainable transportation, for which charging infrastructure will be essential.
Hillig tweeted a video of a new charger launched by Siemens in the Middle East. The company is playing a major role in providing emobility solutions in the region. The 22KW charger can charge two cars at the same time and has a compact design capable of withstanding harsh weather conditions.
Charging infrastructure is really key for #emobility. I have experienced this on my #DiscoverEmobility tour last weekend. I almost got stuck in the mountains because charging did not work several times… It would be great to do a trip in #ElectricVehicles in the MENA region… https://t.co/MPzfUmqlul

— Dr Thomas Hillig – #Sustainability #Hydrogen #Tech (@THEnergyNet) July 14, 2020
Username: Dr Thomas Hillig
Twitter handle: @THEnergyNet
Retweets: 17
Likes: 43