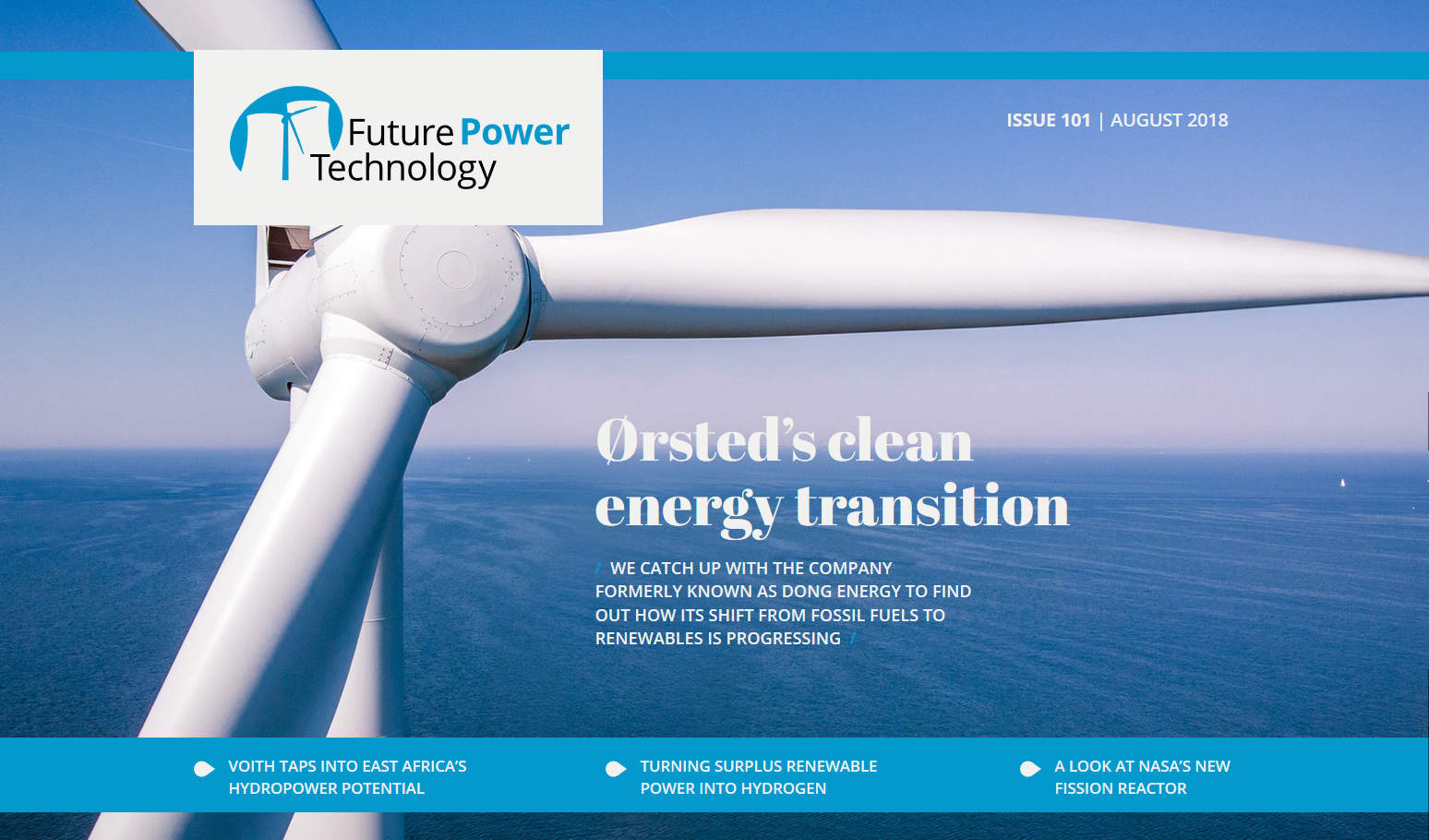 The August issue of Future Power Technology is out now and you can read it here for free on all devices.
Ørsted abandoned the oil and gas market last year to refocus on becoming a major player in the global wind turbine market. We speak to the company formerly known as DONG Energy to find out how it is adjusting to the renewable sector and what its future plans are in the smart green technology space.
Elsewhere in renewables, we consider whether excess solar and wind power could be a promising source of hydrogen, and find out from technology group Voith why it is focusing on the East African hydropower market with a newly established hub in Addis Ababa.
We also take a look at GE's new contender for a more environmentally friendly transmission and distribution gas, and find out what the Solar Together London scheme is doing to revive interest and investment in solar power in the UK capital.
Plus, we take a look at NASA's new fission reactor designed to generate power in space, hear from ENCS why smart grids could put national energy infrastructure at increased risk of hacking, and ask industry experts for their opinions on the gender disparity in the energy sector.
In this issue
From the influencers: views on gender parity in the energy sector
Pressure is rising for industries to face up to gender imbalance in their workforces and actively engage in addressing parity. Scarlett Evans speaks to women working in the energy sector to find out what they think about the situation.
Read the full article.
Ørsted's wind power pivot: the story so far
DONG Energy abandoned the oil and gas market in 2017, refocusing on becoming a prime player in the burgeoning global wind turbine market under its new name Ørsted. Nearly a year on from the company's big pivot, Chris Lo finds out how Ørsted is adjusting to the shift, and what it has taken to re-organise its operations and start exploring new green energy-centric investments.
Read the full article.
Solar Together London: will a new strategy light up the capital?
The Mayor of London recently launched Solar Together London, a group buying scheme which will help households and small businesses get solar panels installed on their homes and buildings. Elliot Gardner asks whether this initiative, which is hoped to revive the slow adoption of solar power in the UK, can kick-start a new solar boom.
Read the full article.
Excess energy: is surplus solar and wind power a good source of hydrogen?
The Institution of Mechanical Engineers is advocating for surplus renewable energy to be diverted to hydrogen fuel cells in order to boost the hydrogen fuel market, and balance supply and demand. Julian Turner gets the lowdown from Dr Jenifer Baxter, head of engineering at ImechE.
Read the full article.
Powerful potential: Voith's move into East African hydropower
Technology group Voith has opened a new hub in Addis Ababa to help coordinate hydropower projects in nine countries across East Africa, where the company sees significant growth and economic benefits. Elliot Gardner finds out what the company hopes to achieve and explores potential solutions to some of the controversial projects in the region.
Read the full article.
GE's green solution for T&D gas
GE has developed a green gas for the grid called g³, which it claims is an environmentally friendly alternative to the traditional transmission and distribution (T&D) gas, sulphur hexafluoride, and could reduce the environmental impact of T&D systems by as much as 99%. Molly Lempriere finds out more about g³ and its green credentials.
Read the full article.
Space race: NASA's new fission reactor
NASA has completed its first successful test of a new nuclear design in half a century, the Kilopower fission reactor, which has now moved one step closer to providing power in space. Molly Lempriere explores the challenges of developing nuclear for space.
Read the full article.
Preview: What's coming up in our September issue
The EU's Renewable Energy Directive has been recast, raising renewables targets and establishing a clear regulatory framework on self-consumption. Importantly, it has clarified the definition of biomass, previously drawing criticism for being too simplistic. We review the key changes to the directive and the concerns about biomass in particular.
We also take a look at the potential of renewables to transform energy systems across the African continent and profile the most promising new energy markets in the region, and speak to Adolf Goetzberger, recipient of the European Inventor of the Year lifetime achievement award for innovation in solar power technology and founder of the Fraunhofer Institut for Solar Energy Systems, about his research into concentrated solar power.
Plus, we check in with Siemens' pilot project for ammonia-based energy storage, take a look at ABB and Imperial University London's carbon capture plant, and find out how energy usage and demand is set to change as a result of global warming.