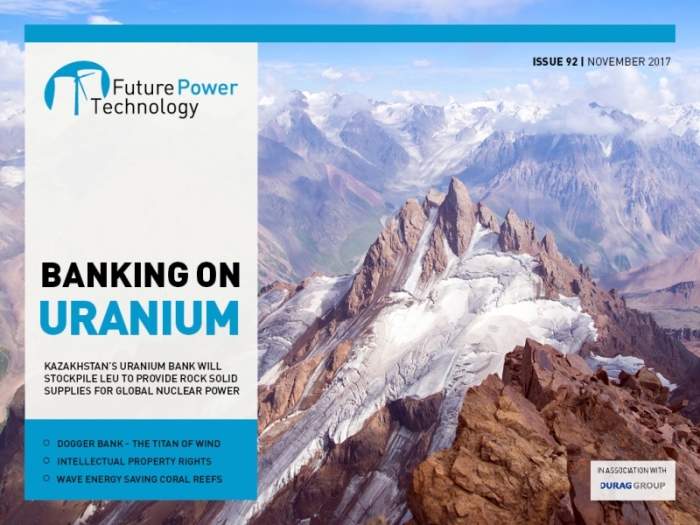 In this issue: Kazakhstan's uranium bank, Dogger Bank wind titan, wave energy saving coral, intellectual property rights, cybersecurity, millennials, and more.
The IAEA low-enriched uranium (LEU) bank has finally opened and is well on the way to becoming fully operational. Once so, it will contain 90 metric tonnes of LEU, acting as a stockpile for the IAEA Member States, in order to ensure a reliable source of nuclear power materials whilst supporting non-proliferation of nuclear weapon building resources. We attended the opening ceremony in Kazakhstan to see how it will work.
We also explore the four Dogger Bank offshore wind projects, learn how a new wave energy device could support coral reef growth, and with GE suing Vestas over patent infringement claims, we examine the shifting dynamics in the increasingly lucrative wind energy space.
Finally, with a focus on smart technology, we look at the relationship of cyber security and smart grids, and hear how millennials' expectations are changing user-utility dynamics.
You can read Future Power on your iPad via our app or in using the web viewer. It's free to read and you can join the conversation on Twitter.
In this issue
Kazakhstan's uranium bank
The IAEA's uranium bank in Kazakhstan is finally open and set to be fully operational. The facility will hold 90 metric tonnes of low-enriched uranium as a backup for all IAEA Member States, to secure reliable materials for nuclear power generation. We attended the official opening ceremony to take a tour of the facilities.
Click here to read the article
Dogger Bank: A titan of wind power
The Dogger Bank offshore wind projects have their ownership arrangements agreed as Forewind, innogy, SSE and Statoil. Now ready to move on to the financing stage, Dogger Bank is one step closer to construction of the four farms, each of which is double the size of any other farm in existence. We profile the project here.
Click here to read the article
The energy to save coral
A unique new wave energy device claims it can restore coral reefs and protect coastlines from erosion while installed. British wave energy start-up Zyba and Clean + Cool 2017 mission alumni built the CCell device to provide clean energy for coastal communities. Could it take off? We speak to the project team.
Click here to read the article
Turbines turf wars
GE is suing Vestas over patent infringement, claiming the company has been using GE's patented turbine power control technology in its windfarms and marketing. GE has a precedent in this area, having successfully sued Mitsubishi Heavy over the same patent in 2010. We explore how the case reflects the shifting dynamics in the lucrative wind energy space.
Click here to read the article
Millennials power energy market changes
US-based Smart Grid Consumer Collaborative has published a new report called Spotlight on Millennials, exploring younger energy consumers and their attitudes towards power use, the environment and smart energy technologies. So what are the energy priorities of millennials in developed markets such as the US and UK, and what can utilities do to keep them happy?
Click here to read the article
Cyber security & building a smart grid
Developing digital smart grids requires sophisticated cyber security, but the industry won't create these solutions without a grid to protect. What can be done? Robert Lagerström, founder of Foreseeti, and Arshad Saleem, smart grid thematic field leader at InnoEnergy discuss.
Click here to read the article
In the next issue
Could TuNur's 4.5GW solar energy export project power Europe? The colossal project will be the first of its kind in the Sahara Desert, after previous proposals failed due to political uncertainties and safety concerns. So what makes this project any different, and is the Sahara really the holy grail of solar energy? We find out.
We also examine DNV GL's latest global energy report which states that future energy should cost less than 3% of global GDP, compared with the current 5%. We examine the figures on current spending, and how this affects the ongoing debate over climate change efforts.
Plus, we consider whether Australia will overturn its stance on nuclear power, ask if insect eyes could lead to a breakthrough in solar technology, speak to a British waste management firm about utilising landfill waste gas for biomass, and hear about Ghana's latest initiative to draw new blood to its energy sector.
Digital magazine FAQ
Read Future Power for free on the iPad. Just download our app from the App Store to read the latest issue or browse the back issues in our archive. Sign up for a free subscription in the app and never miss a new issue.
You can also read the desktop version for free on our web viewer. (Browser compatibility: The web viewer works in the latest two version of Chrome, Firefox and Safari, as well as in Internet Explorer 9 and 10. Some features may not be compatible with older browser versions.)