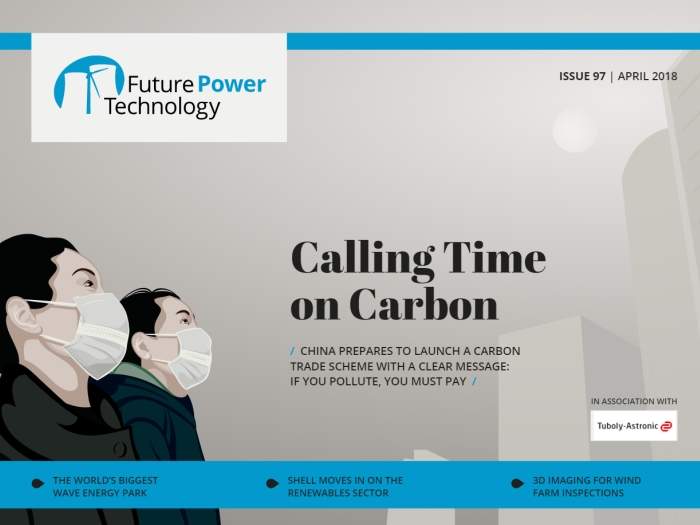 China has famously struggled with pollution problems for years, simultaneously breaking records for high carbon emissions and green energy investment. Now, the country is planning to roll-out the world's largest carbon market, which will dwarf the EU's Cap and Trade scheme. Will it work? How will it work? And crucially, will it be robust enough to close current loopholes? We investigate.
With plans afoot to build the biggest wave energy park off the coast of Bali, we take a look at how the project's shaping up, and after the European Investment Bank invested $400m in solar energy in India, we ask if solar could solve energy poverty in this populous country. We unpick Shell's decision to adopt a greater renewable energy portfolio, and hear why supplier Origami Energy is embracing real-time energy control, and why the company says utilities clinging to traditional business models are simply punishing themselves.
Elsewhere, we speak to the CEO of Rovco about its ambitious project to create a 3D visualisation technology to improve inspection works at offshore wind farms. By combining digital tools, hi-tech cameras and graphics software, the company aims to reduce inspection costs by up to 80%. We find out how.
Click here to read the latest energy industry news and analysis, and join the conversation on Twitter.
In this issue
Shell splashes out on renewables
Shell is diversifying its approach to energy by adopting a greater portfolio of renewables. It has announced a five-year power purchase agreement for England's largest solar park, as well as plans to build the world's largest hydrogen electrolysis plant. Is the oil giant set to become a big player in the renewables space?
Click here to read the article
Will Wello turn the tide for wave energy projects?
The world's biggest wave energy park is to be built off the coast of Bali by Indonesian company GapuraEnergi Utama, which has placed an order for a 10MW Wello Penguin wave energy park. We take a look at the park design?
Click here to read the article
Lighting up India with solar power
The European Investment Bank has invested $400m in solar power in India. Many businesses are already finding rooftop installations cheaper than the grid, and roll-out projects are in the works. Is solar the solution to powering one of the world's most populous countries? We take a look.
Click here to read the article 
Bringing 3D visualisation to wind turbine inspections
Subsea technology company Rovco has secured Innovate UK funding to help develop a 3D visualisation system to reduce the cost of offshore wind farm inspections by up to 80%. The system will employ AUVs, hi-res cameras and embedded graphic processing to provide a complete view of structures. We find out how it works.
Click here to read the article 
Greenpeace talks pollution and China's carbon trading scheme
China is preparing to launch an enormous carbon trading market. Initially covering the power industry, it will regulate the offsetting and trading of 3.3 billion metric tonnes of emissions, dwarfing the EU's Cap and Trade scheme. How will it work and it create more impetus for similar schemes elsewhere?
Click here to read the article
Unravelling the idea of energy as a commodity
Origami Energy has referred to using traditional utility business models as a turkey voting for Christmas. We speak to the company about the value of real-time energy control and find out why Origami thinks energy utilities need to reinvent their business models.
Click here to read the article 
Preview – Future Power May
For decades gas has been touted as the best practical alternative to oil, and production has soared, but in recent years the conversation has started to change as climate commitments demand a quicker switch to renewables. Some commentators are now suggesting the 'Golden Age of Gas' may die out before it really begins. What happened and could carbon capture technologies save the day? We explore the arguments.
In other sectors, solar was the fastest-growing source of new energy in 2016 and we trace the major players in the global solar boom across Australia, China and many US states, also we examine France's approach to disposal of radioactive waste and spent nuclear fuel following the country's IAEA approval, and assess the emergence of 'scavenging' practices, such as harvesting kinetic energy from moving trains.
Also, we report on the outcomes of the UK's T-4 energy supply auction and look at how power supply deals can help international diplomacy through forging stronger, trusting relationships.
Free on all devices
You can now read Future Power Technology for free across all devices, including mobile. It is still free to read and you can subscribe to get all the latest news, analysis and insight on the global energy industry delivered straight to your phone.
You can also browse our back issues in our archive, available on desktop and on iPad.