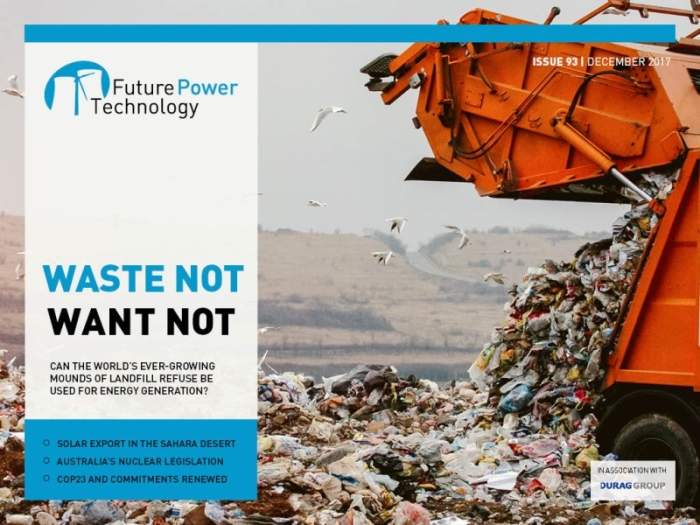 In this issue: Energising landfill waste, solar in the Sahara, COP23 and the cost of renewables, Australian nuclear, insect eyes inspiring tech, future energy leaders, and more. 
Could the vast quantities of waste ending up in landfill be put to better use? UK-based waste management firm, Veolia, has begun a landfill restoration programme where land is used for solar generation. We take a look at this and several of the small projects creating a waste-to-energy movement in the UK.
Also hoping to make the best of resources available, TuNur talks about its plans to build a 4.5GW solar farm in the Sahara Desert. Will this energy export project flourish where others have failed? Plus, we explore Australia's nuclear power debate and whether the country is likely to overturn its block on builds, and find out how the structure of insect eyes is helping make silicon-free solar panels.
Finally, in the wake of COP23, we hear how nation leaders are faring in their efforts to meet global carbon emission targets, and speak to the founders of the World Energy Council about its Future Energy Leaders programme in Ghana.
You can read Future Power on your iPad via our app or in using the web viewer. It's free to read and you can join the conversation on Twitter.
In this issue
The cost of a global energy transition
A new DNVGL report states that the global energy transition will occur without a significant increase in overall annual energy expenditure. In fact, in the future energy should cost less than 3% of global GDP compared with today's 5%. So perhaps it's time for cost to take the lead in the climate change debate? We examine what countries are currently spend and ask is it too much, or too little?
Click here to read the article
A nuclear turnaround in Australia
The Minerals Council of Australia has made fresh calls to overturn legislation that has effectively banned nuclear power in the country since the late 1990s. With the exception of a small research reactor, Australia has no operating nuclear capacity, but could change?
Click here to read the article
A solar battery in the Sahara
TuNur has filed a request for the authorisation of a 4.5GW solar energy export project that would power Europe. The colossal solar PV project will be the first of its kind in the Sahara Desert. Previous proposals have failed so what makes this different?
Click here to read the article
Making a movement out of a landfill
Could the vast quantities of waste sent to landfill be put to better use? UK-based waste management firm, Veolia, has begun a landfill restoration programme aiming to use the space for solar generation. With several similar projects making headway, is this the latest energy trend? We take a look.
Click here to read the article
Insect eyes and stable solar
Perovskite compounds are equally blessed and cursed due their ability to efficiently harness solar energy, while being extremely fragile. Now, scientists have taken inspiration from the structure of insect eyes to develop a solution. We take a look at this and other breakthroughs in perovskite technology.
Click here to read the article
Ghana's future energy leaders
In September, Ghana officially launched its national chapter of the World Energy Council's Future Energy Leaders' programme, a scheme to boost the number of ambitious young professionals entering the energy industry. We speak to the organisers about the scheme, titled 'Building the Capacity of Young Energy Experts to Think Out of the Box for a Sustainable Energy Future.'
Click here to read the article
Also out now: Operations & Maintenance Special Issue December 2017
It can take a disaster to force industry stakeholders to take stock of grid reliance and resilience, as happened in September when Hurricane Harvey made landfall in the US. In these situations, where entire cities lose power, the ability to repair a grid quickly can save lives. We review how US agencies and operators coped with this year's hurricane season and ask how grids can be made more resilient to natural disasters and extreme weather.
We also find out whether the approval of the world's largest solar thermal plant in South Australia could spell the beginning of the end for the state's reliance on coal, speak to Ørsted about the lessons learned in building and decommissioning the world's first wind farm, Vindeby, and look at the challenges of maintaining small components in nuclear plants.
Plus, we speak to Kaiserwetter about the importance of asset management data in securing funding for renewable projects, and find out how an Israeli start-p is using acoustic signatures to improve predictive plant maintenance.
Read the Operations & Maintenance Special here.
In the next issue
In October, the UK Government set out a new strategy for investing more than £2.5bn in low-carbon innovation between 2015 and 2021. Responses have been mixed, with some applauding robust initiatives, while others believe the plan falls short on detail. We gathered a roundtable to assess opinion in the industry.
We also check in on progress of new solar power projects, explore different forecast scenarios for nuclear power up to 2050, and investigate Germany's struggle to hit its carbon reduction and energy transition targets.
Plus, we speak to the brains behind the Open VL project, which aims to use local data on grid performance and electricity demand to support new technology development, and find out how a UK-based start-up plans to automate the process of utility switching for customers.
Digital magazine FAQ
You can read Future Power for free on the iPad. Download our app from the App Store to read the latest issue and browse the back issues in our archive. Sign up for a free subscription in the app and never miss a new issue.
You can also continue to read the desktop version for free on our web viewer. (Browser compatibility: The web viewer works in the latest two version of Chrome, Firefox and Safari, as well as in Internet Explorer 9 and 10. Some features may not be compatible with older browser versions).