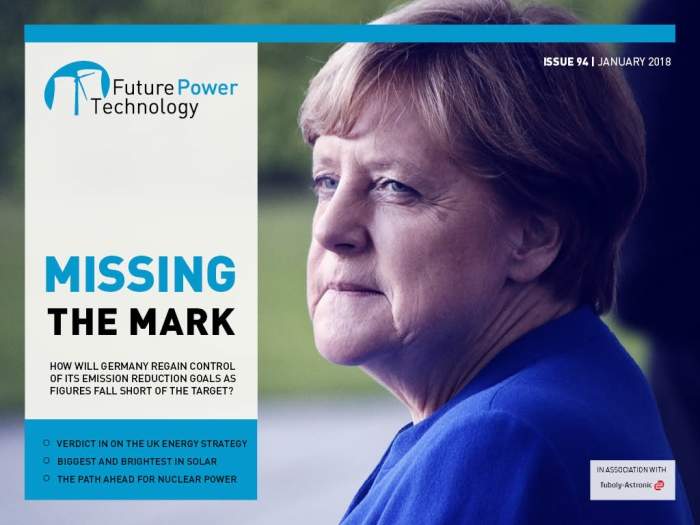 In this issue: Germany to miss clean energy targets, the UK's energy strategy, brightest solar projects, nuclear power's outlook, automating utility switching, electricity data sharing, and more
Germany may miss its carbon reduction targets by a considerable margin, according to a study by Agora Energiewende. By 2020, the country is likely to achieve only a 30% emissions reduction compared with 1990 levels, having already confirmed it will fall short of the original 40% goal. But with nuclear already rejected as part of Germany's energy transition, how will the country balance the energy needs of its population with renewable expansion and reducing reliance on dirty coal?
We pick through the IAEA's latest report to determine where the future of nuclear power market lies, call a roundtable of industry experts to examine the UK's new energy strategy, and profile the biggest and most awe-inspiring solar energy projects currently underway.
In technology, we hear how opening up access to local electricity usage data could operators and communities better manage their resources, and find out about the new Labrador Retriever device which is automating supplier switching, as when tapped into domestic smart meters helps customers find the best deal for their own utilisation needs.
You can read Future Power on your iPad via our app or via the web viewer. It's free to read and you can join the conversation on Twitter.
In this issue
The UK Energy Strategy
The UK Government has released a strategy for how it plans to invest £2.5bn in low-carbon innovation between 2015 and 2021, as part of the largest increase in public spending on science, research and innovation in more than three decades. Responses have been mixed at best, so we gathered a roundtable of experts to explore the industry's reactions.
Click to read the article 
Solar's biggest and brightest
The IEA has raised its forecast for the amount of renewable energy being generated over the next five years, following last year's impressive upturn in installation and generation, largely due to solar capacity increases in China, India and the US. Here, we take a look at the biggest and the brightest of these new and awe-inspiring solar power projects.
Click to read the article
An eye on the future of nuclear
What lies ahead for nuclear power growth? A new IAEA report presents estimates for nuclear power's health by 2050, offering both a 'high' case scenario (123% growth) and a 'low' case (-12%). To understand the vast differences and determine the likely outcome, we explore each possibility side by side and on its own terms.
Click to read the article
Can Germany steady its grip on clean energy?
Germany will its carbon reduction targets by a considerable margin, according to a recent study by Agora Energiewende. By 2020, the country is likely to achieve only a 30% emissions reduction compared with 1990 levels, far below the original 40% goal. With nuclear already rejected and efforts to reduce coal power, how will Germany meet its energy needs and maintain a successful energy transition?
Click to read the article
Community access to electricity data
The OpenLV project aims to open access to electricity data at local levels. Such data has never been available before and the team hopes to use this information to create a new generation of technologies for energy consumption management. We find out how.
Click to read the article
Automated utility switching
Switching suppliers is a tedious prospect for many consumers, but London-based start-up Labrador thinks it's got the solution – automating the switching process. The firm's smart device automatically switches customers based on their individual energy usage. We speak to Labrador about its Retriever device that's helping customers get the best deals.
Click to read the article
Next issue
Keeping the lights on is a changing challenge as cities are expanding and complex renewables starting to feed into ageing electricity grids. We attended the World Smart City Expo in Barcelona to learn about the innovative smart city projects transforming the future energy landscape. Here we report on the expo and the people behind the concepts.
Sticking with renewables, we take a look at Hywind's journey as the world's first floating wind farm comes online, look into the status of entirely transparent solar concentrators, analyse the US's love of power purchase agreements as a direct-to-customer approach and if this could help increase the viability of renewable power projects in Europe, and speak to Tokamak Energy's new CEO about cracking nuclear fusion.
Also, we unpack the politics of coal power after a leaked report revealed that a viable coal plant proposal was buried due to a clash with the Australian Labor Party's agenda. Should ideologies be allowed to encumber solid business cases? We explore the arguments.
Digital magazine FAQ
You can read Future Power for free on the iPad. Download our app from the App Store to read the latest issue and browse the back issues in our archive. Sign up for a free subscription in the app and never miss a new issue.
You can also continue to read the desktop version for free on our web viewer. (Browser compatibility: The web viewer works in the latest two version of Chrome, Firefox and Safari, as well as in Internet Explorer 9 and 10. Some features may not be compatible with older browser versions).