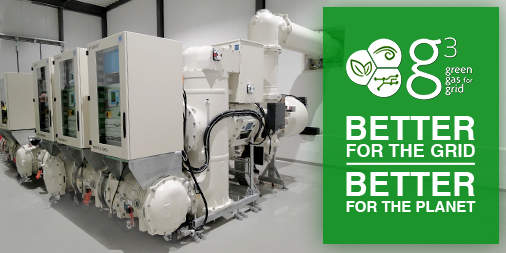 Whilst CO₂ is the most commonly cited greenhouse gas, it is by no means the only damaging gas in the electrical industry. Sulphur hexafluoride (SF₆), which is used in everything from tyres to medical examinations, has 23,500 times the global warming potential (GWP) as CO₂. It is the most potent greenhouse gas as determined by the Intergovernmental Panel on Climate Change.
SF₆ is most commonly used within electrical transmission and distribution as a dielectric, or insulating gas. Of the 10,000 tonnes of SF₆ installed each year, 80% is within the transmissions industry. The number of emission releases of SF₆ may be comparatively small, but they can cause lasting harm as explained by GE's executive product manager for g3, Dirk Uhde.
"So SF6 has 23,500 times the GWP compared to CO2, it has a lifetime in the atmosphere of 3,200 years. This means if you release a molecule of SF6 into the atmosphere it will stay there for 3,200 years. This means even if you release very few, this is a transgenerational issue because all the next generations will still be impacted."
GE has been developing an alternative since 2007, together with American company, 3M. Its Green Gas for Grid, g³, is a syngas consisting of 3M's Novec 4710 molecule, a member of the fluoronitrile family, and CO₂. But could it replace SF₆ as an affordable, stable dielectric insulator whilst dramatically reducing environmental impact?
Minimising global warming potential
g³ was designed to address the environmental concerns of SF₆, offering significant reductions in greenhouse gas emissions. Replacing 1kg of SF₆ with just half a kilogram of g³ would reduce emissions dramatically. The reduction would equal as much as is produced by sixteen cars driving 10,000km a year.
"SF₆ has a GWP of 23,500 compared to CO2 which means that 1kg of SF₆ is equal to 23,500kg of CO₂," explains Uhde. "The g³ gas has a GWP that is reduced by more than 99% if it is released into the atmosphere."
There are a number of other benefits to g³, including several financial incentives. GE has estimated that in countries or states with a carbon tax of €25/tonne of CO2, the tax saving could be as much as €150,000, or 20%-30% of CAPEX.
g³ operates at the same ambient temperatures as SF₆, operating between -25°C and -30°C without any loss in performance. It is non-toxic and falls into the same safety category as SF₆, further easing a switch to this greener alternative.
"g³ allows you to use it in electrical high-voltage equipment which will have the same characteristics as the current equipment which is using SF₆," says Uhde. "It will be of the same size, it will be of the same performance, it will not have any other different characteristics, you just have a different gas inside."
Seven years in the making, the team behind g³ had to overcome doubt from many factions. Similarly, technical challenges hindered progress, as GE and 3M struggled to ensure the benefits of SF₆ were not lost in the quest to reduce its environmental footprint.
"SF₆ is a gas that is very, very stable, so from a technical point the main challenge was to say, well, we need a gas that has the same stability," says Uhde. "The most difficult thing was to maintain its stability but introduce one thing that would make it environmentally friendly, so it wouldn't have this huge GWP."
Regulations driving change
g³ offers an easy alternative to the world most potent greenhouse gas, but its success relies in part of the regulations and incentives driving companies to make greener choices around the world. This is a trend that is likely to continue to grow, with 40% of utilities expecting a SF₆ tax or incentive in the next five years.
"Currently, there are governments looking into how they will regulate or not regulate the use of SF₆," says Uhde. "You have initiatives going on in the European community, you have countries that have adopted policies on it like taxes for SF₆ and there are countries that look into banning SF₆ over a certain timeframe. For example, there are currently discussions on this in California and all this will determine how fast people will adapt."
Increasing awareness of SF₆ will undoubtedly lead to greater restrictions on its usage. The European Union is aiming to reduce greenhouse gas emissions by 80% by 2050. Around the world, countries and states are increasing their reduction goals and the fight to tackle climate change continues.
In recent years there have been a number of alternatives to SF₆ designed in an effort to take advantage of the predicted restrictions. These include ABB's AirPlus switchgear range, which included its offering of a dielectric, dry-air gas released in China in 2017.
GE is confident that g³ offers the best alternative currently, dramatically reducing transmission equipments environmental footprint without large, expensive changes. "All solutions in the past when people have tried to substitute and change the gas inside, it all ended up with equipment that was either bigger or less performing," says Uhde. "This is really what makes this gas different currently, that it has characteristics that are so close, on a par really with SF₆ that we have the same performance off the equipment."
Globally, there are already nine utilities and two manufacturers using g³ in gas-insulated lines, gas-insulated substation and AIS current transformers, and these are likely to just be the first of many.
"I don't think we have any doubts that in big parts of the world people will move away from SF₆, the question is how fast it will happen," says Uhde. "But at least now we have an available solution, that when it happens it will foster the path to alternative solutions."