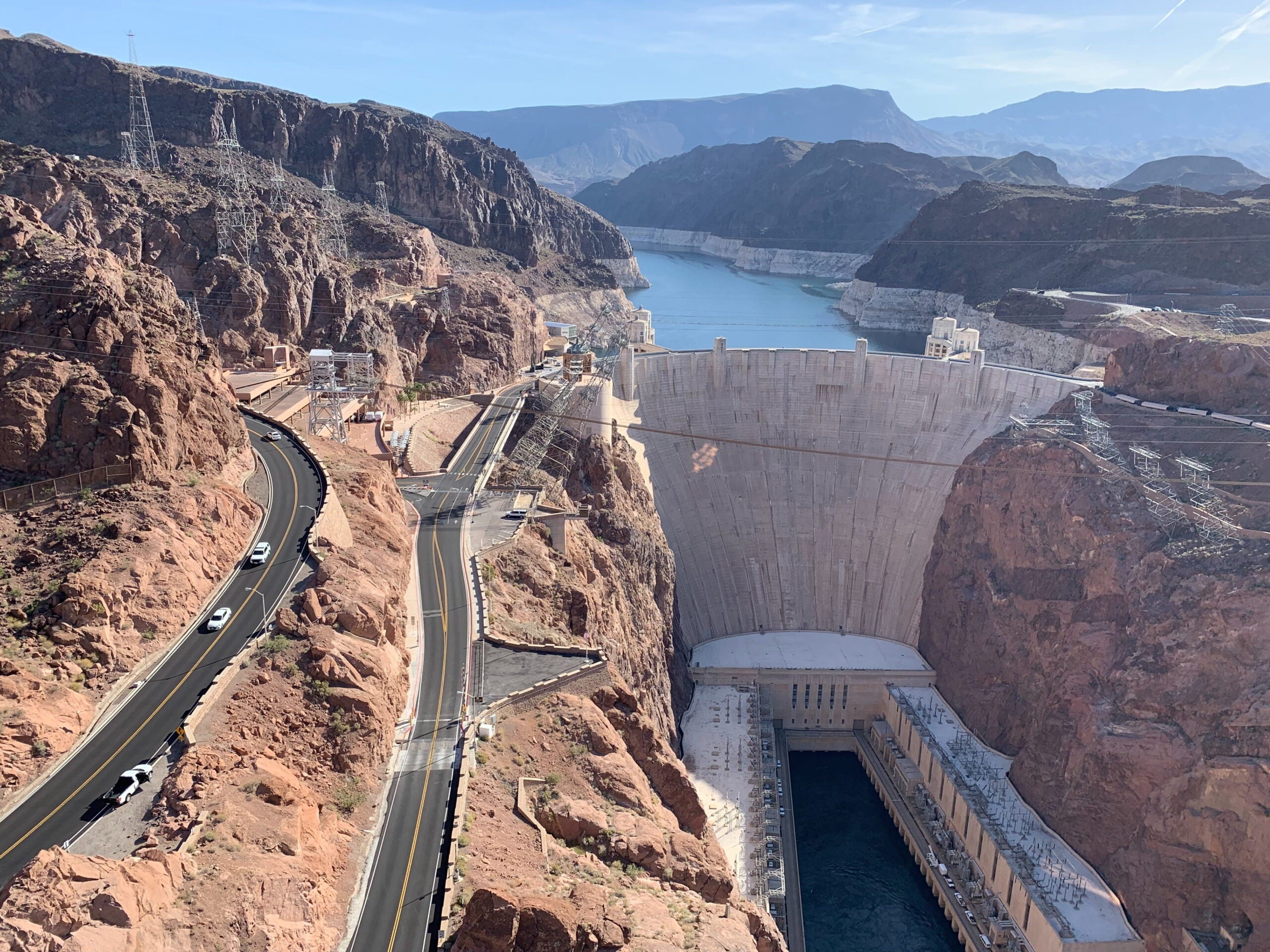 The Covid-19 coronavirus pandemic has changed how the world works. Businesses are looking at their work processes in a way that would not have entered the question in 2019. For power generators, there will always be a need to have people on-site.
Times have also changed at the world's most famous hydroelectric power plant. During an average summer, more than 100 engineers and electricians would work on the Hoover Dam. But in 2020, Covid-19 has changed how manager Mark Cook thinks about maintenance.
"We've had to reduce our maintenance staff down by 50%"
Before the pandemic, more than 100 electricians, mechanics, engineers and other personnel would work at the Hoover Dam hydroelectric plant. Unlike most power plants, the team would normally include tour guides and cleaners, helping visitors to get a view of the plant's 17 turbines.
Then the pandemic hit the US, where it continues to prevent normal operations. The dam closed to visitors on 17 March, and it remains shut while the country battles coronavirus. Manager Mark Cook told Power Technology that the pandemic has changed how his team looks at their workflows.
"We've done a number of things for the pandemic. We've changed how we look at the maintenance, and how we consider how critical it is right now. We kind of did a scrub, and said 'Hey, what has to be done? What has to continue on right now, and what can we defer until later?'
"Typically, we'll take a generator out of service every year and do some cleaning and annual maintenance. If we happen to miss a year on that, it isn't the end of the world, depending on what the unit is and what the scope of the work is that year. We made that call on a few of our generators, saying 'Hey, I think this one can actually wait 'til next maintenance season.'
"Right now, we've reduced our maintenance staff down to about 50%, to be able to do the critical work. The teams alternate, with some people staying at home one week and some people staying at home the following week."
How long can Covid-19 staff cutbacks continue?
This has meant technical trades working via teleconferencing, consulting on behalf of those on-site that day. While this has worked for the past few months, Cook said he can't tell how long this can work.
He said: "I've given that some thought and it kind of depends on what breaks and what really needs to be worked on.
"We're at 50% now, but we have a generator out of service, we've got the turbine pulled out, and we're doing some pretty major work on it. You know, I'm pretty excited to get going on that again. But there are a number of projects that we wouldn't be able to undertake at current staffing levels.
"Those projects would probably be fine to last another year or two, but at some point, they will break, and trying to predict when stuff will have a major failure is pretty difficult."
Cook has worked at the dam for 13 years, working his way up to being 'Manager of the most iconic hydropower facility in the world', as his LinkedIn profile has it. This bold claim goes unchallenged because few power plants, even similar dams, have the same notoriety as the Hoover Dam.
Could the Hoover Dam survive disaster?
In popular culture, the Hoover Dam is shown as a monolith of human design that would stand the test of time. The 1978 film 'Superman' uses its annihilation to demonstrate the destructive power of a disaster. Conversely, in the video game 'Fallout: New Vegas', the dam carries on generating power long after a nuclear apocalypse. However, Mark said this idea does not hold water.
Cook said: "I've thoughts about that, and like all good answers, it depends. If people just suddenly disappeared, the dam would function for maybe a few days. There's jobs that have to be done to keep the generators running, but between them, there's things little things, like cleaning strainers [that stop objects getting into the turbines].
"There's a number of small maintenance tasks that we have an operation staff member there for 24 hours a day. They handle all the little things that come up along the way, they do a great job of making sure everything stays up and running. If they weren't there to make sure all the little things happen, then the turbines would degenerate.
"If those strainers get plugged, it'll shut down the unit and it will stop producing power. It would be maybe a few days, and then we would have units starting to shut down. Eventually, all the units would shut down; for some reason, they would trip offline.
"At that point, the lake would just continue to fill with liquid all the way up until it got to the spillway. Then the river would essentially flow through the spillways, around the structure, and out to the bottom. And I would expect that to be able to last for a long time, I don't know how many years that would be."
The issues before the end of the world
Long before the end of the world, climate concerns present a much more real problem for the power plant. The waters of Lake Mead feed the plant, but water levels have fallen in recent years.
Water shortages are nothing new in the Western US. On the day of this interview, southern Nevada was reaching approximately 41°C (105°F), meaning high electricity demand from air conditioning units. The area around Hoover Dam is experiencing its 21st year of drought. However, most of the dam's turbines rely on high water levels, which could evaporate as climate change takes hold.
Cook: "As Lake Mead comes down, there's less water pressure pushing on all of our turbines, and that means we can make less energy. Our generators are rated for 130MW, but with the lake being as low as it is now, they're more like 100MW-ish. But we're still passing roughly the same amount of water as we always have."
The US Bureau of Reclamation, which runs the dam, has attempted to solve this problem by collaborating with the US states along the river, as well as Mexico where it meets the sea. Spokesperson Patti Aaron told us these states have put measures in place to store their water in Lake Mead.
Aaron said: "Those were signed and put in place in May of 2019 and the difference has been about 10 feet of elevation in Lake Mead. But if you look back at the paleontological record of 1,200 years, this is one of the driest periods. We really don't know when it's going to end or what is going to happen."
Using technology to solve problems of history and nature
In the meantime, the hydro plant has adapted to handle low water pressures better.
Cook said: "All the turbines were replaced in the late 80s and early 90s, but in the last 10 years, we've replaced five of our turbines.
"The new turbines are able to handle a wider range of lake elevations, so they handle the low lake elevations a lot better. They're also more efficient and have less of a rough zone, the area where you try to run it and it's just not happy; it vibrates more. We've been super happy with the five that we've replaced, but we've looked at the economics of doing the rest of them, and they don't pan out."
Technology has also allowed easier monitoring and maintenance. Cook continued: "We have better ability to monitor and assess the health of a generator than we ever had before, and the ability to run the units more efficiently because we can load them quicker.
"As for the maintenance side, we've got lots of cool new gadgets that help us. For instance, we have some laser measurement devices where we can get a lot more precision on our parts and pieces. We just installed a new CNC machine that can be programmed up and it will carve out the part that you need. It's not a brand new technology, but it's new to us, and it's a really nice tool for us to have in our shop, to make the kind of unique parts and pieces that we need at Hoover.
"There's a lot of unique things about Hoover Dam that only apply to Hoover Dam, so it's not like you can go out to buy it off the shelf somewhere."