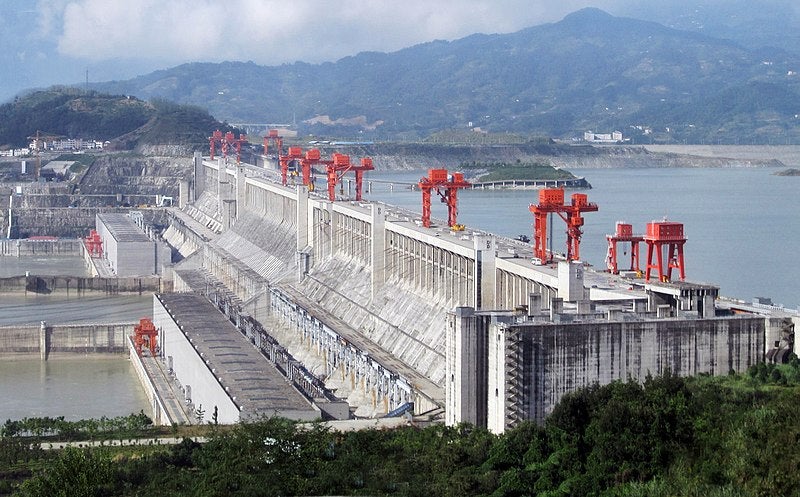 Hydropower is an incredibly old source of energy, tracing its usage back to the watermills that have been a staple of civilisations since ancient times.
Today, it is the largest source of renewable energy in the world, with an installed capacity of over 1126GW in 2018. Hydropower is particularly prominent in China, where the world's largest power station Three Gorges power plant in Hubei province produces 22.5GW. Other massive projects also dot the country, including the Xilodu (12.3GW) and Longtan (6.3GW) dams.
Hydropower is predicted to grow by 125GW by 2023, despite annual growth having "slowed" in recent years. What does the future hold for this gigantic energy source?
Climate change
Climate change is expected to have a major impact on the development of hydropower energy, as the large bodies of water necessary for the technology are increasingly under threat.
"Climate change will have, and is already having, severe impacts on the entire hydrologic cycle of precipitation, runoff and evaporation," said American non-profit research group Pacific Institute co-founder Dr Peter Gleick.
"There are fewer and fewer good places to build environmentally, economically and socially acceptable large hydro facilities, though some options certainly do still exist and could be pursued."
Environmental and social damage
There is often large amounts of the environmental damage and social displacement associated with hydropower.
The construction of the Three Gorges dam in China led to the displacement of 1.5 million people, and the haphazard construction of the dam led to the submersion of numerous factories, mines and waste dumps in the region, polluting the Yangtze River. Projects in Ethiopia, Turkey and Brazil have also been criticised for displacing populations.
A study by the University of Copenhagen published in October 2014 showed that the building of hydropower dams would be a 'serious threat' to freshwater biodiversity in South America, South East Asia and Africa due to a 20% reduction in large-free flowing rivers, the habitat of freshwater species.
Despite the global push for renewable energy sources to reduce CO₂ emissions and limit climate change, hydropower can have a serious impact on its surrounding environment. This has put many off the energy source, arguing the power is not worth the social and ecological price.
Don't dam it yet
There is potential for hydropower to move beyond using large-scale dams and the damage associated with such projects. Hydropower plants without dams, also known as run-of-the-river plants, use the natural flow of rivers and small turbine generators to produce energy.
At the moment, this is only available at a small-scale with micro (<100kW), mini (100kW – 1MW) and small (1 – 50MW) plants available. According to the British Hydropower Association, a run-of-the-river plant can have an operational life of 25 years and generates the most electricity in winter.
However run-of-the-river plants lack the capacity to store energy, a major drawback for most renewables. Furthermore, unlike large, dammed hydropower plant, production has been described as "unpredictable" due to the potential of a low river in summer and a frozen one in winter.
Hydropower and the IIoT
Like many other types of technology, the hydropower industry is looking to benefit from the Industrial Internet of Things (IIoT).
By increasing the digitalisation of hydropower, General Electric (GE) has estimated that it could reduce carbon emissions by 17 metric tonnes (mt) while increasing output by just 1%. This could lead to $5bn in operation cost savings.
Italian company Enel Green Power (EGP) has also utilised IIoT technology in its Wireless Sensors for Hydro Monitoring (Wisy ) project. WISY is a 'dense' network of wireless sensors that collect and analyse information in real time.
Embracing this technology could make hydropower smarter, more efficient, and lead to further financial and carbon savings.