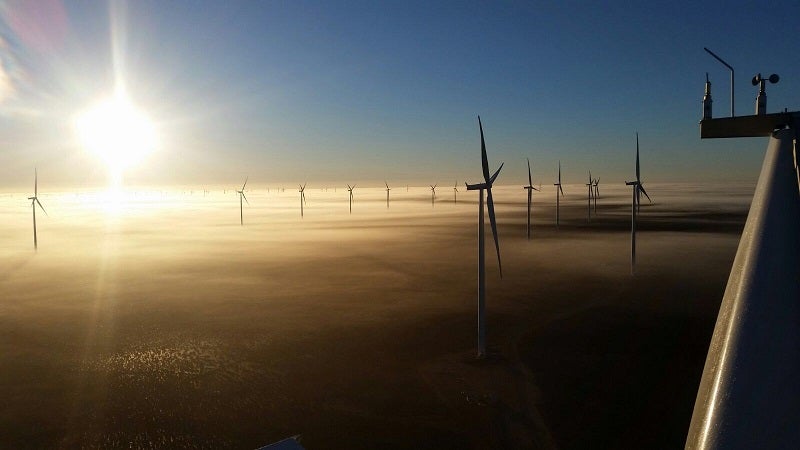 Wind energy is still in the nascent stages of development in South Africa, with the first large scale windfarm in the country constructed in 2014.
Since then South Africa has established that it will have a wind energy capacity of nearly 6.4GW by 2030, whilst wind currently makes up 52% of the country's renewable energy capacity.
Largest windfarm in South Africa: two hold top spot
Two windfarms hold the top spot as joint largest windfarms in South Africa, the first of which is the Khobab windfarm. Located in the west of South Africa, the windfarm has a capacity of 140MW. It is formed of 61 SWT-2.3 turbines supplied by Siemens Gamesa Renewable Energy (SGRE), which stand at a height of 152m with a diameter of 108m.
Whilst the turbines were supplied by SGRE, the majority of the turbine towers were produced in South Africa at the Gestamp wind turbine tower factory near Cape Town.
The windfarms are owned by a consortium of groups such as Khobab Renewable Energy Community Trust and Thebe Investment Corporation. The leading company within the group is Lekela, a Dutch renewable energy who has a 1.3GW energy portfolio in African countries such as South Africa, Egypt and Ghana.
Construction and capacity
Construction began on the Khobab windfarm on February 9, 2016 and all the turbines were installed by December 2016. Following energisation the windfarm began producing energy on December 8, 2017. It was proudly noted that construction for the project was completed "on schedule, on budget and without a single lost-time incident," according to the Entrepreneurial Development Bank, one of the companies involved in the consortium that owns the windfarms.
Khobab's twin is the Loeriesfontein windfarm, which also has a capacity of 140MW formed of 61 Siemens wind turbines. Loeriesfontein also began producing energy on the same day as Khobab but construction on the windfarm began five months earlier in September 2015.
With a combined capacity of 280MW, the two windfarms provide enough electricity for 240,000 homes in South Africa and are valued at over $4.8bn (ZAR7bn). The Khobab windfarm alone offsets 550,000 tonnes of carbon emissions per year. Together, the two windfarms will offset 22 million tonnes in their predicted lifespans.
There is a 20 year power purchase agreement (PPA) in place with South African public utility group Eskom for both windfarms, which will encompass their entire lifetime of the windfarm.
According to recent drafts of South Africa's Integrated Resource Plan (IRP), wind energy will be the country's largest source of electricity by 2040, with estimates ranging from 38GW to 57GW of energy capacity.
In order to meet this target, a number of new projects are being embarked upon, including a new windfarm constructed by consortium member Lekela. The Kangnas windfarm will, like Khobab and Loeriesfontein, have a capacity of 140MW formed of 61 Siemens turbines and is expected to be completed in 2020.