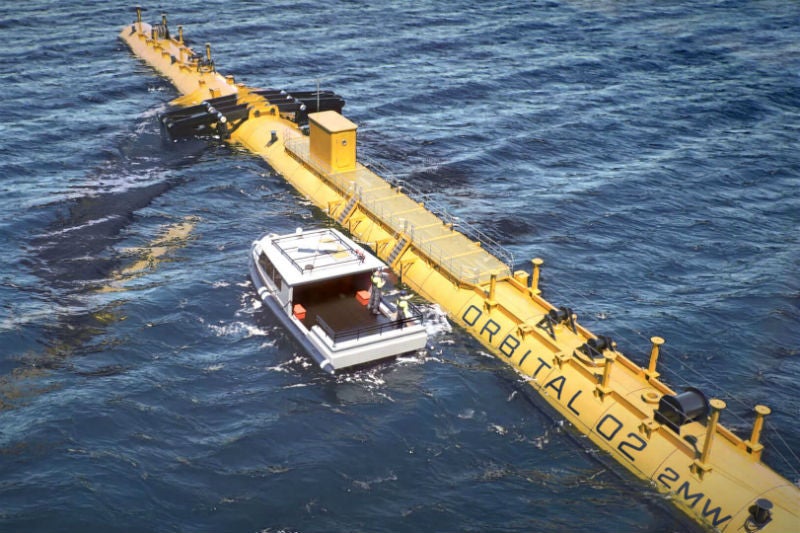 The UK constituent country of Wales aims to meet 100% of its energy needs from renewable resources by 2050, with the figure currently hovering around the 25% mark.
A significant increase in funding and root and branch reform of the planning process will need to happen to make up the shortfall, although the potential already exists for half of Wales' energy needs to be met via green schemes.
One project leading the way is a 240MW tidal energy project off the North Anglesey coast, known as Morlais, which could generate enough electricity to power 180,000 homes. Driven forward by the not-for-profit social enterprise, Menter Môn, it is in keeping with a mandate to seek to add value to the region's resources for the benefit of local inhabitants of North and West Wales.
A catalyst for change
Having secured a 45-year lease from The Crown Estate for a 35km2 stretch of seabed in 2014, Menter Môn's efforts have seen Welsh Climate Change Minister, Julie James, recently confirm the requisite funding had been secured.
James noted the initiative's capacity to further the development of tidal power generation technologies through the provision of grid connectivity, and with government support, the European Regional Development Fund has now committed to chipping in $38.6m (£31m) for the first phase of construction work. This is likely to be the last such major grant from a body that will no longer be accessible in a post-Brexit principality.
Advocates such as James believe that projects such as Morlais are central in the quest to move beyond measuring worth purely by profit potential, to encompass people and the planet too, essentially promoting the triple bottom line business concept. And, with the project providing scope to position Wales as a premium destination for tidal stream developers, there exists here the potential to catalyse the nation's inward investment prospects in a fashion that is sympathetic to other sea users, marine ecosystems and the wider environment.
Welsh Minister for North Wales, Lesley Griffiths has welcomed the development for its potential to generate jobs and skills in the Anglesey and North Wales region, alongside the clear low carbon energy benefits.
Similarly, Vaughan Gething, Welsh Minister for the Economy has focused on how the project – marked buy the construction and testing of devices and preparation of infrastructure – constitutes the key to unlocking a series of further investments that will allow the supply chain to grow and create high-skilled employment opportunities.
Leading tidal power solutions in Wales
The tidal sector is currently data-poor. This project will serve to address that, because these days, data is everything. With the Crown Estate investing $1.5m (£1.2m) to monitor interactions between birds and sea life and to test ongoing monitoring technologies, it is hoped potential impacts currently unknown will become clear, such that the environmental credentials of the project can be proven.
Tidal power could soon be a reality in Wales due to its rich tidal stream resources. This is low-carbon, dependable and "perpetual" energy, where devices harness the forces held within naturally-occurring currents to create electricity. Moreover, tides are markedly more predictable than the sun and the wind, thereby making it more straightforward to match supply with demand.
Indeed, with 1,200km of coastline, harnessing the power of this resource in Wales in particular is a no brainer. It represents a strengthening of the UK Government's commitment to reach a state of net-zero by 2050, and forms part of its commitment to spend $24.9m (£20m) annually on tidal stream electricity initiatives nationwide.
The Morlais tidal initiative will constitute a part of Wales' ambition and, critically, legal commitment to reach net-zero by 2050. Yet, new large-scale green projects such as this are only part of the story. The Welsh Government now believes the target could be achieved even sooner than the century's half-way point, based upon societal and behavioural changes centred around energy efficiency.
Additionally, significant reductions in emissions from the biggest Welsh culprits on the pollution front, such as the Port Talbot steelworks in South Wales, will also catalyse progress towards the net-zero goal.
Ultimately, the plan is not simply to decarbonise, but also to generate wealth for Wales, rather than it be siphoned off abroad by foreign multinationals, as outlined by Welsh Deputy Minister for Climate Change, Lee Waters. Waters has talked of "a need to push the boundaries and test what is possible with greater flexibility around our regulatory frameworks."
Setting an example
It has also seen specific marine energy sector recommendations made around aspects such as; grid infrastructure to increase capacity, finance to look at new ways of attracting investment and the promotion of community and local energy. Meanwhile, opportunities have been highlighted to bring new investment, specialisation and collaboration to the Welsh ports landscape, in addition to maximising those within the supply chain.
It is hoped Wales' proactive efforts will act to inspire positive change elsewhere across the globe in a bid to limit global warming to 1.5°C, and recent announcements from Welsh First Minister, Mark Drakeford will do no harm to the cause. These include a drive for the public sector to lead by example and achieve net-zero status by 2030, as well as plans for a National Forest for Wales.
The Welsh Government is clear that the transition must be a fair and just one to ensure benefits and prosperity are delivered to all both today and for the future, with the nation's "Well-being of Future Generations Act" having already enshrined the concept of sustainable development into law.
Having been a pivotal force in the fossil fuel-driven Industrial Revolution, Wales now seeks to lead by example at this new green frontier of change in what would serve to constitute a most satisfying story arc.