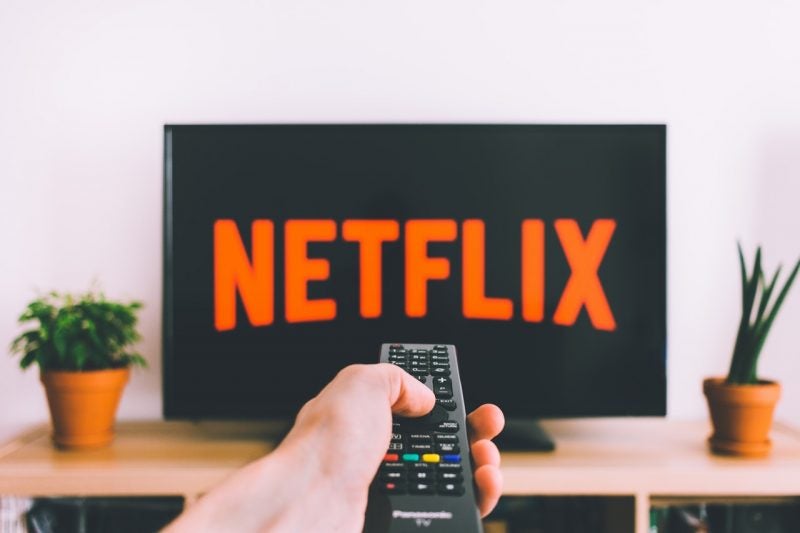 Many people are taking advice to stay home during the Covid-19 coronavirus outbreak as an excuse to catch up on TV box sets and films on Netflix and other streaming services. But is our binge-watching habit causing excess carbon emissions?
In the last few years, Netflix and its competitors have become a surrogate for going to the cinema and, for many of us, the preferred way to watch films and TV shows.
According to data published by Statista , in the last quarter of 2019 Netflix had 167 million subscribers worldwide, followed by China's iQIYI and Tencent Video with 100 million and 94 million subscribers respectively.
Technology conglomerate Cisco System released its Visual Network Indicator in November 2018, which highlighted that online videos will account for 82% of internet traffic by 2022.
Streaming video content travels through hundreds of kilometres of cables, routers and data centres, all of which are powered by electricity, some of which may come from fossil fuels.
Energy comparison website SaveonEnergy has released a study that calculates how many kilograms of CO2 are released when binge-watching Netflix.
The research included Netflix's top 10 films and TV shows from October 2018 to September 2019, ranked by the number of viewers. All the films and shows included in the dataset are Netflix Originals, produced by and for Netflix.
SaveonEnergy used data from an article published by researchers at the US Department of Energy's Berkeley Lab that showed that watching 30 minutes of Netflix produces 0.2kg of CO2.
 After calculating the films and TV shows' length and the numbers of viewers, SaveonEnergy determined the total amount of CO2 emissions generated by each.
Birdbox was seen by 80 million people worldwide and produced 66 million kg of CO2, the equivalent of riding a car from London to Istanbul 39,000 times. Adam Sandler and Jennifer Aniston's crime film Murder Mystery was the second most-watched on Netflix, producing 47 million kg of emissions. The documentary about the Fyre Festival, the tenth most-seen film with 20 million viewers, produced 12 million kg of carbon dioxide.
As for TV shows, the numbers are even higher. Sixty-four million people watched Stranger Things' third season, producing 189 million kg of CO2, the equivalent of driving from Morocco to South Africa 28,000 times.
Spanish hit TV show Money Heist (La Casa de Papel) hit record numbers, both in terms of views and environmental impact. Forty-four million viewers produced 110.5 million greenhouse emissions, while David Attenborough's documentary Our Planet produced 88 million emissions for 33 million viewers.
SaveonEnergy energy expert Linda Dodge told Power Technology that especially now when people have to self-isolate or reduce social contact due to the spread of Covid-19, we should all be mindful of the impact binge-watching has on the environment.
Dodge said: "We are in unprecedented times. With most sources of entertainment outside the home such as cinemas, sporting events and clothing stores now closing to safeguard against the spread of coronavirus – people will have no choice but to find different ways to keep themselves occupied in the home.
"One of the biggest ways is going to be the TV – with Netflix a popular outlet for many due to the depth of movies, shows and documentaries available to binge-watch. But in doing so, people, unfortunately, don't realise the amount of electricity they will be burning to do so and consequently, the carbon dioxide it will go on to emit.
"Whilst it's significantly less CO2 emissions from Netflix than say driving or flying, people should not try to binge-watch too much. Try where possible, doing things which don't involve extensive use of electricity, internet and smart devices. This includes breaking up time with activities such as reading, puzzles, arts, crafts, cooking and indoor exercise."