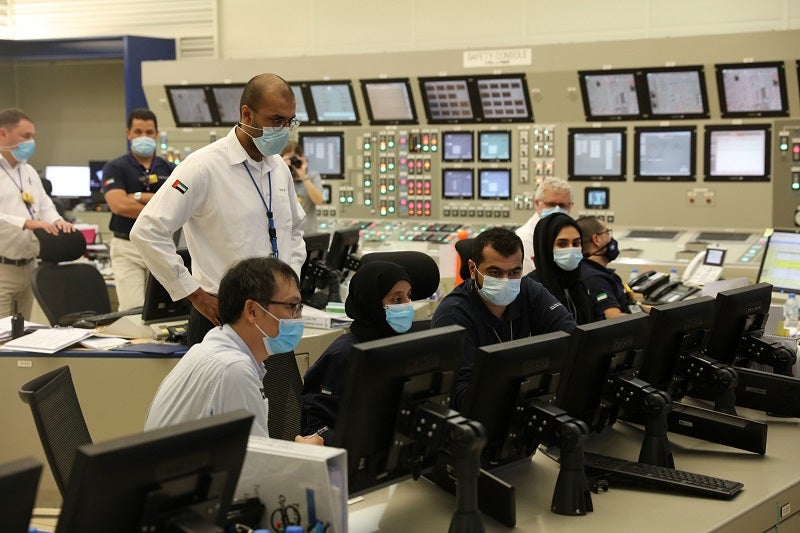 The first unit of Abu Dhabi's nuclear power plant has been connected to the UAE electricity grid.
Nawah Energy Company and Abu Dhabi Transmission & Despatch Company (Transco) worked together to connect unit one of Barakah nuclear power plants to the grid, Emirates Nuclear Energy Corporation (Enec) said.
Transco, a subsidiary of Abu Dhabi National Energy Company (Taqa), had constructed 952 kilometers of 400-kilovolt (kV) overhead lines to connect unit one of the Barakah  plant to the Abu Dhabi electricity grid.
The process entailed integrating and synchronising the generator of unit one with the requirements of the UAE's national transmission grid.
Unit one's nuclear operators will begin the process of gradually raising the power levels, known as power ascension testing (pat), in preparation for full electricity production.
Once the pat process is complete, unit one will deliver, at a full capacity of 1.4GW, baseload electricity to the UAE's grid.
The UAE's Federal Authority for Nuclear Regulation (FANR) will oversee the testing process.
Enec and Nawah switched on unit one on 1 August, three years later than initially planned.
Unit two of the nuclear energy plant needs to complete assessments
In July, Enec handed unit two of the Barakah nuclear energy plant to Nawah Energy Company for commissioning following completion of construction works.
It is understood unit two has cleared its construction phase and the focus has shifted to completing the operational readiness preparations, testing, regulatory inspections and international assessments.
Nawah will then apply for an operating licence for unit two from FANR.
Unit two completed hot functional testing in August 2018, and structural integrity testing and integrated leak rate testing in March 2019.