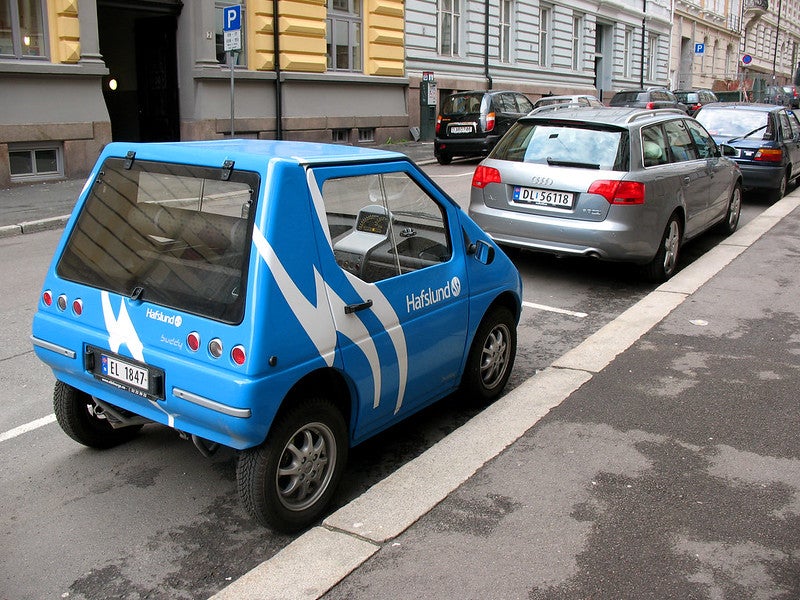 Electric vehicles could stand to be integral to the world improving its environmental performances. Thanks to improvements in operational efficiency and reductions in the production of harmful pollutants compared to combustion engine-powered vehicles, hope has grown among many that replacing obsolete car models with newer, electric equivalents could lead to widespread change in the world's pollution.
The recent rapid growth of the technology is encouraging, with the International Energy Association reporting year-on-year increases in the number of electric vehicles constructed and rolled out onto the world's roads. There were more than five million of the vehicles by the end of 2018, a 63% increase on the 2017 totals, and more than ten times the number of vehicles on the roads in 2014.
A key argument against these vehicles, however, is that replacing the combustion engine infrastructure so deeply embedded in society, such as petrol stations and the global oil and gas market, is too great a logistical challenge to be overcome; yet this is not the case. 2018 saw an increase in the production of new charging points of 44% over the previous year, and with 90% of new charging points constructed as part of private enterprises, there are serious financial incentives for companies to join the growing clean vehicle movement.
Norway remains one of the clearest success stories with regards to electric vehicle deployment, with the country's Electric Car Association reporting that battery and hybrid-powered vehicles are now dominating 50% of the car market share. We speak to Tom Lindberg, CEO of energy solutions form EcoHZ about the country's electric vehicle history, and how a populace willing to embrace new innovations, and a government eager to support growth, led to this remarkable transition.
JP Casey (JPC): What is the current state of electric vehicles in Norway?
Tom Lindberg (TL): In Norway, 9% of the whole car fleet is now electric. We're not talking plugin or hybrid or anything like that, we're talking full electric, and we don't really care about the others.
Almost half of all new sold cars are electric, pure electric. In Bergen, 20% of the car fleet is fully electric, so one out of five on the street you see in the city are electric. And the pace is continuing to pick up; when you ask people what type of car they want to get next time, I think about 70% say: 'Well, it's going to be electric', because they already know that electric is easy. It's cheap, it's cheaper to operate, it's better to drive, and basically, there are no downsides.
After having driven electric cars for 12, 13 years, we have one car at home [and] it's all electric. We've had that for a number of years, we don't need anything else ever.
JPC: What helped cause this change?
TL: This electric car revolution on the car side started, actually, quite a long time ago. In the beginning it was actually trying to incentivise this industry and support this very nascent new industry, because we thought it would be cool.
They produced 200 cars and [there were] a few thousand on the street and then a few other electric alternatives came; one came from India, it was called Reva. It looked like a Flintstones car, it came out in 2006. The city of Oslo thought it was cool and it had all these tiny small strange little things driving around, with all these green warriors, and it became part of the scene and the city.
What they did is they allowed them [benefits such as] free charging. They put up a lot of very normal electricity sockets for normal charging, I think probably a few hundred or even maybe a couple of thousand, all around the city and in parking lots everywhere, just to make it available. And it didn't really cost the government and the city anything because there were so few cars and it didn't really make an impact. They allowed them to drive in the bus lanes and [to] park them in any municipal parking anywhere in the country; [in] most of most parts of the country that weren't run with electric cars; it didn't really matter.
They took away the VAT and all the taxes and import taxes on the cars [so] that they would be able to have a price [that is] fairly comfortable; but it still didn't cost the government anything because just going from 1,000 cars to 20,000 cars didn't make a dent on all the tax revenue so nobody really cared.
JPC: What role has EcoHZ had in delivering this change?
TL: My company works with clean energy sources and documenting the stream of clean energy to consumption; so from very early on, when the Electric Car Association was started, we basically supported and sponsored the association and all its members. So for around the first 50 – 100,000 cars, with information packages that we funded, we printed all this type of stuff.
We [worked as] the commercial industry partner with the association in educating the first electric car drivers on the importance of using clean power. We haven't been that close to the association for the last two years mainly because the association has become large and doesn't need that much support as they did before. It doesn't mean that their issues are less important than they were before, but we're doing jobs on each side of the table.
I think they're doing a great job; they're working more politically now. They work a lot on the policy, on investment proposals for charging and the process. So my company right now is not directly involved in the association, but we were for about eight years.
JPC: What challenges has Norway had to overcome? Do you think other countries could face similar challenges?
TL: In Norway, one of the reasons why the uptake hasn't been higher is that there haven't been any cars available. Right now one of our biggest problems is that because of the EU regulations, a lot of the EU countries actually have to cars delivered into their countries, leaving Norway, the biggest market, with very few cars. So access to cars has been a huge issue. I think it will no longer be [an issue] in two or three years.
One of the reasons the uptake was going to be easier in Norway as well was that Norway is a very affluent country, quite homogeneous. A lot of people live outside the suburbs districts and they have these two cars and electric cars fit very well into the second car domain. If you look at all the large markets across Europe, first of all some of those large markets are not quite as affluent, people don't have cars.
People outside [the cities] actually may only have one car and will still then choose to have a petrol/diesel car because the options of electric cars that came to that first car segment have been super limited.
JPC: Could the example of electric vehicles in Norway set a precedent for clean energy transitions in other countries?
TL: I think Norway has played almost the same role in electric car markets that Germany did in the solar market; we became a testbed for a lot of companies and a lot of products were tested in a pretty tough market. Some failed, some were big successes. Norway is the first market to launch almost every new electric car in the world so I think there's a lot of learning.
We need to get to major markets, and I think this is just happening now. I think we'll see [this in] Germany, because they have an intrinsic opposition to electric cars because they have a huge car industry and it has too much money invested in old infrastructure, but with the diesel scandal, Volkswagen has to make a change and if you look at Volkswagen now, they will roll out a massive range of cars. And as far as I know they are also considering that you need some incentives to get that going.
If you get Germany past the point of no return, it will happen in a number of other countries just as fast. If you do that, you will have a massive deployment that I think will have a huge impact on the clean energy transition. I think it'll take a little longer to get the critical mass but it will go faster after that.
JPC: What will the future hold for Norway's electric vehicles?
TL: I think that over time, you have to take away [the financial] benefits. I say electric cars also need to pay for usage of roads, whether the time is in 2020, or 2025. I think it's closer to 2022-23 than to 2020. And I think that's probably what's going to happen in Norway: you'll slowly take away some, especially commercial, benefits, because also the price of batteries in the new cars is falling steadily. So I think they will be competitive without this VAT and income tax support.
So I think what will happen is instead of just taking it all away, it will be up to the municipalities as to whether they want to close some of the bus lanes because there's so many electric cars everywhere that they want to restrict free parking and all this type of stuff that's more on the local level. But what's really the key thing is the indirect financial support that we've had and I think that will not go away overnight; it will be more like a gradual decrease and maybe in five years, at the end of that, they will be more or less aligned with other cars. That's my guess.