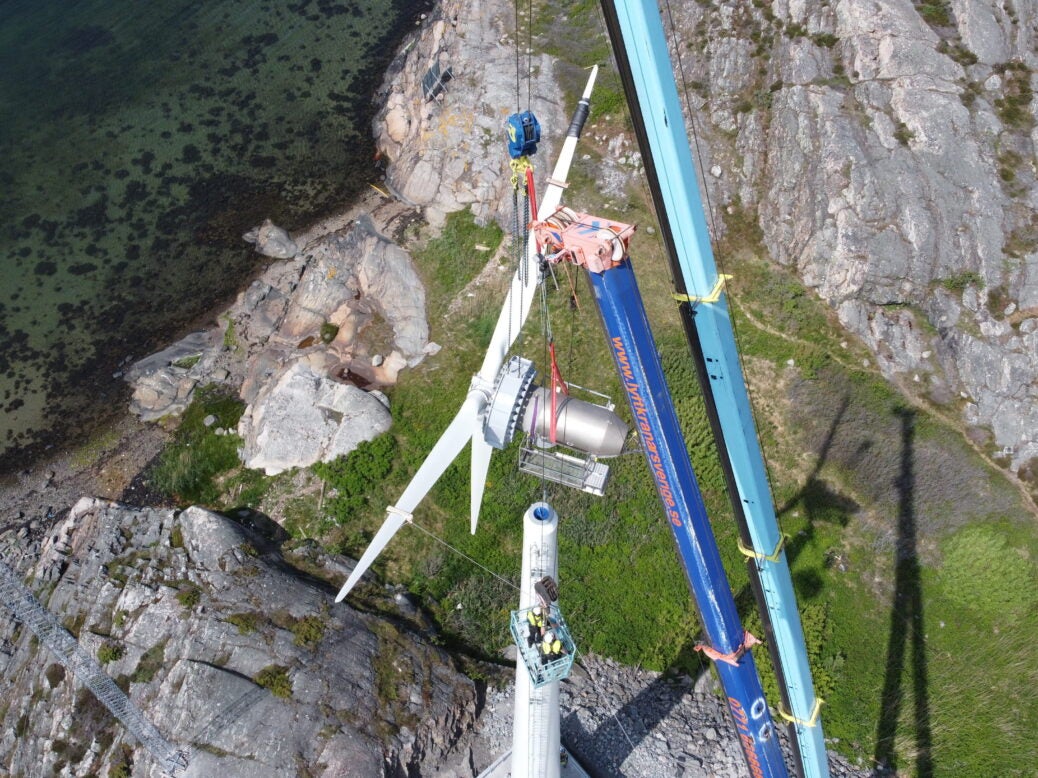 Since the 1980s, wind turbine hubs have grown four times in height. Taller turbine towers take advantage of stronger air currents, giving more opportunity for power generation.
In the US, National Research Energy Laboratory group manager and researcher Eric Lantz said: "Over the past four decades, wind turbine scaling has been critical to wind power cost reduction. Looking ahead, scaling continues to offer potential cost savings, but new innovations are needed to enable scaling while effectively managing capital expenditures and the logistics of moving equipment to the plant site."
In February 2021, Vestas Ventures acquired a company it believes has the new innovations required to push wind to new heights.
The sky is the limit, but getting there is not easy
Research for the US Department of Energy found that raising turbine heights gave access to more reliable winds, up to 2m/s faster. While some areas would not benefit from taller turbines due to their unusual geography, taller turbines make sense for at least 70% of the mainland US.
Engineers and designers have consistently pushed hubs further into the air, with average hub heights rising from 58m to 88m between 2000 and 2018. But, eventually, designers reach a hard limit on what regulators will allow.
As turbines get taller, their bases inevitably get wider to maintain stability. This makes turbine towers increasingly difficult to transport, with most countries limiting road transport widths to around 4m. In the most accessible areas, the tallest turbines have levelled off at approximately 150m.
Taller turbines generally bring small improvements in levelised costs of electricity generation. This becomes especially noticeable in areas where winds change over relatively short distances, known as wind shear. However, the economics of raising turbine heights can make reaching these economies of scale prohibitively expensive.
These are the problems that Modvion claims to have solved with its wooden turbine towers.
"We see a demand for towers up to 200m, but we expect this to increase"
In 2020, Modvion tested its first wind turbine tower outside Gothenburg, Sweden. Although this proof-of-concept stood at 30m tall, it represented much higher hopes.
Modvion develops turbines made of wood-laminate. Wood laminate is made of compressed wood fibres, covered in a plastic 'skin'. Best known as a floor covering, the variety used by Modvion can take more weight than an equal mass of steel. Of these equal masses, the laminated veneer lumber (LVL) would also cost less. With forestry increasing as a method of carbon offsetting, the price of wood products seems likely to fall.
The main advantage of LVL turbines comes not from their material, but their method of assembly. The wooden towers are produced in sections of curved wood, dividing the cylindrical tower vertically and horizontally. Contractors can stack these for more compact transportation, before assembling them on-site. This, says the company, makes it easier to construct turbines over 150m, their target market. 
A company Q&A says: "There is no relevant height limit to building towers in wood, and the benefits in comparison with steel only increase with height. Currently we see a demand for towers up to 150m-200m, but we do expect this to increase over time."
Getting bent out of shape about wood laminate wind turbine towers
Wood construction is associated with several risks that the company has counteracted. The company compares the material's fire risk favourably to steel, saying that the laminate is too dense to burn when exposed to external flames. Instead, it would char, maintaining some structural integrity.
Thick paint would exclude any moisture from the structure, similar to preventing rust in steel. This would help the towers last 25-30 years, similar to average initial commissioning spans. At the end of their lives, while steel can be recast, disposal methods for wooden turbines remain less clear.
This may seem to harm their environmental credentials, but the wood itself acts as a carbon sink. This contrasts with the 'embedded carbon' of steel wind turbines, which contribute to notable CO₂ pollution from their materials. This part of the energy transition has attracted criticism from proponents and detractors of wind technology, blemishing the technology's green credentials.
The company acknowledges that companies currently have little experience working with wood towers, so mass production would also require mass training. The absence of a reliable supply chain also puts wooden towers at a disadvantage compared to other designs.
The wind in the Laminated Veneer Lumber
This deal marked the first acquisition for Vestas Ventures, the company's venture capital arm launched in November 2020. Before this, the unit had only made one investment: in Swedish battery manufacturer Northvolt.
At the time of the acquisition, Vestas senior vice president and head of innovation and concepts Bo Svoldgaard said: "Our collaboration with Modvion holds significant potential to help accelerate the energy transition and increase Vestas' sustainability performance. 
"The reduced weight of Modvion's towers, in combination with their ability to align with Vestas' modular product architecture, could allow for increased ease of transportation in logistically challenged markets. 
"Furthermore, the tower design could allow for Vestas to increase turbine hub heights, contributing to a reduction in cost of energy. Overall, there is potential to become less reliant on steel prices, which would support Vestas' ongoing growth journey."
The company's first commercial wooden turbines will start assembly in Sweden in 2022, in line with pre-existing contracts before the purchase. After that, Vestas said it has "expressed interest in exploring the use of Modvion technology in its product line".
The company said that its investment will support Modvion's 'rapid' increase in production scale, which will begin commercial manufacturing in 2022. The company has already signed contracts for more than ten turbines of 'at least' 150m hub height. At the same time, it will plan its first unit for mass production.