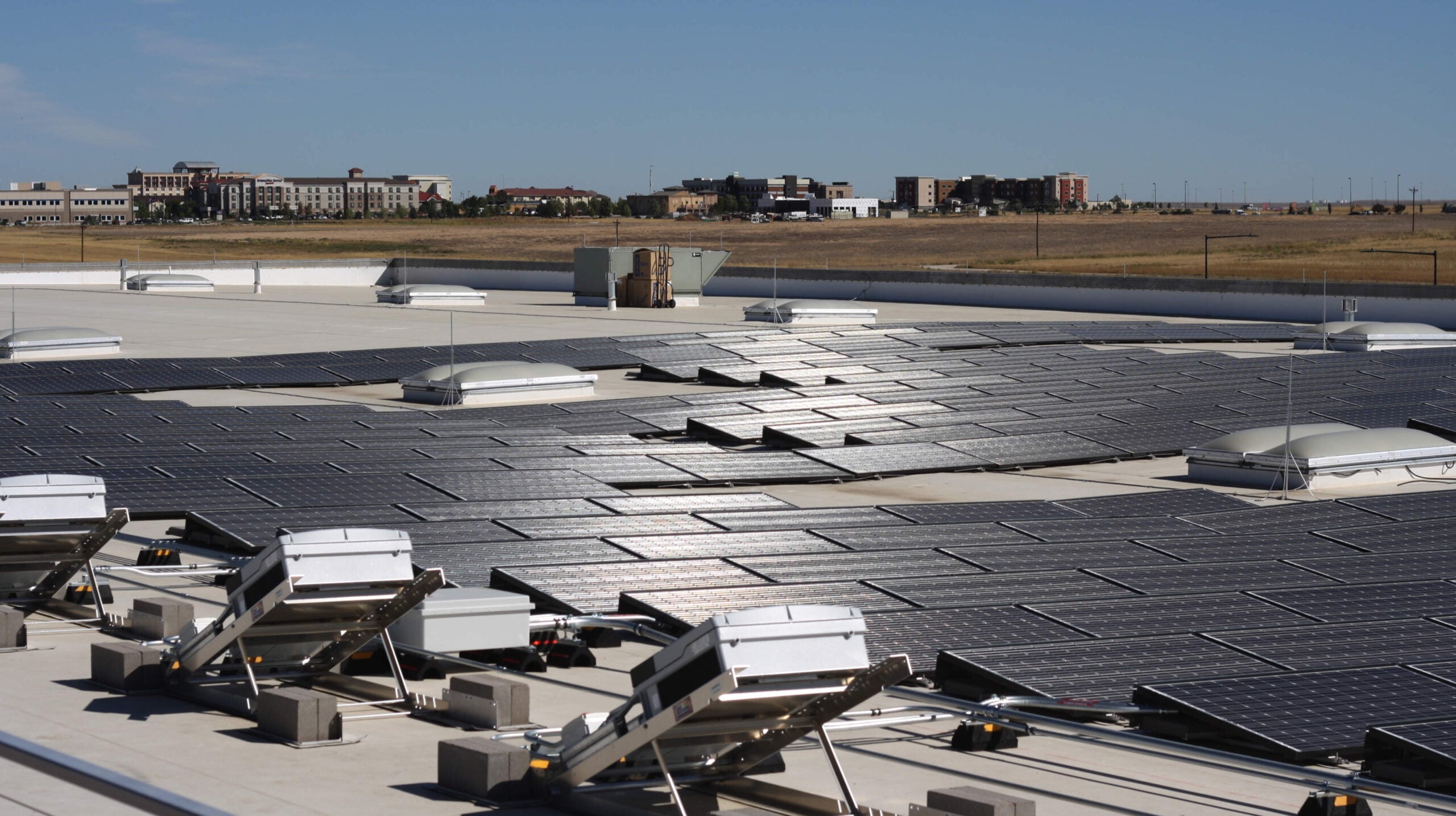 On the outskirts of Denver, Colorado, not far from Denver International Airport, a grand experiment is underway. Panasonic, the consumer electronics company that has been making its mark on the world of tech-driven urban design, has teamed up with a consortium of local partners to transform a 400-acre patch of greenfield land into a smart district.
The project, which falls under Panasonic's wider CityNOW smart cities initiative, was first unveiled at the Consumer Electronics Show in 2016. With around two years under the project's belt, construction is well underway, with completion planned for 2026. The project is centred on a new light rail line that connects the area to both the airport and downtown Denver.
The project has already built a solar-powered microgrid to provide energy and back-up storage for Panasonic's new 120,000ft² technology and operations centre, which is the anchor tenant in the development and the largest component built so far.
But a lot more is planned in the coming years, as Panasonic is working with utility stakeholder Xcel and the National Renewable Energy Laboratory to develop what Panasonic describes as the US's first carbon-neutral district energy plan. Other key project partners include Colorado property developer LC Fulenwider, Denver International Airport and the city of Denver.
The company considers the Denver CityNOW project as a 'living lab' for smart technologies and a showcase for its smart city services. But how are smart energy systems supporting the goals of Denver CityNOW, and what are the challenges involved?
"Microgrids and carbon-neutral districts are not technology challenges, these are business model challenges," says Panasonic USA vice-president for CityNOW George Karayannis.
Here, Karayannis lends his insight into the technology and business alignment required to build a smart, resilient, energy-efficient district from scratch, as well as the lessons learned during the company's last smart city project in Fujisawa, Japan, which has now been up and running for a couple of years and has provided numerous energy resilience and sustainability benefits.
Chris Lo: Could you summarise the progress you've made on the Denver CityNOW project?
George Karayannis: I would summarise it by saying we have exceeded everyone's expectations, ours included. Panasonic's technology and operations centre is the anchor tenant in the TOD (transit-oriented development); we are also the Smart and Sustainable general contractor and systems integrator.
The land is a living lab for all stakeholders to evaluate emerging technology, to vet vendors – many of these P3s (public-private partnerships) will be ten to 20-year relationships; do I like you enough to keep writing you a cheque for ten or 20 years? And most importantly, after you've done those two steps, then to create a business case for broader deployment.
There is a unique mix of technologies in this development, and if you drove by it you'd see a 120,000ft2 Panasonic building, a solar canopy covering a parking lot, and a train station and some construction underway. As crazy smart and sustainable as it is, you don't see that with the naked eye.
The technology mix starts with our microgrid. It's a unique portfolio microgrid, which is composed of a 1.6MW solar canopy above our parking lot, a 2MWh battery and 260kW of PV (photovoltaics) on the roof of our building. The airport owns the parking lot and so the airport and the city paid for the steel of the canopy. [Utility partner] Xcel paid for the panels and the battery, and we paid for the solar on our roof.
We're net power-positive, but as a living lab we push in all directions at all times. So we're working with Xcel and the National Renewable Energy Lab to create what I understand to be the country's first carbon-neutral district energy plan. Economically – and technically – we want to find a way to make all 400 acres carbon-neutral in the built environment.
CL: Denver isn't the first place you've carried out a smart city-type project; there was the Sustainable Smart Town project in Fujisawa. What energy benefits has the project brought to the town, and in what ways has Panasonic's experience in Fujisawa informed your work in Denver?
GK: Fujisawa is the genesis of CityNOW. It is the root of Panasonic's smart city capabilities. What works in Japan doesn't always work in other parts of the world, and so CityNOW was created to take the best of what Fujisawa is, and adapt it to the North American market.
Fujisawa is a smart and sustainable town, built from the ground up. If you look at other high-profile smart city projects, they are almost always technology-driven, and they have failed to live up to their hype. Fujisawa is very human-centric in design. It is a simple community of people living in a normal-looking community, which has five-day power resilience on the microgrid, technology from fuel cells to batteries and solar, and electric transportation is fused into everything.
The community is 95% residential – [there will be] a thousand homes at full build in 2020. 600 families live there now. The community centre doesn't have the mechanicals on the roof; they just have a gentle, grassy slope up to the roof, where hundreds of residents could gather, and the roof is above the flood line. There are park benches that convert to gas barbecue grills. That's not for your Sunday picnic; you're now an extended amount of time with no outside help. It's subtle and infused everywhere.
CL: Could you describe how the Panasonic building's microgrid and storage system works, and the benefits it provides?
GK: Our building management system is tied directly to the battery management system controller. So when we're islanded, as that state of charge reduces, our building load automatically and dynamically reduces. Not only is it very advanced demand response, it's tied directly to the battery's state of charge, which is awesome.
The 1.6MW [solar canopy] feeds the distribution feeder, and the 260kW on our roof feeds the battery. So when the grid is islanded, the solar canopy goes to ground, and we operate off the battery exclusively, recharging the battery during hours of sufficient sunshine. And so it's quite possible, not just theoretical, that we could operate indefinitely in islanded mode; Colorado's got 300 days of sun, and with a load tied dynamically to the state of charge of that battery – when islanded we can get it all.
CL: How do you go about building a business model for the integration of all these smart energy systems on a large scale?
GK: What we're giving the utility, Xcel in this case, is the justification in the data to go to the PUC (Public Utilities Commission) and say, 'We want to create a new resiliency services tariff.' Because that allows them to bring their balance sheet to the game and put their steel in the ground, so that the vertical developers have to invest less. That opens up Xcel's business model, giving them a viable path going forward when everything is net zero.
And so we give them a path forward; that gives the developer an opportunity to differentiate their dirt. If this development is carbon-neutral, it attracts those sustainable tenants who would be willing to pay a slight premium, and it allows the developer to reduce the capex they would put into building, because of fewer mechanicals. Now the city benefits because once you unlock the business model to make this possible, cities can use this to decarbonise throughout the city.
CL: What have been the biggest challenges you've encountered in Denver as you've been developing smart energy systems for the area?
GK: Stakeholder alignment. They're certainly not technology challenges. When we look at the number of stakeholders that I mentioned – the airport, the city, Xcel, the developer, Panasonic – I frequently allude to it as seven-legged racing. We only make progress together, and we are all equally tied at the hip.
So getting the alignment and moving forward together – it's not challenging in Denver, but it is the biggest challenge in Denver and beyond. Microgrids and carbon-neutral districts are not technology challenges, these are business model challenges. And you unlock and optimise the business model through stakeholder alignment. So as much as we love to talk about technology, this is all enabled by stakeholder alignment, and process. Because without that, each individual stakeholder just makes investment decisions optimised for their own needs. By economically sharing in the cost of the migrogrid, we've created that.
CL: How flexible and scalable is this kind of smart development?
GK: At its core, the strategy is highly scalable. At Consumer Electronics Show we announced our second official smart city, Colorado Springs. And again, I want to reinforce that we sell to cities, to developers, to utilities and to state departments of transportation. We are most impactful when we have all those stakeholders together, but sometimes it's a utility-led engagement, or a developer-led engagement, or a city-led engagement, as in Denver and Colorado Springs. So our approach and our process is very similar and very scalable.
The key distinction in a smart city that would gate their success or not, is do they have clear, strong leadership, and is it broadly supported among the key stakeholders? It doesn't matter if you're a very big city or a very small city – if you have that, whatever comes out of that stakeholder alignment planning is right for that city.