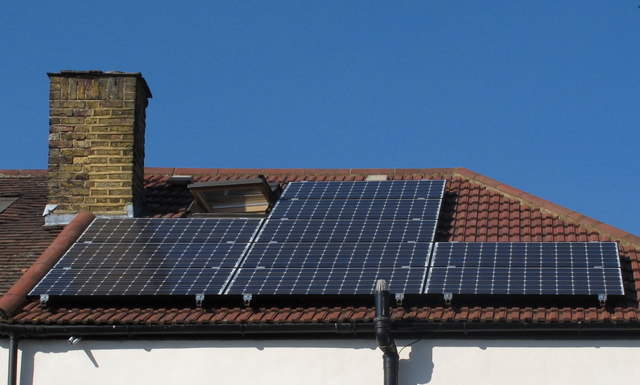 In the opening months of the year, the Mayor of London Sadiq Khan launched 'Solar Together London', part of a plan that lists solar power as one of the cornerstone renewable energy sources required to see through his vision of making London a zero-carbon city by 2050.
Solar Together London is a group-buying scheme for households and small businesses across the capital. The basic idea is that parties register their interest in having solar panels on their home or building and, with the support of local authorities, photovoltaic (PV) panels are purchased in bulk at low cost and installed, passing on savings to registered parties.
The scheme has recently been expanded due to a successful first phase, after 4,000 London residents registered their interest in the programme, and more than 1,100 people accepted the offer of affordable solar panels. Initially, Solar Together London was rolled out to four city boroughs, but this has now been expanded to encompass 12.
Solar Together London has been welcomed by energy and environmental bodies, but with the recent news that the UK solar industry growth has halved for the second year running, and that London is lagging behind similarly populated cities within Europe, the question is whether the Mayor's initiative goes far enough.
UK solar's slow uptake
UK subsidies were put in place to encourage small-scale uptake of solar electricity panels on homes – when these were cut in 2015, environmental groups and renewable energy companies saw the move as bad news for the solar market. The government at the time reasoned that as the cost of solar technology fell, so too should subsidies that encourage its uptake.
"We have to get the balance right and I am clear that subsidies should be temporary, not part of a permanent business model," claimed then-UK Energy Secretary Amber Rudd. Subsidies were cut by 65%. In the four months following the cuts, the amount of household solar power capacity installed dropped by three quarters
With the news that this year sees growth in the solar sector dropping by half for the second year in a row, it is clear that something needs to be done. New solar uptake in the UK fell to 0.95GW in 2017, down from 1.97GW in 2016 and 4.1GW in 2015. "Solar offers an increasingly low-cost source of energy for Londoners and we urgently need to speed up its roll out across the capital. This decline is clearly disappointing and strong national policy is needed to reinvigorate the industry," says Deputy Mayor for Environment and Energy Shirley Rodrigues.
London has traditionally been the lowest regional performer in terms of solar, with only 2.25% of the UK's overall solar output coming from the capital. A lack of suitable sites due to London's ever-changing landscape and the long-term-return structure of solar not suiting the transient nature of the city's residents have been blamed for the lacklustre performance. According to some reports, it can take up to 15 years to see a return on investment for solar panel installation without any help-to-buy or subsidy schemes in place.
"The stats are clear that London is lagging behind and has always lagged behind…Solar is more difficult to deploy in a big city, particularly in central London," explains South East London Community Energy (SELCE) director Dr Giovanna Speciale. "Both domestic and commercial don't necessarily plan to stay for 20 years and the solar business model is a 20-year one. And just in terms of complexity of planning, you never know whether there's going to be a building built south of you."
A step in the right direction
While solar panels might not be suitable for the city's high-rise business complexes, there is still a wealth of untapped potential in London, especially in residential zones. SELCE is a community energy organisation based in South East London that, alongside providing energy advice and support to the local community, also operates a scheme very similar to the Mayor's Solar Together London initiative.
"We are bringing together residents who want to install solar and we're using scale to reduce cost. The savings the installer makes from being able to do three installations in a day rather than one get passed on to the local residents. We did this completely without funding and it's much smaller, but the savings are of a similar scale," explains Speciale.
Heading up this initiative in parallel with the government's gives Speciale a unique insight into whether a solar group-buying programme will benefit London, and if Solar Together London goes far enough to encourage solar uptake in the city. "Those who are part of our collective purchasing scheme obviously think it's brilliant, so we have direct experience of how beneficial one of these schemes can be," she comments. "I'm very impressed with this current administration's commitment to renewables. Is it the panacea to everything? No, but it's one of a number of measures that are going to help.
"The only suggestion I would have for the Mayor is perhaps to work a little closer with organisations like ours, who already have in-roads into the community…it's just so much easier if you create community enthusiasm around solar by concentrating on small geographical areas."
Speciale isn't alone in praising the initiative, with SolarPower Europe CEO James Watson saying, "This is a fantastic campaign, we need to see more mayors taking the same sort of approach as Sadiq Khan. Such schemes really put people at the heart of the energy transition and give them a direct experience of the benefits of solar. We encourage other mayors in the UK and Europe to also adopt such supportive schemes and help put solar on all the suitable rooftops of Europe."
While Solar Together London might only be a small initiative in the broader scheme of the solar energy market in the UK, any means of increasing uptake will certainly benefit the city, the broader national energy market and communities themselves. We can only hope the rest of the country follows London's lead and becomes switched on to solar. After all, according to the Mayor's office's own estimates, in order to make London a truly zero-carbon city by 2050, the city will need to install 20 times more solar generation equipment – that's a whole lot more rooftops to cover.