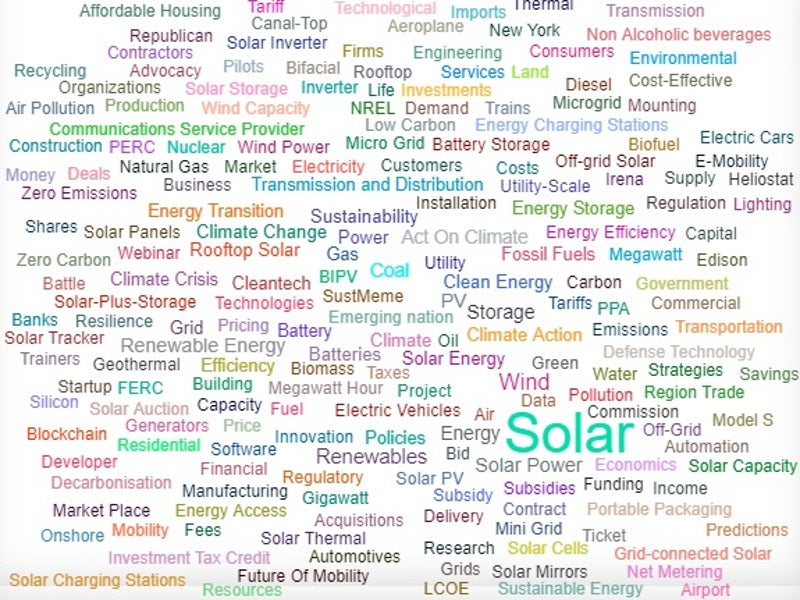 Power Technology lists the top five terms tweeted about solar power in Q3 2019, based on data from GlobalData's Influencer Platform.
The top tweeted terms are the trending industry discussions happening on Twitter by key individuals (influencers) as tracked by the platform.
Storage – 238 mentions
Solar power with storage capacity was one of top topics discussed during Q3. Battery energy storage is poised to play a vital role in the US. It will be key in the successful deployment of solar energy and in supply peaking capacity, according to a new study by the National Renewable Energy Laboratory (NREL), a laboratory of the U.S. Department of Energy.
With the cost of solar plus storage solutions declining, mini self-sufficient electricity grids are emerging. These have the capacity to power small communities. Mini-grids are expected to provide electricity to approximately 500 million people by 2030, according to the World Bank report 'Mini Grids for Half a Billion People'.
#Solar + Storage = peanut butter+chocolate. Amirite? "An increase in solar deployment, which NREL expects could be enabled by the deployment of storage for peaking capacity, pushes the practical potential for four-hour storage to 50 GW."

— Sean Gallagher (@SG_SEIA) July 10, 2019
PV – 215 mentions
The increase in demand for solar photovoltaic (PV) modules and the latest trends in the PV market were widely discussed across twitter during the quarter. The global solar PV market is projected to increase to 125GW in 2020, according to a report by Wood Mackenzie Power & Renewables. Competitive procurement process will be the main driver for the market growth, the study finds.
The industry is moving from multi to mono modules, with bifacial mono modules gaining popularity in the market. These trends were highlighted during the Solar Power International 2019 held in September. The need to diversify distributed and centralised renewable sources to ensure reliability was also highlighted.
Global PV market: 114 GW to be installed in 2019, with continued growth onwards https://t.co/DGJ1VI8uXz pic.twitter.com/ogsGqc6bs1

— Tor "@SolarFred" Valenza (@SolarFred) July 26, 2019
Act On Climate – 180 mentions
Renewable energy projects and solutions that can address the climate crisis facing the planet were highlighted during the quarter. Noor Ouarzazate, a Moroccan power plant that generates enough electricity for more than one million homes, was among popular discussions. Similarly, a World Economic Forum (WEF) video shared by Mike Hudema, a Greenpeace activist based in Canada, depicts how China is at the forefront of solar panel installation. It also features the world's largest floating solar farm in Southern China.
Another WEF video shared by Mike Hudema shows how Nigeria is building 10,000 mini solar grids while Japan has 73 of the world's 100 biggest floating solar farms. The solutions to climate crisis are available, but political will is needed to implement them, opined Mike Hudema.
These four countries are already running on almost 100% #renewableenergy.

We have solutions to #climate crisis. What's missing is the political will to implement them.

⁠#ActOnClimate #climate #energy #tech #solar #wind #renewables @JustinTrudeau pic.twitter.com/EfKz1v3ZJa

— Mike Hudema (@MikeHudema) July 8, 2019
Climate Change – 128 mentions
The solar industry's role in tackling climate change was one of the top topics of discussion during Q3. The extension of Sections 48 and 25D solar investment tax credits (ITC) is expected to foster industry development and address climate change challenges. This according to Abigail Ross Hopper, president and CEO of the Solar Energy Industries Association.
Extending the ITC is expected to help in the deployment of an additional 82GW of solar energy by 2030, according to a report from Wood Mackenzie Power & Renewables. It is also expected to generate additional jobs and help in reversing the damage caused by climate change.
.@SenKamalaHarris, the #solar ITC has helped create American #jobs and is the best tool we have to address climate change. Please support the Renewable Energy Extension Act! pic.twitter.com/eEe7J73P1g

— Tor "@SolarFred" Valenza (@SolarFred) September 11, 2019
Rooftop Solar – 113 mentions
Rooftop solar installations and the need to increase installations to address energy demand and climate change was a topic much discussed . The benefits provided by rooftop solar were highlighted in a report published by Environment Texas Research and Policy Center. ETRPC are a non-profit organisation that conduct research on environmental issues.
The report highlights the benefits of rooftop solar installations. These include reduced line losses, reduction in grid connection services, reduced capacity investment, and increase in jobs. Australia is leading in terms of rooftop solar installations. They currently boast 9GW of capacity and expect to hit 10GW by year end. California recently passed a legislation mandating all new homes to install solar panels on their roofs by 2020. A survey conducted by CITE Research, a market research firm, has revealed that many people want the policy to be implemented at the national level to address climate change.
What is rooftop solar really worth? https://t.co/dGibicys7o @TSylviaMedia via @pvmagazineusa #solar #energy #CleanEnergy pic.twitter.com/9tW1woHMgh

— ☀️ Carl Siegrist (@CarlSiegrist) July 17, 2019