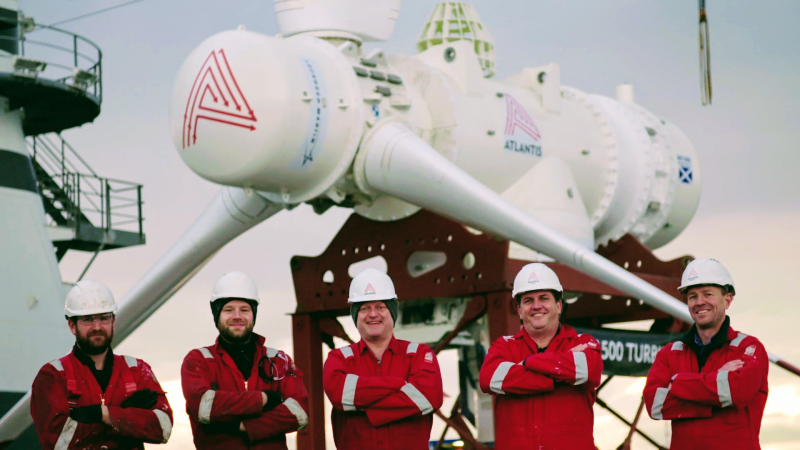 The Tidal Stream Industry Energiser Project (TIGER) is planning to install 8.8MW of tidal capacity in six locations across the Channel region. The Anglo-French initiative – which is worth €45.4m and brings together 18 partners from European academia and the private sector – aims to make a case for tidal energy's inclusion in the French and British energy mix.
The UK has huge potential for tidal energy generation
The UK Government has estimated that, combined, wave and tidal energy could deliver between 30GW and 50GW, 20% of the UK's current electricity needs.
A low environmental impact is not the only advantage that tidal energy presents.
According to Simon Cheeseman – wave and tidal energy specialist at Offshore Renewable Energy (ORE) Catapult, project lead for TIGER – predictability is what makes tidal energy more appealing compared with renewable sources.
"Tidal energy is totally green as it operates off a free resource, the flow of tides, which is entirely predictable. If you put a turbine of a certain size in a certain body of water, you know exactly how much energy can be created at any time in the future," Cheeseman said.
Despite having good long-term generation costs, initial expenses for tidal energy projects are higher compared to other renewable energy sources, especially because installing tidal projects is technologically challenging. Developers are generally constrained by the depth of water and the need to maintain a navigational gap above the turbines to allow ships to cross.
What is TIGER?
The TIGER initiative is a portfolio of six projects which aim to develop 8.8MW of tidal energy in the Channel region – covering an area that, on the UK side, stretches from Cornwall to Norfolk, while on the French side involves Brittany, Normandy, and Île-de-France.
The initiative was founded by the Interreg France (Channel/Manche) England programme, which aims to fund cooperative projects between the two countries, and will run for 47 months, from 2019 to 2023. Out of a total funding of €45.4m, €29m was given by the European Regional Development Fund while the remaining €16.4m was contributed by the partners.
Rémi Gruet, CEO of Ocean Energy, one of the initiative's stakeholders, said: "TIGER is one of the most significant tidal energy projects currently underway. TIGER involves all parts of the tidal sector, with leading supply chain actors and utilities included as partners. It fosters collaboration, aims to reduce costs and is clearly a stepping-stone project on the way to pre-commercial arrays."
In practical terms, TIGER's objectives include creating an energy scheme on the Isle of Wight with up to 1.2MW of new turbine capacity, repurposing the Paimpol-Bréhat site in Brittany to install 100KW of capacity, and completing consenting at three new sites in Normandy and Brittany.
The expected 8.8MW of additional capacity will offset 11,000 tonnes of CO2 annually, bringing down tidal energy costs to €150/MWh.
The project, involving partners such as ORE Catapult; Scottish tidal technology developer QED Naval; and Swedish electricity generator Minesto, was born out of a report published by ORE Catapult in May 2018.
"The origins of TIGER are in the Tidal Stream and Wave Energy Cost Reduction and Industrial Benefit report wrote by ORE in 2018, which articulated how tidal energy could reduce its costs and be competitive in a mixed energy system, spelling out specific areas where tidal energy needed to take action," said Cheeseman.
Given its reputation as a trusted research centre and the report it published on tidal energy, ORE Catapult assumed the role of project lead two months later in July 2018.
Another company involved in TIGER is QED Naval, which joined the initiative at the beginning of the year with the aim to help bring down costs.
The Edinburgh-based company has provided the project with the Subhub, a fully submersible self-deploying platform which is expected to drive down long-term costs of deployment.
"The subhub's main benefits are that it really drives down long-term costs, as much as 60%, because it is self-deploying and doesn't require heavy shipping or infrastructure," said QED Naval COO Keith Murray.
The value of collaboration
Stakeholders believe that one of TIGER's main merits is that the project brings together different players with different types of expertise, which benefit everyone. Using this method and relying on universities to do data collection, stakeholders can actually see what works and what doesn't during all development phases.
"By having different partners with different technologies, we can compare them and look across the whole spectrum of tidal energy systems as much as possible to see how we can bring down costs," added Cheeseman.
Partners cite the positive economic impact of coastal communities as another perk derived from the initiative.
"Coastal communities need some local investments and if you start putting ships in there to deploy tidal systems, the local supply chain benefits, local hotels benefits, taxi companies benefit – so you get a natural sort of knock on," said Cheeseman.
"We're also targeting these local communities by holding site-specific events where the supply chain is invited to get involved in the project," added ORE Catapult programme manager Robbie Brady.
The Isle of Wight is expected to benefit particularly from TIGER, as the initiative will be the catalyst for a 30MW tidal energy centre, with a potential capacity to grow to 300MW.
"For us, it's really about driving our local supply chain and we have got a huge opportunity on the Isle of Wight. Working with local suppliers is the only way for tidal to become global," said Murray.
What's next for TIGER?
TIGER's specific timeframe is considered by partners to be one of the initiative's main challenges, given the problems to production caused by the Covid-19 pandemic.
"I think the ability to visit people in their place of work, walking into the factories, and looking at the actual tidal sites is really important to understand what is going on. Because of the pandemic, we have lost that little bit of visualisation that we would have had before," said Cheeseman.
Generally speaking the work has not stopped, say developers, because it is still in the planning phase, which has easily taken place online.
"Planning has been more focused because people have more time to organise and set up meetings, so in some respects we are moving faster than normal. As we come out of the planning phase, we might experience a slowing down but we are trying to achieve the same outputs in a slightly different way," said Cheeseman.
As regards the future of tidal energy, stakeholders are positive it's going to be bright and collaborative.
"I think there certainly is a place for tidal energy. There are a lot of opportunities, we just have to get over the hurdle of affordability and make sure that people understand what type of stream of energy tidal is today and what it can be in the future," said Cheeseman.