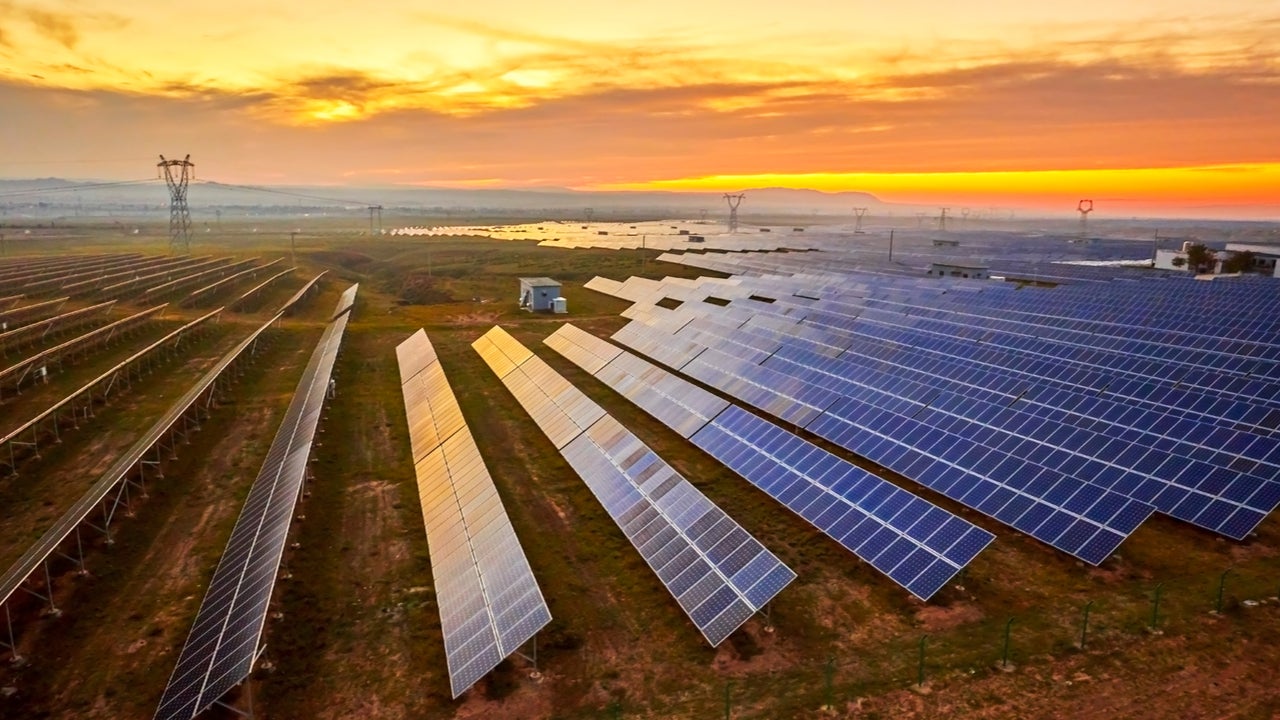 The top tweets were chosen from influencers on Twitter as tracked by GlobalData's Influencer Platform, which is based on a scientific process that works on pre-defined parameters. Influencers are selected after a deep analysis of the influencer's relevance, network strength, engagement, and leading discussions on new and emerging trends.
Top tweets on power in October
1. Mike Hudema's tweet on world's largest concentrated solar thermal plant
Mike Hudema, director of communications at CanopyPlanet, a non-profit organisation, shared a video from the World Economic Forum (WEF) on Noor Ouarzazate, the world's largest concentrated solar thermal plant, located in Morocco. The power plant has a capacity of 580MW and generates enough electricity to power one million homes.
The plant is spread over an area of 3,000ha and helps in offsetting 7,60,000 tonnes of carbon emissions. It is part of Morocco's plans to generate 42% of its energy from renewable sources by 2020.
This is the largest #solar thermal plant in the world. It produces enough electricity to power one million homes.

We have solutions to the #climate crisis, let's implement them.#ActOnClimate #climate #energy #cdnpoli #GreenNewDeal #PanelsNotPipelines pic.twitter.com/5JSPzUqNAx

— Mike Hudema (@MikeHudema) October 8, 2020
Username: Mike Hudema Twitter handle: @MikeHudema
Retweets: 220
Likes: 360
2. Fatih Birol's tweet on World Energy Outlook 2020
Fatih Birol, an executive director at International Energy Agency (IEA), tweeted on the IEA's World Energy Outlook 2020 report on how the pandemic has disrupted the energy sector. The report details that by 2030, solar is set to become the leading renewable resource, followed by onshore and offshore wind.
Birol added that companies and governments are striving to attain net zero emission by 2050 but using technologies alone is insufficient unless significant efforts are made to focus on reducing emissions from coal plants, steel mills, and cement factories.
Using new technologies to avoid future emissions isn't enough.

If today's coal plants, steel mills, cement factories & other infrastructure keep running in the same way as before, that alone would lock in a temperature rise of 1.65 °C. pic.twitter.com/iLhQOfghmE

— Fatih Birol (@IEABirol) October 13, 2020
Username: Fatih Birol Twitter handle: @IEABirol
Retweets: 92
Likes: 123
3. Lisa Friedman's tweet on electricity generation in the US
Lisa Friedman, climate change reporter at New York Times, shared an article on change in electricity generation in every state of the US between 2001 and 2019, using data from the U.S. Energy Information Administration.
While fossil fuels still accounted for majority of electricity generation capacity, carbon emissions have been lowered with shift towards gas and renewable energy sources. The article details that natural gas was the primary source of electricity in 20 states in 2019, while coal remained the primary source in 15 states.
Iowa and Kansas are producing more electricity from wind power, the article added.
Want to know how to green the grid? The you should understand how your state makes electricity. Brillint piece by the @nytclimate dream team of @bradplumer & @PopovichN, and one that I will come back to again and again for reference. https://t.co/nKlp6BH7Af

— Lisa Friedman (@LFFriedman) October 28, 2020
Username: Lisa Friedman Twitter handle: @LFFriedman
Retweets: 44
Likes: 110
4. Simon Evans' tweet on solar power being the cheapest form of electricity
Simon Evans, deputy and policy editor at CarbonBrief, a website focused on climate and energy, shared an article on solar being the cheapest form of electricity, according to the IEA's World Energy Outlook report.
The article noted that by 2040, solar power output is expected to be 43% more than that in 2018. Further, coal is expected to decline by 14% more than expected, partly because of the reduction in the cost of solar power by 20%-50% making it the cheapest form of electricity.
The article details that despite growth in renewable power and decline in coal power generation, net zero emission by 2050 cannot be achieved as oil and gas consumption continues to increase.
Combined with policy developments over the last year eg India's higher targets, this means renewables grow much more quickly than expected before:

🌞 43% higher by 2040 than in STEPS 2018
🌬️ 16% higher

See also how coal never recovers from #COVID19 https://t.co/bt7QfouTAf pic.twitter.com/pA7Arz4ht6

— Simon Evans (@DrSimEvans) October 13, 2020
Username: Simon Evans Twitter handle: @DrSimEvans
Retweets: 17
Likes: 49
5. Mark Z. Jacobson's tweet on Bighorn solar project
Mark Z. Jacobson, director of atmosphere and energy programme at Stanford University, shared an article on Evraz, a steel manufacturer, planning to develop the 300MW Bighorn solar farm to power its Rocky Mountain steel facility.
The article noted that EVRAZ NorthAmerica, Lightsouce BP and Xcel Energy partnered to develop the project by 2021. The project supports Colorado Energy Plan to generate 55% of power through renewable energy by 2026 and allows employment for 1,000 workers. It will also help offset 90% of the electricity used by the EVRAZ's steel mill.
Leading US Steel Maker Pivots To Solar Electricity (300 MW), Ditches Coal

"New PV plant will help smooth way to retiring Colorado's largest remaining coal plant"

Steel facility is recycling operation, reclaiming steel to make new productshttps://t.co/Mm9j147hJc @cleantechnica

— Mark Z. Jacobson (@mzjacobson) October 6, 2020
Username: Mark Z. Jacobson Twitter handle: @mzjacobson
Retweets: 20
Likes: 46
6. Thomas Hillig's tweet on Siemens' wind-to-hydrogen project
Thomas Hillig, founder of THEnergy, a consultancy firm, shared an article on Siemens Gamesa's wind-to-hydrogen pilot project to evaluate the performance of wind turbines in producing green hydrogen. Siemens has partnered with Green Hydrogen Systems (GHS) to supply electrolyser for the project.
The project involves a Siemens 3MW wind turbine operating in island mode and connected to a 400kW GHS electrolyser to convert water into hydrogen and oxygen. Everfuel, a hydrogen fuel company, will store the hydrogen produced and supply to hydrogen-powered vehicles.
#Innovation: @SiemensGamesa kicks off wind-to-#hydrogen project in Denmarkhttps://t.co/sjRObehHhS pic.twitter.com/0zzqSswnzT

— Dr Thomas Hillig – #Sustainability #Hydrogen #Tech (@THEnergyNet) October 3, 2020
Username: Thomas Hillig Twitter handle: @THEnergyNet
Retweets: 18
Likes: 39
7. Assaad Razzouk's tweet on South Australia meeting 100% power demand through solar
Assaad Razzouk, CEO of Sindicatum Renewable Energy, a clean energy company, shared an article on how 100% of South Australia's electricity demand was met by solar power for two and half hours.
The article noted that South Australia achieved the milestone through a combination of rooftop solar and utility scale solar, which provided 992MW and 315MW of electricity, respectively. Three solar farms, Bungala 1m, Bungala 2 and Tailem Bend, were operating at full capacity to supply the electricity.
South Australia is expected to reduce its dependence on gas-fired generation for inertia and system strength over the next 12 months as new synchronous condensers and battery storage begins operations, the article added.
Combination of rooftop and utility-scale solar meets 100% of South Australia demand for first time, with the state on track to have rooftop solar alone meet 100% of its demand needs

Renewables are getting stronger and stronger, everywherehttps://t.co/zSmNWel7BV #climate pic.twitter.com/jy5jJgFRzp

— Assaad Razzouk (@AssaadRazzouk) October 13, 2020
Username: Assaad Razzouk Twitter handle: @AssaadRazzouk
Retweets: 17
Likes: 36
8. Scott Stapf's tweet on NextEra
Scott Stapf, senior principal at The Hastings Group, a public relations and communications firm, shared an article on how US-based energy firm, NextEra, outperformed in terms of both profits and growth, while oil companies were struggling amid the Covid-19 pandemic.
NextEra's revenue jumped by 13% and its market capitalisation also surpassed that of ExxonMobil. The company has 15GW of renewable projects in the pipeline, which is more than the current portfolio. Stapf noted that NextEra being a prime producer of solar and wind power can become a future-facing company if it exits nuclear power generation.
NextEra is already the world's top generator of wind and solar electricity. Once it dumps its dying nuclear tech, it will be a truly future-facing company. https://t.co/2r4oKE0kxs

— Scott Stapf (@stapf) October 23, 2020
Username: Scott Stapf Twitter handle: @stapf
Retweets: 14
Likes: 30
9. Silvio Marcacci's tweet on securitisation for utility sector
Silvio Marcacci, communications director at Energy Innovation, an environmental policy firm, shared an article on how securitised bonds can help utility sectors to replace uneconomic coal plants. He noted that securitisation or ratepayer-backed bond is a smart financial transition tool, allowing uneconomical utilities to retire profitably.
The securitisation policy helps in reducing the transition costs for early retirements and stimulate clean energy investment. The article noted that the policy should be considered by states with regulated coal plants.
Securitization – a clever financial tool – can help utilities profitably retire stranded coal assets.

Colorado, Montana, New Mexico show how states can use this decades-old policy to deal with coal's collapse. (via @oboylemm + me in @greentechmedia) https://t.co/vDzoedVSwp

— Silvio Marcacci (@Silvio_Marcacci) October 27, 2020
Username: Silvio Marcacci Twitter handle: @Silvio_Marcacci
Retweets: 8
Likes: 30
10. Chris Nelder's tweet on California's ban on gasoline vehicles
Chris Nelder, manager at Rocky Mountain Institute, a non-profit organisation focused on renewables and environment, shared an article on the ban issued by the state of California on sale of new gasoline vehicles. The state plans to transition towards electric vehicles (EVs) by 2035.
The article raised doubts on the ability of California's electricity grid to serve the load of EVs after the recent blackouts imposed in August. By 2035, California's grid may be able to support electrification of vehicles but at present it cannot support electrifying 26 million EVs and light trucks.
Utilities will need to strengthen their grid and calculate demand based on variables such as vehicles charging time, population, improved efficiency in electric equipment and appliances, the article added.
Can California's grid handle the load of EVs? I spoke with @hiltzikm about that in his LAT article today: https://t.co/Dq34YF8CWk

— Chris Nelder (@chrisnelder) October 1, 2020
Username: Chris Nelder Twitter handle: @chrisnelder
Retweets: 11
Likes: 28