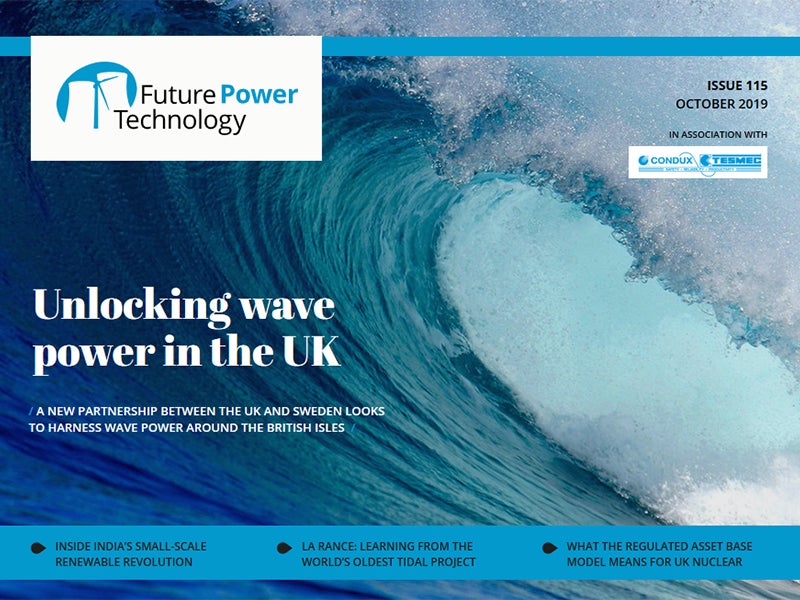 Future Power Technology is back for another issue packed with energy industry news and analysis. In this issue, we catch up with a project exploring wave power potential around the British Isles, speak to the European Energy Research Alliance's chairman about the future of hydrogen, and more.
Whether you are on a desktop, tablet or smartphone, you can read the magazine for free online.
The clean energy revolution is spreading around the world. In this issue, we look into the state of small-scale renewables in India, the large-scale Walcha Energy Project in Australia, and a new collaboration between the UK and Sweden exploring wave power potential around the British Isles. We also find out what lessons the industry has learned from the world's oldest tidal power plant, La Rance.
Also in this issue, we speak to European Energy Research Alliance chairman Nils Røkke about developing the hydrogen market in Europe, ask whether a regulated asset base model could unlock new nuclear potential in the UK, and investigate common misconceptions surrounding the dangers of different types of energy generation.
In this issue
Walcha on the way: massive Australian energy project takes shape
The Walcha energy project in Australia plans to combine solar, wind and pumped hydro storage to generate a massive 4GW of energy. But as one of many such projects planned in a market nearing capacity, what challenges will the development face? Heidi Vella investigates.
Read the article.
Making a splash? CorPower and Simply Blue's plans for UK wave energy
Simply Blue Energy has partnered with Sweden-based CorPower Ocean to develop wave energy projects off the coasts of the UK and Ireland. Umar Ali finds out more about their plans to unlock wave energy around the British Isles.
Read the article.
Inside India's small-scale renewable revolution
The Indian Government is targeting a renewable capacity of 500GW by 2030, and with investment in the country's renewables sector reaching $20bn last year, there is every chance that India could develop into a clean energy powerhouse. JP Casey profiles five of the most promising start-ups that could lead India's small-scale renewable revolution.
Read the article.
La Rance: learning from the world's oldest tidal project
Tidal energy has faced huge challenges in an effort to obtain large-scale adoption, with many arguing that it cannot be made economic. But an often overlooked benefit is the huge lifespan of the technology, as proven by the La Rance power station in France. Scarlett Evans reports.
Read the article.
The EERA's Nils Røkke on developing the European hydrogen economy
With a number of countries making commitments to lowering emissions, significant investments are being made in hydrogen and carbon capture technology. Umar Ali hears from Nils Røkke, chair of the European Energy Research Alliance (Eera) and executive vice president of sustainability for SINTEF Energy, what research projects could help start the hydrogen economy.
Read the Q&A.
Could the Regulated Asset Base model unlock UK nuclear?
The UK Government is considering the regulated asset base model, which allows for revenues to be released during construction, for financing new nuclear projects. Chris Lo finds out whether this approach could break the impasse that has kept UK nuclear power on the back foot in recent years.
Read the article.
The most dangerous form of energy: debunking misconceptions
While nuclear power has the potential to wreak significant damage on human life and the environment, a study by Forbes has found that it has one of the lowest mortality rates in the energy sector. JP Casey looks into the mortality rates of a number of energy types and the impacts of regulation and strict government control on safety compliance.
Read the article.
Next issue preview
Hydrogen has been pitched as a clean energy saviour for years now, but never managed to live up to its potential. However, with new EU projects as well as a 'hydrogen strategy' announced by The German Government, is it finally hydrogen's time to shine?
Many innovative energy technologies have failed to reach practical use. In the next issue, we take a look at some that have been proved in theory but encountered other difficulties, and ask whether and how they could still become viable. We also ask what went wrong with solar technologies that didn't take off, and catch up with new technologies that are yet to prove their worth, such as lithium alternatives in the battery sector and a plan to use fridges in supermarkets to help power the UK.
Finally, we ask states or the federal government should be in charge of regulating emissions in the US, talk to InnoEnergy's Elena Bou about how the energy transition can improve gender diversity and ask whether EU relations have affected the UK's ability to withstand power cuts.
Subscribe to be notified when the next issue is available.
Visit our archive to read past issues for free.