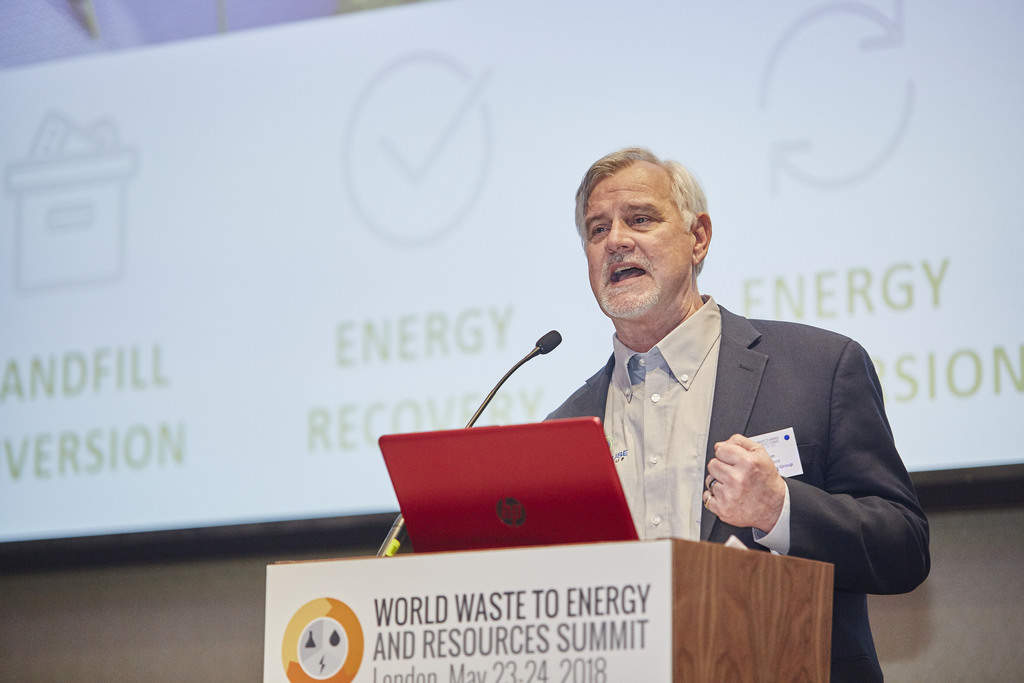 On 23 and 24 May, London played host to this year's World Waste to Energy and Resources Summit. Talks on the benefits of gasification and advanced conversion technologies (ACT), along with panel discussions on investment and subsidies, drew hundreds of people interested in waste's role in the energy sector.
One of the standout technologies discussed was Powerhouse Energy's ACT system, which uses distributed modular gasification (DMG) to convert end-of-life plastics to hydrogen. Powerhouse has identified its first commercial site in the North West of England, and hopes to commission its facility by the end of the year. The site is located close to a source of end-of-life plastics, but also a user of hydrogen, allowing the company to highlight the benefits of modular technology and localised production.
We sat down with Powerhouse CEO Keith Allaun to discuss the benefits of modular design, hydrogen's role in a carbon-constrained world and the waste-to-energy ecosystem.
Molly Lempriere: You started off in Silicon Valley, how did you get from there to working in waste-to-energy in Chester?
Keith Allaun: I felt like I had done everything I could do in technology; I'd done a whole lot of things and spent 25 years in Silicon Valley. But energy is truly the future, we can do all of these diversionary things with technology, we can help people's lives but without energy, none of it exists. So getting into the energy sector was very intriguing to me.
I had an opportunity to come in and help turn this company around about five years ago. It was floundering, there were some challenges with the technology and with the previous management team and so I was invited in to help shepherd it to its next level. It's been a much longer slog than we thought it was going to be but we've really created something from first principles to redefine the energy from waste, we believe.
We've created a process called DMG that allows us to extract the hydrogen component from any waste material that we're working with. Our current focus is end-of-life plastics, but we've also worked extensively with end-of-life tyres. In the UK for instance there are 70 million end-of-life tyres every year going to landfill. That's one for every man, woman and child on the island.
We feel like we're part of the ecosystem of dealing with plastics, particularly mixed plastics, non-recyclable plastics, true end-of-life plastics. We want to be part of the hydrogen economy. Our process gives us the ability to convert what had been a waste product into something that is massively valuable. It allows us to divert plastics from landfill and incineration, as in incineration one loses about 72% of the energy value of the plastics. Our process allows us to capture about 90-95% of the energy value of those plastics. Then when we extract that hydrogen and we use it in a fuel cell in lieu of using diesel or petrol, therefore we're eliminating in the neighbourhood of 10,000 kilos (kg) of CO2 per day.
ML: Could you tell me a little more about DMG?
KA: If you look at a truck going down the road filled with hydrogen canisters, that truck will weigh 50,000 pounds (lb). In all of those canisters is 750kg of hydrogen. That's a lot to be investing in and toting weight around for something that weighs almost nothing.
We believe in this distributed network where we have a small footprint, and we can build one of these facilities in half an acre. We can co-locate DMG near industry, in town, wherever it's needed, wherever there is a small amount of space. Our objective would be to try and co-locate with bus depots, transportation logistics companies, super distribution centres, train depots, airports, or at a port. All of these places are starting to find ways to use hydrogen productively.
Our DMG process generates nominally a tonne (t) of hydrogen for every 25t of plastic waste per day. Then we're also generating about one and a half megawatts (MW) of exportable electricity in conjunction with that hydrogen.
The initial component our DMGs produce is a syngas, but it is a very high quality syngas that's extremely clean. The challenges that most syngases face is that they're not clean enough to actually extract the hydrogen from. By virtue of the temperature envelopes in which we operate, the oxidant that we use, where it's injected, when it's injected and how our process is controlled allows us to generate a synthesis gas that is either rich in hydrogen or it's rich in methane. But each of those has a very low percentage of CO2, 0.2% in all of our testing so far.
ML: Where do you think hydrogen is going?
KA: I think that hydrogen is going to be a significant component of both the heating network worldwide, and more importantly and probably sooner, it's going to be an important part of the transportation network.
My way of thinking is that hydrogen fuel cells are truly the mechanism by which industrial transport can be transformed. Battery packs don't make sense because they weigh too much at an industrial level. So the idea of using 50kg of hydrogen with a hydrogen fuel cell, all of which weighs less than 2000kg, and powering a truck which has massive range and is substantially more efficient in terms of energy conversion than diesel, makes all the sense in the world.
The challenge that one faces with hydrogen is that currently the manufacturing process is very dirty; between 12t and 16t of CO2 is produced for every tonne of hydrogen that's produced using steam methane reformation (SMR) technology which is how 98% of the world's hydrogen is made. That is not a sustainable mechanism, until we have commercially available, provable carbon capture and sequestration.
We feel like we're a massive step in the right direction, to create minimally carbon-neutral hydrogen. A kilo of hydrogen is effectively two gallons (gal) of diesel, so a tonne of hydrogen is 2000gal of diesel equivalent. When you displace 2000gal of diesel, on a daily basis you're eliminating 22,000lb of CO2.
ML: The electricity that you're also generating, are you feeding that straight back into the grid?
KA: Well, it depends on our location. At our first commercial location we're in conversation with a neighbour to take all of our electricity in a private wire scenario, which is beneficial to them and it's beneficial to us. Grid power sales are about half what we can get in private wire sales; private wire sales are about two-thirds of what people are paying for retail, so it's beneficial to sell the electricity through private wire. If we have to feed it into the grid we can feed it into the grid and we have those connections on the site.
What's interesting about our first site is that there is likely to be a very nearby user of hydrogen and so our ability to deliver hydrogen to them via pipe is quite exciting and in fact there happens to be a former hydrogen pipeline under our site.
ML: At a panel discussion yesterday, Nick Pollard from Cory Riverside Energy argued that gasification isn't worth investing in, and you stuck up your hand and disagreed. Could you expand on that?
KA: Nick has a very vested interest in the £500m plant that he's running down at Cory Riverside, which is an incinerator. I think it is part of the ecosystem, there's no question, but my process is not going to replace incineration.
There's no way that you can create anything out of incineration other than heat. We on the other hand, through our small modular distributed systems, which we don't have to use shipping barges full of waste down the river to run, can generate one tonne per day of hydrogen from one truck per day of plastic. Advanced conversion technologies are going to continue to develop and grow.
I think one of the problems that has plagued the industry is that the vast majority of the highly visible failures in gasification have been things that have tried to scale up way too quickly. The Teesside Air Products thing to my understanding, tried to scale up a hundred-fold over its only working design. On paper it shows it will work, but there's a big difference between what's on paper and what will work.
We know that this works, and we ran a plant for a time over in Munich previously. We have a process that commercialisable, scalable, extendable and it meets all of our needs to be able to deliver on a modular basis. We can increase the throughput of our process by adding another conversion chamber; it's like hooking in another Lego block.
So I don't look at us as being competitor to Mr Pollard, I look at us as being a component of the ecosystem for waste management and wherever we can better extract energy then we should. Anyone who thinks otherwise is naive.