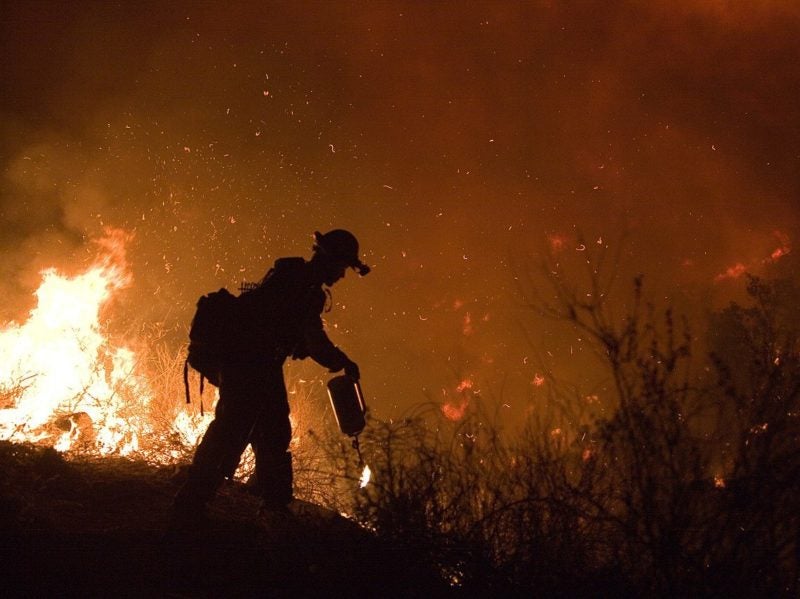 California is no stranger to wildfires, but over the past year it has been devastated by the size and scale of blazes. In last year's Camp Fire, 85 people lost their lives and 14,000 homes were destroyed, making it the deadliest and most destructive in the state's history.
Wildfires are becoming increasingly common as global temperatures rise. Snow is melting faster as spring periods become warmer, so areas prone to hot, dry weather are now finding these conditions exacerbated. This has turned areas in the US and Australia in particular into tinderboxes, easy to ignite and long-burning.
To mitigate the effects of climate change, manmade emissions must be dramatically reduced, predominantly by switching from fossil fuels to renewable alternatives. The irony in the case of the Californian wildfires seems to be that the networks transitioning to renewables may have triggered the fires.
The cause of the Camp Fire is still under investigation, but the prime suspect is a transmission line cable owned by PG&E. On 28 February 2019, the company stated that it "believes it is probable that [our] equipment will be determined to be an ignition point of the 2018 Camp Fire."
The case poses the question: when weather gets dry and hot, at what point should electrical systems be shut down to prevent fires?
Ageing transmission networks
PG&E operates generation and transmission capacity throughout California, including 106,681 circuit miles of electric distribution lines and 18,466 miles of interconnected transmission lines. This allows the company to supply electricity, in particular solar power, to 5.4 million customers.
On 8 November 2018, a 115kV Caribou-Palermo transmission line malfunctioned in Butte County. This is thought to have caused the spark that lead to the Camp Fire breaking out just 18 minutes later, according to the official timeline.
PG&E filed for bankruptcy in January, claiming $51.69bn in debts. Claims against the company over the damages caused by the Camp Fire continue to grow, already reaching $10.5bn, and PG&E is also facing further lawsuits over the 2017 Northern California wildfires.
Unsurprisingly, the company's stock value crashed by over 50% in January. It is the biggest-ever US utility bankruptcy and the first time climate change has caused a bankruptcy , inviting questions as to how utilities can continue to safely and economically operate in the state's changing conditions.
The company has come under fierce criticism for the Camp Fire, in particular as it was reported in February that the transmission lines in question were well overdue for repairs. According to regulatory documents, PG&E knew in 2013 that work was needed on the ageing network, but failed to undertake it.
"It is sickening to see this," said Mindy Spatt, a spokeswoman for The Utility Reform Network. "It's not that PG&E didn't know there was a problem. It's not that they didn't have the money to do this. They just didn't have the will to do the work, or they were just negligent."
This is not the first time that PG&E operations have been linked to wildfires, and the company has already been found responsible on 17 occasions.
The right time to shut off
Following the fire, one of the big questions asked is why the transmission system was not shut off. When winds pick up and the heat rises, how do utilities make the call to turn off their systems?
"There is a simple and effective way to reduce the risk of utility-caused wildfire, and it doesn't take decades to implement: shut the power off when and where wind and drought create wildfire risk," said Michael Wara, director of the Climate and Energy Policy Program at Stanford University's Woods Institute for the Environment in a recent opinion piece in the LA Times. "All other options for preventing these fires – such as putting power lines underground or trimming trees that threaten power infrastructure – will take too long or are too prone to error to adequately address the crisis we're facing."
PG&E did not shut off the power in the region for a number of reasons, detailed in a report produced in November. Two days before the fire, the company had made 70,000 of its customers aware that shutoffs were possible, but no action was taken as conditions were "nearing but not reaching forecasted levels that would warrant temporarily turning off power for customer safety," according to the report.
PG&E's threshold for a "public safety power shutoff" sits at a humidity level below 20%, and winds at 25mph with gusts of 45mph, along with a consideration of the local terrain and temperature. According to the company's monitoring systems, these levels were not reached in November. However, a weather station near the town of Paradise, which was almost completely destroyed by the fire, registered winds up to 54mph according to the LA Times.
Whether thresholds are adequate for safety is in question, but a shutoff brings a host of dangers of its own that cannot be overlooked. "Shutting off power is not simply a matter of inconvenience," PG&E warned. "It is dangerous and potentially fatal." For facilities such as hospitals, power is a matter of life and death.
Blackouts or wildfires: is there another option?
It is clear that more must be done to protect areas from wildfires. Some hope that technology will be  the key to ensuring that electrical malfunctions simply do not occur, and cannot spark a fire.
Improvements in data analytics could help utilities manage hazards such as wildfires, as monitoring and control solutions company mPrest CEO and founder Natan Barak explains. Potential problems with the network, be it solar panels or transmission cables, could be identified and fixed more quickly, dramatically reducing risks.
Furthermore, Barak suggests, tracking systems can keep blackouts to a minimum. "There are so many sensors that can give us a precise position of the fire," he says. "I'm talking about cameras that cost just a few dollars each for every substation and so on, but that can give us an indication that there is a fire with almost 100% identification capabilities, so that we can be alert and shut down in a matter of minutes. Then the substations will keep on working minutes before the fire gets there, and then it can turn on again a few minutes after the fire moves on from this area."
Others suggest more drastic changes to the grid will be necessary to protect those in California and geographically similar areas.
"To make it acceptable to turn off whole sections of the electricity grid, the state will have to start a crash programme to build a backup power supply for households and businesses in high-risk wildfire areas," Wara suggested. "The logical choices are individual solar and battery setups for households and 'microgrids' linking business districts. We need to make it OK for the utilities to take decisive action to avoid wildfire threats: when the main grid has to go down for safety, backup power must be available to keep medical devices, refrigerators and the internet up and running."
More maintenance around electrical systems is needed too, according to Judge William Alsup, who is supervising PG&E's probation for a gas explosion in San Bruno in 2010. He suggested the company trim any and all trees that could fall on power lines, fix weak or damaged equipment, and have it inspected and certified under oath.
"This will likely mean having to interrupt service during high-wind events (and possibly at other times) but that inconvenience, irritating as it will be, will pale by comparison to the death and destruction that otherwise might result from PG&E-inflicted wildfires," the judge said.
However, PG&E has called such changes impossible, estimating that it would cost between $75bn and $150bn, money it simply does not have and could not raise without increasing 16 million customers' bills.
The long-term effect on the solar transition
There is concern that PG&E's bankruptcy could affect solar projects in the future. As the company searches for money to cover its growing liabilities, renegotiation of power purchase agreements could be considered.
PG&E has 5.9GW of solar PV built before 2012; these tend to sit at $150/MWh, rather than today's prices of roughly $35/MWh for modern installations.
However, if project developers are forced to renegotiate current contracts, they are likely to increase costs in the future to safeguard against such situations repeating. This would bring energy prices closer to $40/MWh, and while this is still far less than many legacy projects, there are fears that such changes could derail California's ambitious renewable goals.
One thing most likely to change for utilities is the legislation around shutoffs. Currently, utilities are not allowed to put public safety ahead of service reliability by law, something that the California Public Utilities Commission has noted in its calls for the company, regulators, and officials to work together to ensure this never happens again.
How PG&E's case and the Camp Fire will ultimately affect California's drive towards renewables remains to be seen, but it will undoubtedly cause concern for utilities operating in the region, along with solar developers. They must all learn to cope with what former California Governor Jerry Brown called the "new abnormal" for the state last year, in order to ensure that future wildfires are prevented.