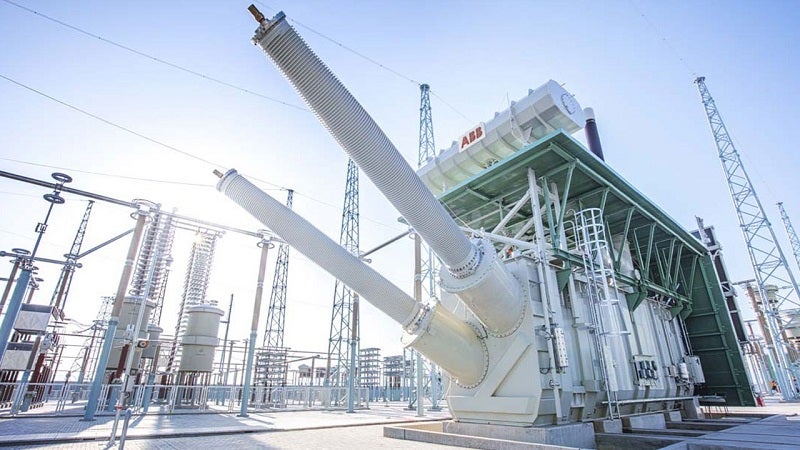 ABB has secured a power transmission contract from State Grid Corporation of China (SGCC).
Under the contract, ABB will supply converter transformers and high-voltage equipment for an 800kV, ultra-high-voltage direct current (UHVDC) transmission link.
ABB's high-voltage equipment comprises of breakers to safeguard the grid from disruptive faults and capacitor banks to improve the quality of the electricity supply.
The company's converter transformers have been designed to receive electricity from the power stations and increase their voltage to extremely high levels. This increase in voltage is to help electricity transport across long distances with negligible losses.
ABBs Power Grids business president Claudio Facchin said: "The ultra-high-voltage (UHV) transmission equipment from ABB is an important milestone in realising SGCC's vision of building stronger and greener grids.
"These UHV super-grids will enable the reliable integration of ever more power sources from remote areas into the power grids of urban centres."
The 1,100km-long power transmission link will have the capacity to transmit nearly 8,000MW of electricity sufficient to meet the power needs of approximately eight million people in China.
The transmission links are located at the Shaanxi and Hubei provinces in the North West and Central regions of the country. Called the Shanbei-Wuhan link, the 8,000MW transmission line will help save up to 1.2 million tonnes of carbon dioxide emissions per year.
ABB served a key technology provider to SGCC's first ultra-high-voltage direct current transmission link called Xiangjiaba-Shanghai link. The 2,000km-long link carries 6,400MW of hydroelectric power from South West China to the city of Shanghai.