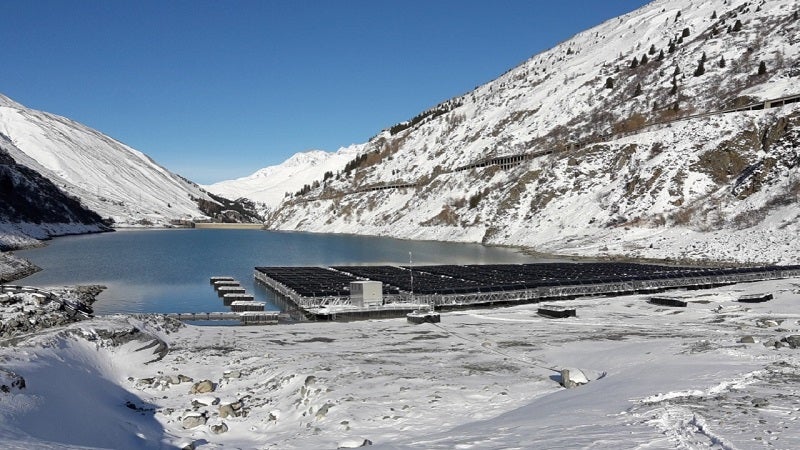 Swiss technology company ABB has partnered with electricity distribution company Romande Energie to support the floating solar plant in Switzerland.
ABB will supply its inverter solutions for the solar photovoltaic (PV) installation, which is located 1,810m above sea level on the artificial Lac des Toules in Switzerland. The solar plant is expected to generate more than 800,000kWh of electricity annually, the annual consumption of nearly 220 homes.
Romande Energie project lead Guillaume Fuchs said: "We have been working on this project since 2012, so collaborating closely with our partners has been critical.
"ABB's capabilities to support above and below the line with a complete technology package, including its PVS-175 string inverters, a transformer station with a dry transformer, and switchgear for medium and low-voltage, advice and counsel, have been critical to achieving and realising this unique installation."
Spread across 2,240m, the solar park is equipped with bifacial solar models on 36 floating barges.
For this floating solar park, ABB is supplying its PVS-175 inverters designed to operate within extreme conditions and temperature variances from -25⁰C and up to 60⁰C.
The first part of the floating solar park was launched on 9 October. Following a two-year trial period, the park will be expanded based on the feasibility to generate power for some 6,100 households.
The floating station can produce up to 50% more energy than a similar solar farm at sea level. It also has the ability to support up to 50cm of snow.
ABB Solar Business head Giovanni Frassineti said: "We are proud to be enabling a more sustainable energy future with innovative and exciting projects such as this.
"As the energy markets shift at such a rapid pace, we need to look for alternative and unique opportunities to install solar through quicker installs, less infrastructure and improved return on investment."