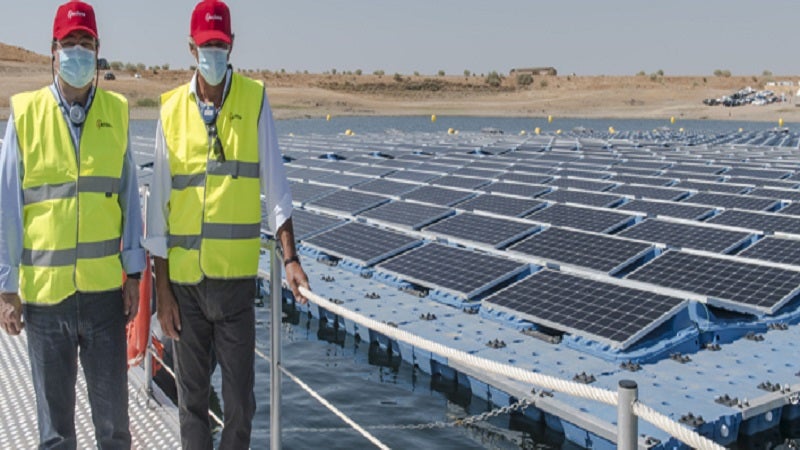 Renewable energy company Acciona has announced the opening of the first grid-connected floating photovoltaic (PV) solar plant in Spain.
The Sierra Brava photovoltaic plant sits on the reservoir of the same name in Extremadura province. It uses 3,000 solar PV modules of different types, which are distributed across five floating structures with different layouts, orientation and inclination.
The solar farm covers an area of 12,000m², approximately 0.07% of the total surface area of the reservoir.
Extremadura Regional Government president Guillermo Fernández Vara and Acciona president José Manuel Entrecanales inaugurated the new solar plant.
The ceremony was also attended by Acciona Energía CEO Rafael Mateo and institutional relations, sustainability and brand director-general Joaquín Mollinedo.
The Sierra Brava plant is a demonstration project that will allow Acciona to gather information on the installation of solar panels on water. Engineers will look at the performance of different panel layouts and their cost-efficiency. It will also look at the costs of installation and maintenance.
The outcomes will inform Acciona in its development of commercial projects. The company says Sierra Brava is a step to position itself in the future of photovoltaic energy.
As part of its environmental protection measures, the project will involve the installation of two floating 'islands' with nesting boxes. These will provide for the lesser kestrel, a protected species in the area.
During the monitoring programme, the interaction between the birds and the fish stock in the reservoir with the plant will be examined.
Last April, Acciona Energía renewed its clean energy supply contract with Unilever in Spain.