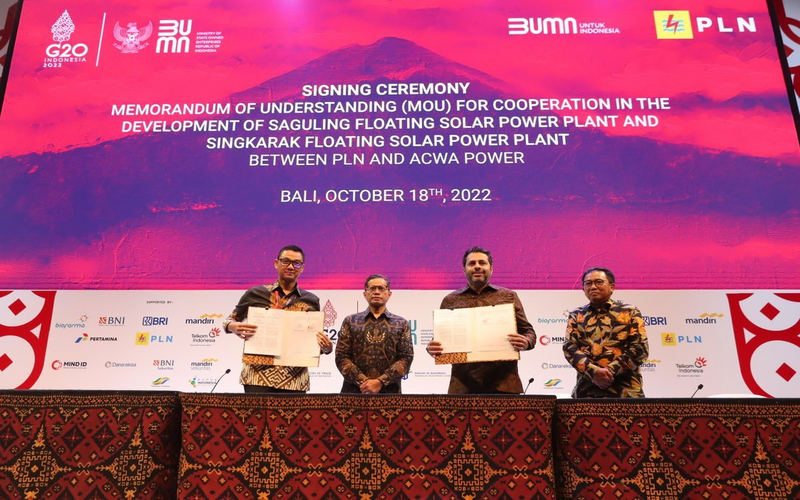 Saudi energy firm Acwa Power has secured a contract from the Indonesian state-owned utility PT Perusahaan Listrik Negara (PLN) to build two floating solar photovoltaic (PV) power projects.
The contract covers the 60MWac Saguling project and Singkarak, a floating solar project with 50MWac of capacity.
The two projects will have a combined capacity of 110MWac and be built with a total investment of $105m.
They will be ACWA Power's first floating solar PV projects.
ACWA Power will own a 49% equity stake in both projects, with the remaining stake being owned by PLN subsidiary INDONESIA POWER .
PLN will be the offtake partner for these two projects.
The company currently owns and operates nearly 69% of Indonesia's generation capacity and is the sole power purchaser from the country's independent power plants.
PLN and ACWA Power will now focus on finalising the power purchase agreements for these projects.
ACWA Power chief investment officer Clive Turton said: "As one of the world's most populous countries, and a major consumer of conventional energy sources, any steps in Indonesia to mitigate greenhouse gas emissions will make a big impact in the global fight against climate change.
"For companies like ACWA Power, who are intent on the energy transition, this country is an exciting market as there is government support, an understanding of global challenges, considerable demand and an urgent need to supply the country's numerous residents.
"As we mark our market entry into Indonesia, we are committed to making a positive impact with our partners, offtaker and consumers."
The projects will be ACWA Power's second and third in South-East Asia, with the company having previously developed the Vinh Hao 6 Power Plant in Vietnam.
In September this year, ACWA Power agreed to sell its 49% stake in the Sirdarya combined-cycle gas turbine facility in Uzbekistan to the Chinese state-owned Silk Road Fund .