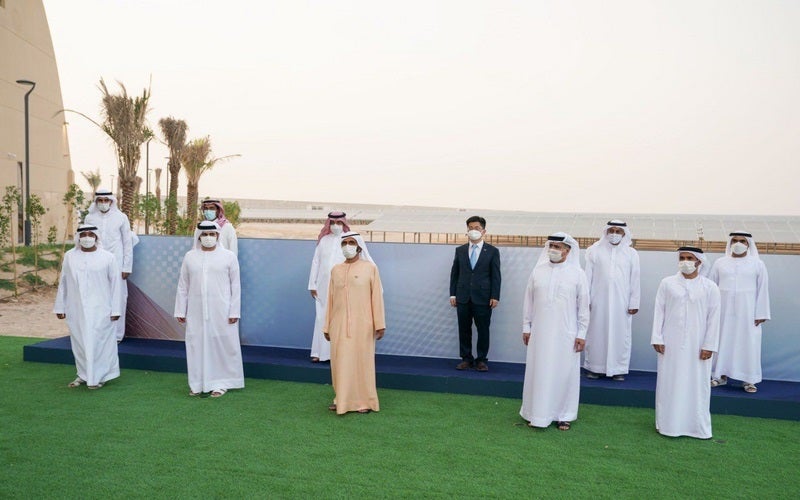 Saudi Arabia-based energy company Acwa Power has inaugurated the 300MW portion of the 900MW Shuaa Energy III PSC, the fifth phase of the Mohammed bin Rashid Al Maktoum Solar Park in Dubai.
The facility's opening is intended to strengthen and support Dubai's energy transition and diversification strategies.
Shuaa Energy III PSC is a special-purpose vehicle incorporated for the project. The Dubai Electricity and Water Authority (DEWA) owns 60% of it, with the remaining 40% stake held by ACWA Power and Gulf Investment Corporation.
The $570m Shuaa Energy III PSC project was awarded to a consortium led by ACWA Power last year, at a world-record tariff of $0.02/kWh.
ACWA Power signed financing agreements for the project last September.
The facility will generate enough clean energy to power 270,000 homes while displacing 1.18 million tonnes of carbon emissions a year in Dubai.
The project features bifacial photovoltaic solar panels that can capture sunlight on both sides, along with a solar tracking system.
ACWA Power claims this can make power generation 20% more efficient.
To optimise its productivity and operational capabilities, the facility uses an automated solar panel cleaning system.
With the facility's opening, the Mohammed bin Rashid Al Maktoum Solar Park's current power generation capacity has increased to 1,313MW.
Once fully operational, the solar park is set to become the world's largest single-site solar park, with a planned production capacity of 5,000MW.
ACWA Power chairman Mohammad Abunayyan said: "The inauguration of the first part of the fifth phase of the Mohammed bin Rashid Al Maktoum Solar Park in Dubai reinforces ACWA Power's commitment to supporting Dubai's ambitious strategy to balance economic growth and environmental sustainability, contributing to Dubai's reputation as a global player in green economic transformation and a driver of global carbon footprint reduction."