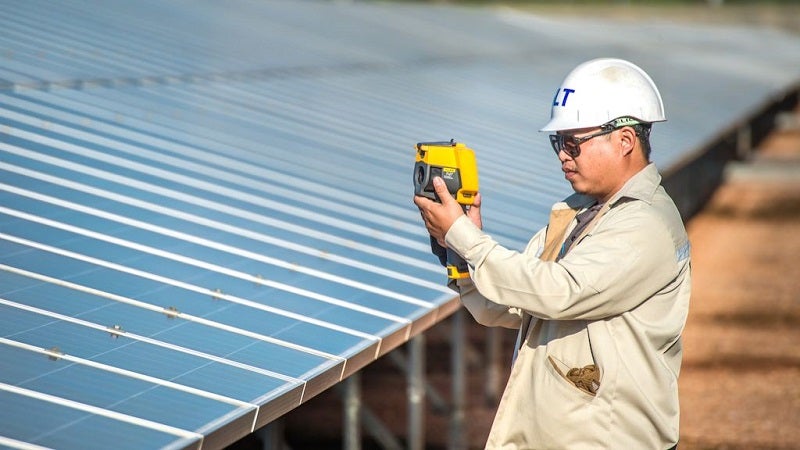 The Asian Development Bank (ADB) has signed a transaction advisory services mandate with Cambodia's national energy utility Électricité du Cambodge (EDC) for the development of 2GW of solar capacity.
ADB will work with EDC to identify opportunities for additional solar power capacity paired with battery energy storage systems (BESS), which will be implemented over the next eight years.
The bank will also help EDC bid out a 100MW pilot project identified under the study to the private sector, which will be responsible for building, financing and operating the project.
The pilot project could involve a total investment of $100m.
ADB Cambodia country director Jyotsana Varma said: "ADB is pleased to support a green energy transition in Cambodia that will promote clean, sustainable, and inclusive economic growth through policy reform in energy planning and governance, improving grid stability, and energy efficiency."
The development of 2GW of solar capacity is part of the Cambodian government's plan to meet growing energy demand by expediting the adoption of renewable energy and boosting energy efficiency.
ADB's mandate will also help the country meet its goal of carbon neutrality by 2050.
ADB Public–Private Partnership office head Cleo Kawawaki said: "This programme will be Cambodia's most ambitious yet in the renewable sector.
"It will lower electricity costs and improve energy security by taking advantage of domestic resources.
"We hope to contribute to this effort by supporting a well-planned pipeline for transparent bids that attract active competition to optimise the efficiency, innovation and capital of the private sector to benefit the people of Cambodia."
The mandate builds on ADB's previous support for Cambodia's solar sector, which included a 100MW National Solar Park located in Kampong Chhnang.
Cambodia's Power Development Masterplan also underlines its potential to increase its solar energy generation capacity, which is expected to exceed 3GW by 2040.