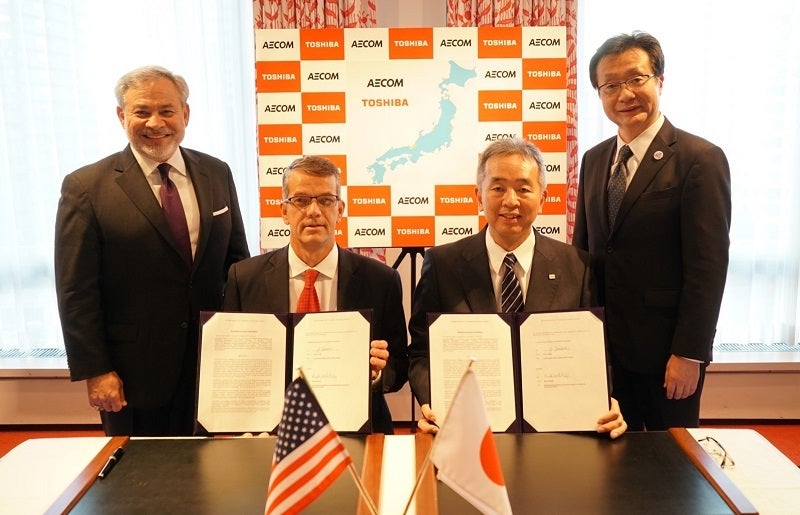 US-based engineering firm AECOM has signed an alliance agreement with Japanese multinational conglomerate Toshiba for nuclear-decommissioning services in Japan.
The partnership intends to offer comprehensive services to Japanese government organisations and commercial power utilities, which plan to decommission their reactors and nuclear facilities.
Toshiba Energy Systems & Solutions Corporation (ESS) chief nuclear officer Yanase Goro said: "We are pleased to be working with AECOM, which has abundant experience in large decommissioning services.
"In Japan, there are 24 commercial reactors, including Fukushima Daiichi Nuclear Power Plant Units 1 to 4, which have been decided to be decommissioned or are under consideration for decommissioning, and those are predominantly planned by each utility owner.
"We will work hard during this collaboration and will introduce various technologies made available globally, both in-house and outsourced, as well as meet the needs of each client for power plants in Japan and contribute to effective decommissioning planning."
AECOM is delivering it services for the US Department of Energy at main sites such as Hanford, Savannah River, Oak Ridge and the Waste Isolation pilot plant.
In April this year, the company was chosen for the $400m Dounreay decommissioning framework in the UK. The partnership will also extend access to the key Asian market that is valued at $50bn.
AECOM chairman and CEO Michael Burke said: "We have had tremendous success in nuclear decommissioning for the US Department of Energy and the UK's Nuclear Decommissioning Authority, as well as commercial clients around the world, and we look forward to supporting the Japanese utilities through this Alliance."