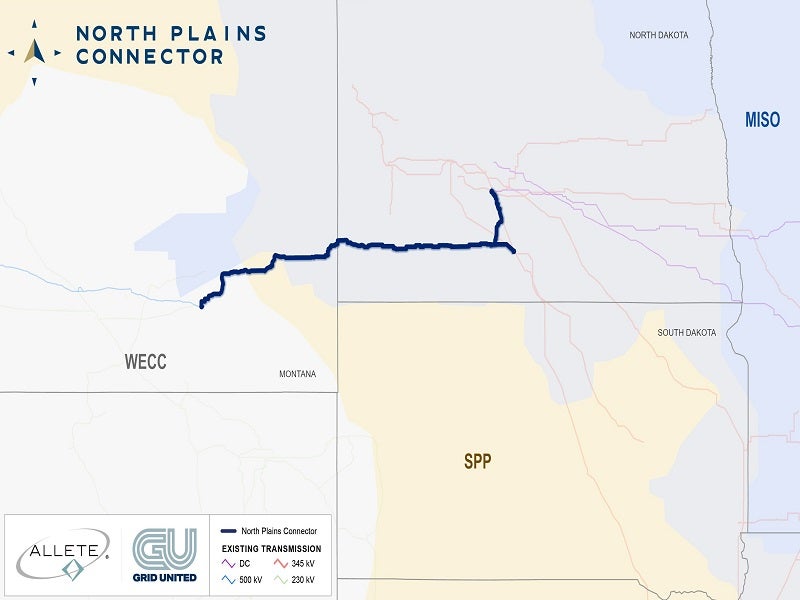 US-based energy companies ALLETE and Grid United have partnered to develop the North Plains Connector, a 385-mile high-voltage direct-current (HVDC) transmission line.
The transmission line will run from Montana to North Dakota and require an investment of nearly $2.5bn to develop.
It will connect three regional electric energy markets, namely the Midcontinent Independent System Operator, the Western Interconnection and the Southwest Power Pool.
With 3GW of transfer capacity, the North Plains Connector will be open to all sources of power generation to reduce congestion on the transmission system while increasing resiliency and reliability.
The project is currently in its development phase, with Grid United in talks with landowners and stakeholders to determine the best route for the line.
ALLETE chair, president and CEO Bethany Owen said: "This innovative project is an important step toward a resilient and reliable energy grid across a wide area of the country and ties into important transmission projects being developed in the Upper Midwest and the Western Interconnection.
"We commend Grid United's efforts on this much-needed project to enhance the nation's grid and are thrilled to join forces as together we advance the North Plains Connector to completion."
ALLETE and Grid United expect the permitting process for the North Plains Connector to begin later this year.
The partners aim to bring the project online in 2029 subject to regulatory approvals.
By linking the North Dakota and Montana grids, they aim to minimise the impact of extreme weather events and accommodate the growing demand for electricity.
Grid United CEO Michael Skelly said: "We are delighted to work with ALLETE on the North Plains Connector.
"It is no secret that the US is in desperate need of new electric transmission capacity, and the North Plains Connector will provide resiliency and reliability benefits for decades to come."