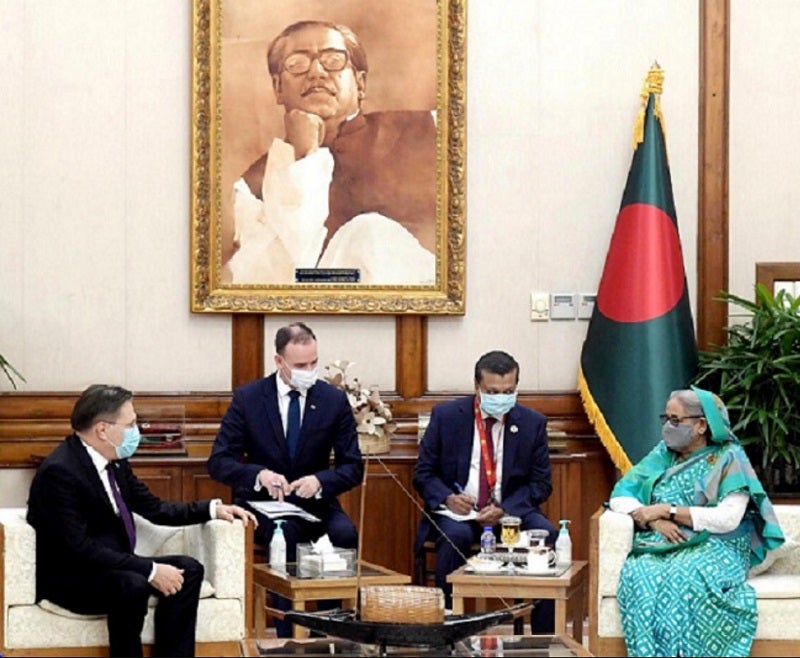 The Government of Bangladesh is set to build the country's second nuclear power plant after the completion of the Rooppur Nuclear Power Plant.
Prime Minister Sheikh Hasina addressed an event to mark the installation of reactor pressure vessels at the Rooppur plant's first unit from her official residence in Dhaka.
Hasina said: "Today is a day of pride for us as the reactor pressure vessel is being set up at Unit One of the Rooppur Nuclear Plant.
"And by this, we confirm our strong presence in the nuclear world through using nuclear technology for peaceful purposes.
"As this technology doesn't have carbon emissions, it is eco-friendly and helps fight the adverse effect of climate change.
"This power station will help us achieve Sustainable Development Goals (SDGs) by 2030 in line with our development plan and facilitate our graduation to a developed nation in 2041."
Also participating in the event was Alexey Likhachev, director-general of Russian state-owned nuclear power company Rosatom.
Speaking to Likhachev after the event, Hasina underlined the importance of building another nuclear plant in Bangladesh's southern region, as it is expected to play a key role in the country's development.
Likhachev said: "The development of a nuclear power industry will not only resolve the problem of energy supply in Bangladesh but will also contribute to the development of the region and enhance the living standards of the people."
Located at Rooppur in Ishwardi, Pabna, construction works on the Rooppur Nuclear Power Plant began in 2017.
The plant features two reactor units, each with 1.2GW of capacity.
The first reactor is expected to generate electricity by 2023, while the second unit is scheduled to come online in 2024.
In a separate development, Chinese solar technology company Longi has secured a contract from Beximco in Bangladesh to supply its 280MWp high-efficiency Hi-MO 5 modules.
The solar modules will be installed at a Beximco project in Rangpur, Bangladesh, which is scheduled to come online next year.