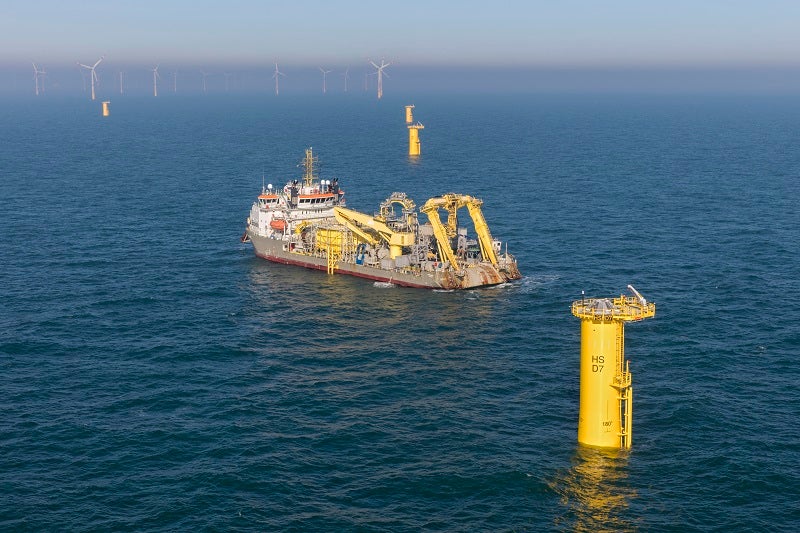 Dutch dredging and heavy lifting company Royal Boskalis Westminster (Boskalis) has secured a contract from Danish energy firm Ørsted to install inter-array cables for the Borkum Riffgrund III and Gode Wind III offshore wind farms in Germany.
The contract works will involve transporting, installing and burying 106 inter-array cables.
To install the cables, Boskalis will use the Boka Ocean cable-laying vessel, which it acquired earlier this year. The 136m vessel will feature a 4,000t turntable.
The Dutch company plans to begin preparatory works shortly, with cable installation works scheduled for early 2024.
The contract award is subject to a final investment decision by Ørsted.
In a statement, Boskalis said: "Boskalis' strategy is aimed at leveraging on key macro-economic factors that drive worldwide demand in our markets: expansion of the global economy, increase in energy consumption, global population growth and the challenges that go hand in hand with climate change.
"This project is related to the development of generating renewable energy due to climate change and increasing energy consumption."
Ørsted's Borkum Riffgrund III and Gode Wind III projects are located off the German north coast in the North Sea.
Borkum Riffgrund III has 900MW of capacity, while the Gode Wind III project's total capacity amounts to 242MW.
Last month, Ørsted received planning approval for Borkum Riffgrund III from the German Federal Maritime and Hydrographic Agency (BSH).
The project will feature 83 wind turbines, which will be delivered by Siemens Gamesa.
A final investment decision on the project is due by the end of this year, with the wind farm due to begin operations in 2025.
Ørsted secured approval for Gode Wind III in April.
Once operational, the two offshore wind facilities will generate enough clean energy to power almost 1.2 million households in Germany.