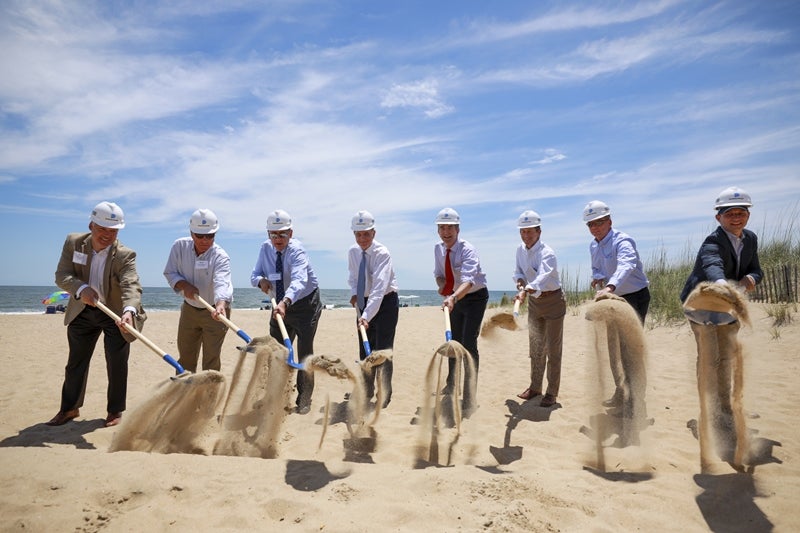 US company Dominion Energy has started construction on the Coastal Virginia Offshore Wind (CVOW) project, the first windpower facility in US federal waters.
Two 6MW turbines will be nearly 27 miles off Virginia Beach coast and will power 3,000 homes.
The company will install a half-mile conduit, which will hold the final stretch of cables that connect the turbines to a company substation near Camp Pendleton.
Announced two years ago, the Coastal Virginia Offshore Wind project is the only fully permitted offshore windpower project in US federal waters.
The State Corporation Commission granted approval for the project in November and most of the permits and approvals have been received.
Construction will be taken up on a strict timetable to minimise environmental impact to the seabed and aquatic life.
During offshore construction, observers will be deployed to look for protected species in the area, with work stopped if these animals are found within an exclusion zone.
A barge will perform construction activities approximately half a mile off the Virginia Beach coast from July to September 2019 during onshore construction.
The company said that turbines will not be noticeable from shore after completion of construction in 2020.
Denmark-based offshore wind developer Ørsted has been selected to carry out the offshore portion of the project, while The LE Myers Company will perform onshore construction work.
Under provisions of the Grid Transformation and Security Act of 2018, an additional burden will not be imposed on customers with an increase in rates for the pilot project. Instead, the project cost will be recovered in existing base rates rather than a rider.
Dominion Energy chairman, president and CEO Thomas F Farrell II said: "These onshore construction activities are another major milestone in our plan to bring offshore wind to the Commonwealth and are a sign of our commitment to bring more renewable energy to our customers."
Based in Richmond, Virginia, Dominion Energy supplies electricity or natural gas to around 7.5 million customers in 18 states.