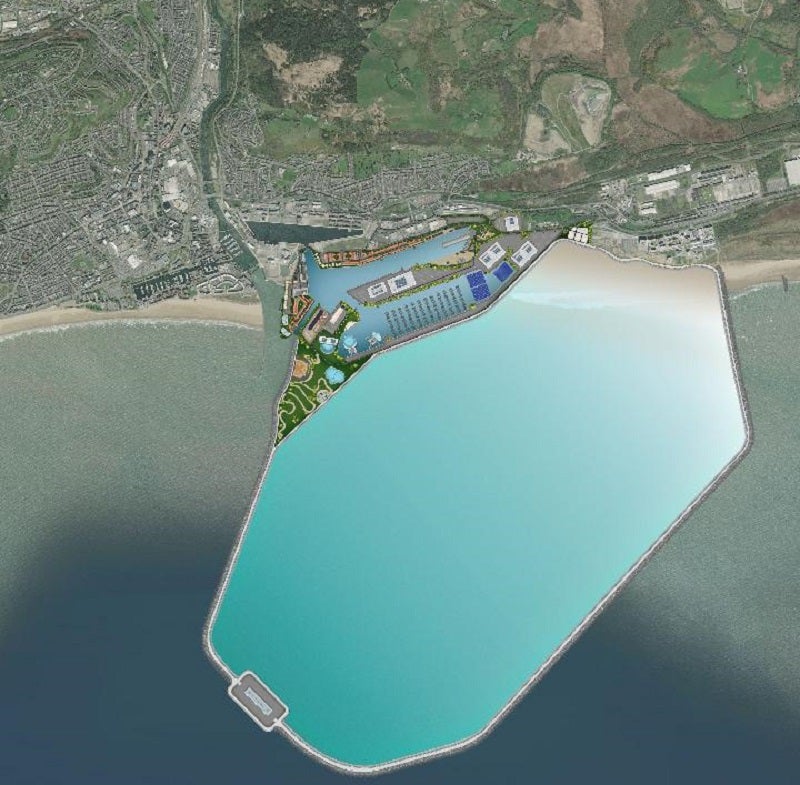 An international consortium led by UK-based DST Innovations has announced plans for a $2.3bn (£1.7bn) renewable energy project on the Swansea waterfront in Wales.
Named Blue Eden, the project is also led by several business partners and backed by Swansea Council and Associated British Ports.
Planned to be delivered in three phases, it is expected to be completed over a period of 12 years.
The proposed project will include a new tidal lagoon, which will be equipped with advanced underwater turbines capable of generating 320MW of renewable energy from a 9.5km structure.
Blue Eden will be developed along a land and water area located south of the Prince of Wales Dock in Swansea's SA1 area.
The project will also include a 60,000m² manufacturing plant, which will be engaged in the production of batteries to store renewable energy. In addition, the battery facility will power the Blue Eden site.
The Queen's dock area will include a 72,000m² floating solar array, which will have the capacity to displace two million kilograms of carbon emissions annually.
Additionally, the project will feature a 94,000m²  data centre storing, processing and offering network capabilities.
The renewable energy project has the potential to create more than 2,500 permanent jobs in the Swansea area, as well as 16,000 jobs across Wales and the UK.
It will also create additional jobs during the construction phase.
The clean energy generated by the project will be used to power businesses, mixed developments including housing, assisted living areas, and apartments of the Blue Eden development.
DST Innovations co-founder and chief executive Tony Miles said: "Blue Eden is an opportunity to create a template for the world to follow – utilising renewable energy and maximising new technologies and thinking to develop not only a place to live and work, but also to thrive."
Based on planning consent, works on the Blue Eden project are expected to begin by early 2023.