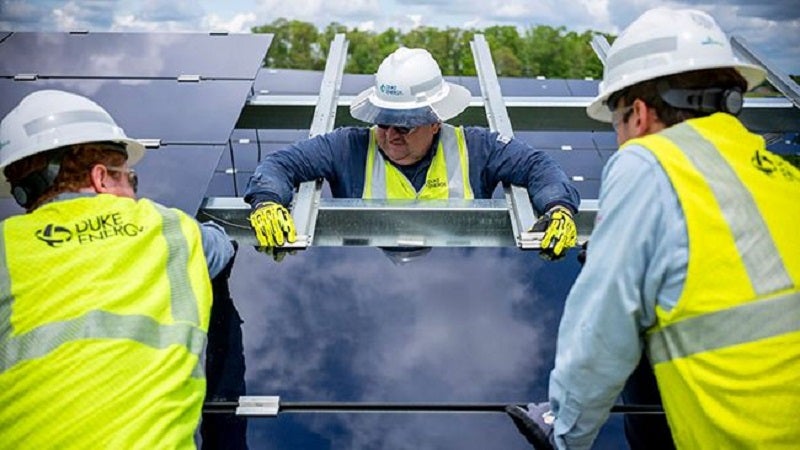 Duke Energy's non-regulated commercial brand Duke Energy Sustainable Solutions has begun construction works on the Jackpot Solar project in Idaho, US.
Located in Twin Falls County, the 120MW project covers 952 rural acres of land and is the company's first renewable energy facility in the state.
It is expected to come online by the end of this year.
Duke Energy Sustainable Solutions president Chris Fallon said: "We're excited to enter into the Idaho market and be a part of the state's transition toward a cleaner energy future.
"Jackpot Solar will help diversify the state's energy infrastructure, bring additional economic benefits to the state and Twin Falls County while also supporting Idaho Power's clean energy goals."
Duke Energy Sustainable Solutions will own and operate the Jackpot Solar project while SOLV Energy will carry out engineering and construction works for the project.
During the peak construction phase, the project is expected to create nearly 200 jobs.
Once operational, the clean energy generated by the solar facility will be sold to power utility company Idaho Power under a 20-year power purchase agreement.
The utility has set a Clean Today, Cleaner Tomorrow goal, under which it aims to provide 100% clean energy by 2045.
Idaho Power president and CEO Lisa Grow said: "Providing 100% clean energy is an important goal for Idaho Power, and more and more customers are telling us it is important to them too.
"We have a great head start thanks to our clean hydropower plants, which remain our largest source of energy."
Based in North Carolina, Duke Energy owns 58,200MW of base-load and peak generation capacity across the US, which it distributes to 7.2 million customers.
Last September, the company divested its 11.05% interest in Duke Energy Indiana to an affiliate of Singaporean sovereign wealth fund GIC Private.