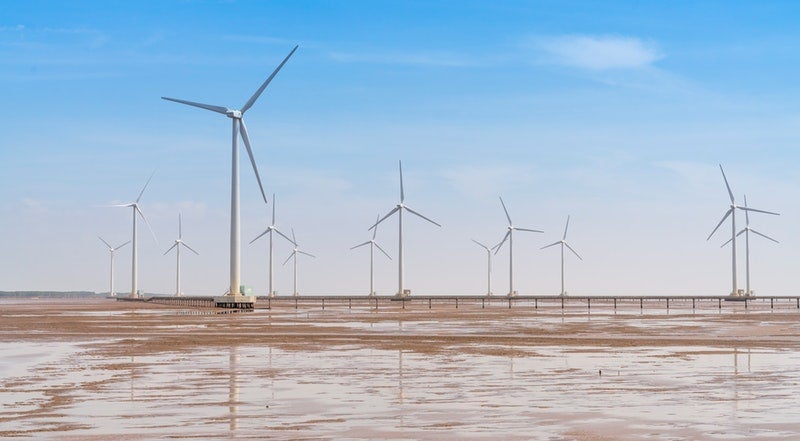 A consortium between Shell Netherlands, Dutch gas company Gasunie and Groningen Seaports has launched a project to produce green hydrogen using renewable energy generated by a mega offshore wind farm.
The NortH2 project will start this year with a feasibility study and is expected to produce the first hydrogen in 2027, aiming to reach a production of three to four gigawatts (GW) by 2030.
Shell Nederland president Marjan van Loon said: "Together, we are launching an ambition that puts the Netherlands at the forefront of hydrogen globally. In addition, it contributes to achieving the objectives of the Dutch Climate Agreement and accelerates the energy transition."
In order to achieve the 2030 goal, the companies will build wind farms with a capacity of 10GW in the North Sea, to be ready in 2027.
The consortium will develop an electrolyser to convert wind energy into green hydrogen which will be built in Groningen's port of Emmshaven, as well as a smart transport network to deliver the expected 800,000 tonnes of green hydrogen to the industrial sector.
Gasunie CEO Han Fennema said: "The Netherlands has a leading position in the shift to a hydrogen economy. We have the North Sea for the production of wind, the ports as logistical hubs, and the industrial clusters that want to make the switch to green molecules and a suitable transport network.
"This comes together perfectly in the northern Netherlands at the Groningen Seaports where the conversion to hydrogen takes place, with storage in Zuidwending and an ambitious province."
NortH2 will save seven megatonnes of CO2 a year and is an integral part of the Dutch Climate Accord – aiming to reduce greenhouse gas emissions by 49% by 2030 – and the European Union's Green Deal.
Greenpeace Netherlands head of climate and energy Faiza Oulahsen applauded the project: "Green hydrogen plays a key role in a fossil-free future. This project can make a huge contribution to making the whole chain greener.
"The Netherlands can become a pioneer in the field of green hydrogen but it also means that we have to subsidise it sufficiently. The Dutch government can take up that challenge to make this project a success."
NortH2's partners anticipate that the project's initial phases might require European and national subsidies available for the decarbonisation of energy.
The Institute for European Energy and Climate Policy (IEECP) said that green hydrogen will become more crucial, both on the demand and supply side, and projects like NortH2 will help the transition into renewable energy.
IEECP chairman Zsolt Lengyel told Power Technology: "On the supply side, green hydrogen, based on solar PV and wind-based electricity will have a crucial role as land/biomass based gases have inherent limitations and a complex land-use change nexus.
"On the demand-side green hydrogen may also become a crucial part of the solution for decarbonising freight transport as heavy loads are not well suited to battery-electric solutions.
"Therefore the North Sea off-shore wind-based green hydrogen generation is a very welcome move addressing multiple challenges – from the intermittency of wind-based generation to transport GHG emissions."