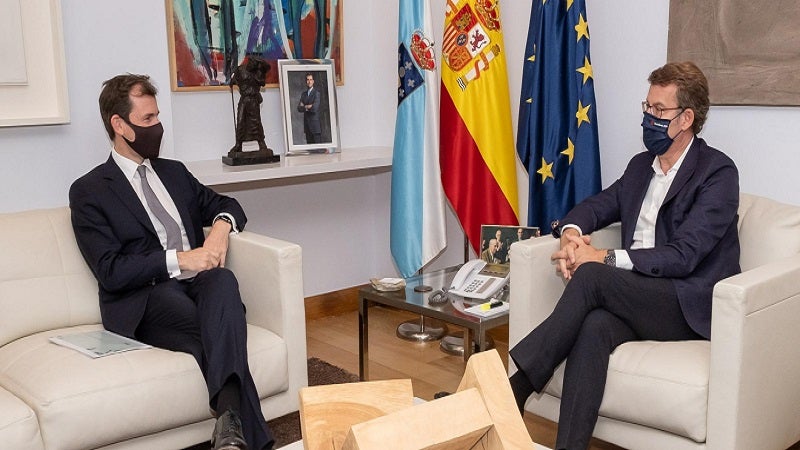 Portuguese electric utility company EDP Group has announced plans to invest more than €1bn ($1.2bn) in Galicia, Spain, over the next decade to develop projects.
The development is part of EDP Group's transition process towards a sustainable energy and economic model within the European Next Generation funds framework.
As part of this initiative, a delegation from EDP Group, headed by the company's CEO Miguel Stilwell, met with Xunta de Galicia president Alberto Núñez Feijoo.
Presenting the company's plan, Stilwell highlighted the positive impact of renewable energy activity on the industrial fabric, employment and infrastructures.
The company said that it intends to make the investment in various technologies, from onshore and offshore wind generation to storage and green hydrogen.
Stilwell said: "The renewable energy sector represents an opportunity for Galicia not only to play a leading role in a necessary change but also to promote and revitalise its economy and boost the wellbeing of local communities.
"Renewable activity produces significant economic contributions to the municipalities where its facilities are located, through tax collection, which increases the resources of local councils to be able to develop local plans and actions.
"It also helps to boost the industrial fabric at both regional and local level with the resulting job creation and investment in infrastructures within the framework of the energy transition."
EDP operates nine wind farms in the provinces of A Coruña and Lugo. These farms have a combined installed capacity of 264MW.
The company supplies electricity in the province of Lugo through Viesgo Distribución and Begasa, distributing more than 1TWh of energy across 42 municipalities through a 12,450km network.