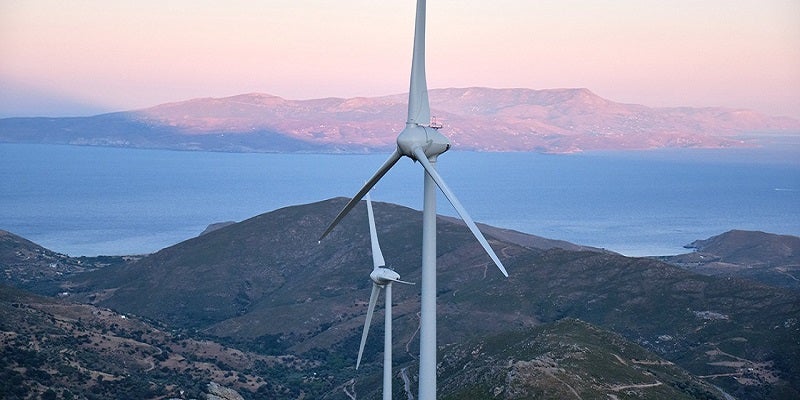 Italian multinational renewable energy company Enel Green Power (EGP) has opened its new €300m Kafireas windfarm in Greece.
Located in the municipality of Karystos (Evia), the windfarm has a total installed capacity of 154MW and will be able to generate about 480 GWh annually.
Enel Green Power CEO Antonio Cammisecra said: "This important project shines the spotlight on our dedication to renewable energy and decarbonisation, aligned with the United Nations' Sustainable Development Objectives, as well as on our commitment to having a diversified mix of power generation in the nation."
Kafireas comprises 67 wind turbines spread across seven windfarms. At present, EGP operates two windfarms in the municipality of Karystos, the 7.5MW Iliolousti I and the 9MW Iliolousti II.
With the opening of Kafireas, the company has reached more than 460MW of installed capacity from wind power, solar power and hydroelectric power.
Additionally, the windfarm has a 20-year power purchase agreement (PPA) in place with the Hellenic Electricity Market Operator (DAPEEP).
Cammisecra further added: "In addition to supplying energy nationally with zero emissions, this project focused strongly on the local community.
"Just as we are supporting our stakeholders on Evia Island by carrying out sustainability initiatives aimed at improving the local economy, we are also actively protecting the environment."
The company also tweeted: "Kafireas, the wind facility on the island of Evia, Greece, begins producing green energy! Today we're inaugurating this important project that will support the country's energy transition."
Kafireas, the wind facility on the island of Evia, Greece, begins producing #green energy! Today we're inaugurating this important project that will support the country's energy transition. Discover more 👉 https://t.co/x7YXOgDzQX pic.twitter.com/of98JywdWD

— Enel Green Power (@enelgreenpower) October 15, 2019