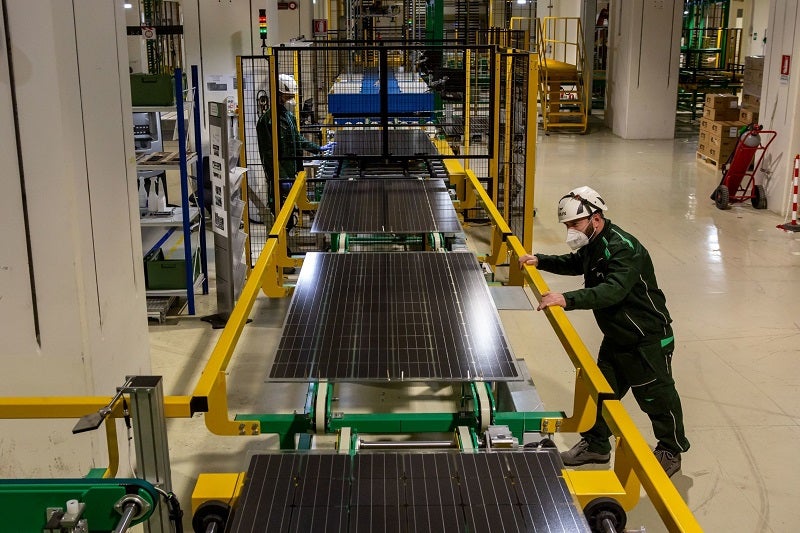 Enel North America, a subsidiary of Italian energy firm Enel, has announced plans to build a large solar photovoltaic (PV) manufacturing facility in the US through its affiliate, 3Sun USA.
The manufacturing facility will initially have the capacity to produce at least 3GW of bifacial PV modules and cells a year, with the potential to increase this to up to 6GW.
Enel North America said the facility will become one of the first in the US to manufacture solar cells and could create up to 1,500 direct jobs by 2025.
The company is currently assessing possible sites for the factory.
Construction works for the proposed facility could begin in the first half of next year and it is expected to produce its first panel by the end of 2024.
The proposed factory would be Enel's second solar PV manufacturing facility worldwide if built.
For the project, Enel plans to use its expertise and experience from its 3Sun Gigafactory in Catania, Italy.
The firm intends to replicate the Gigafactory factory in the US to produce bifacial heterojunction (B-HJT) PV cells, which can capture more sunlight.
Enel North America head Enrico Viale said: "Recent policy tailwinds from the Inflation Reduction Act have served as a catalyst for our solar manufacturing ambitions in the US, ushering in a new era of made-in-America energy.
"With this announcement, it is our intention to bolster a robust domestic solar supply chain that accelerates and strengthens the US' transition to clean energy.
"In doing so, we are creating thousands of new jobs, supporting local economies, and providing stability to the solar industry."
Part of the Enel Group, Enel North America provides renewable energy services to more than 4,500 businesses, utilities and cities.
The business has more than 8GW of utility-scale renewable capacity and 606.8MW of utility-scale energy storage in its portfolio.